Seattle is one of America's largest cities, but it's also one of its most isolated. Located in the Pacific Northwest, Seattle is about 680 miles north of San Francisco. In fact, the vast majority of Americans live more than a 24-hour drive away from Seattle!
So, what is Seattle known for? We're identifying Seattle's most famous landmarks and cultural traits. By the end of reading this list, you'll have a deep understanding of the city and areas that are worth a visit. Let's get started!
1. Mount Rainer
Mount Rainier is a nearly ever-present site during Seattle summers. The mountain stands 14,417 feet tall, which is less than 100 feet shorter than the tallest mountain in the continental United States (Mount Whitney).
Beyond being a fixture of Seattle's skyline, what makes Rainier so famous is its prominence. That is, while many mountains are part of ranges of near identical peak heights, Rainer rises from a little above sea level to its incredible heights. Trust us when we say seeing Rainier on a clear day from Seattle is an awe-inspiring view.
The area around Mount Rainier is a National Park today. Mount Rainier National Park is filled with trails and other outdoor activities and hosts 2 million visitors every year. If you're really outdoorsy, more than 10,000 people attempt to summit Rainier every summer.
One last fact that makes Rainier unique: it's an active volcano. It last erupted in 1894, and it's only a matter of time before it erupts again. Thankfully, geologists closely monitor the mountain and any major eruption would be accompanied by warning signs.
2. Coffee Shops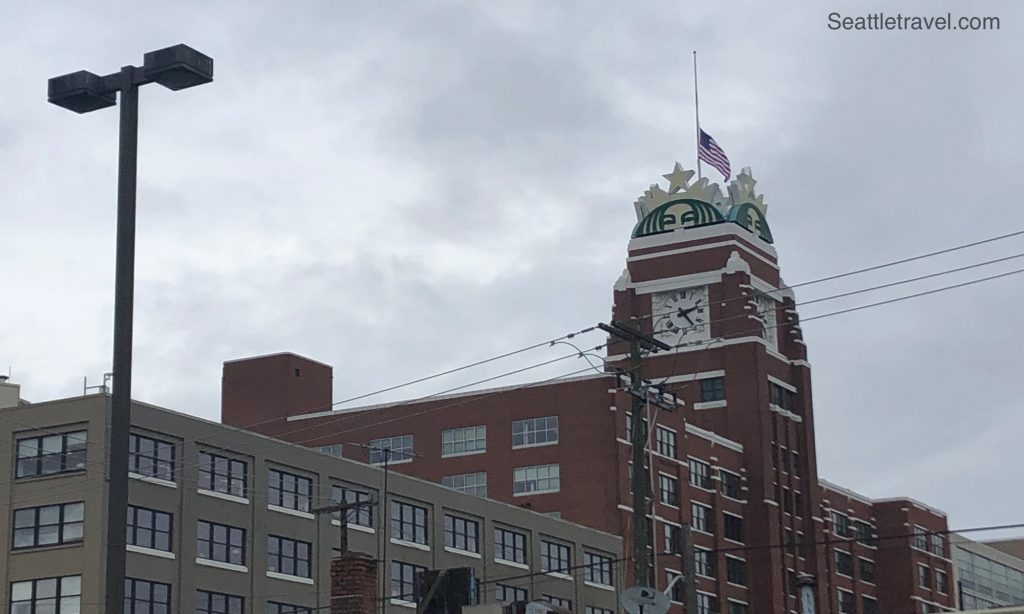 Seattle is famous for its coffee culture. Starbucks was founded in the city in 1971, and you can still visit the original store at Pike Place Market. The Starbucks headquarters has its well-known Mermaid logo adorning a clock. You can see the headquarters from Seattle's SoDo stadium district.
A recent Redfin survey even found that Seattle is the second-most caffeinated city in America with one coffee shop per 843 people. While it's hard to travel very far and not see a Starbucks in the city, independent coffee shops outnumbered chains in the Redfin study by 670 to 173.
A few of the best coffee shops in Seattle include Fulcrum Coffee (near Amazon headquarters), Espresso Vivace (Capitol Hill), and Caffe Ladro (several locations).
3. Pike Place Market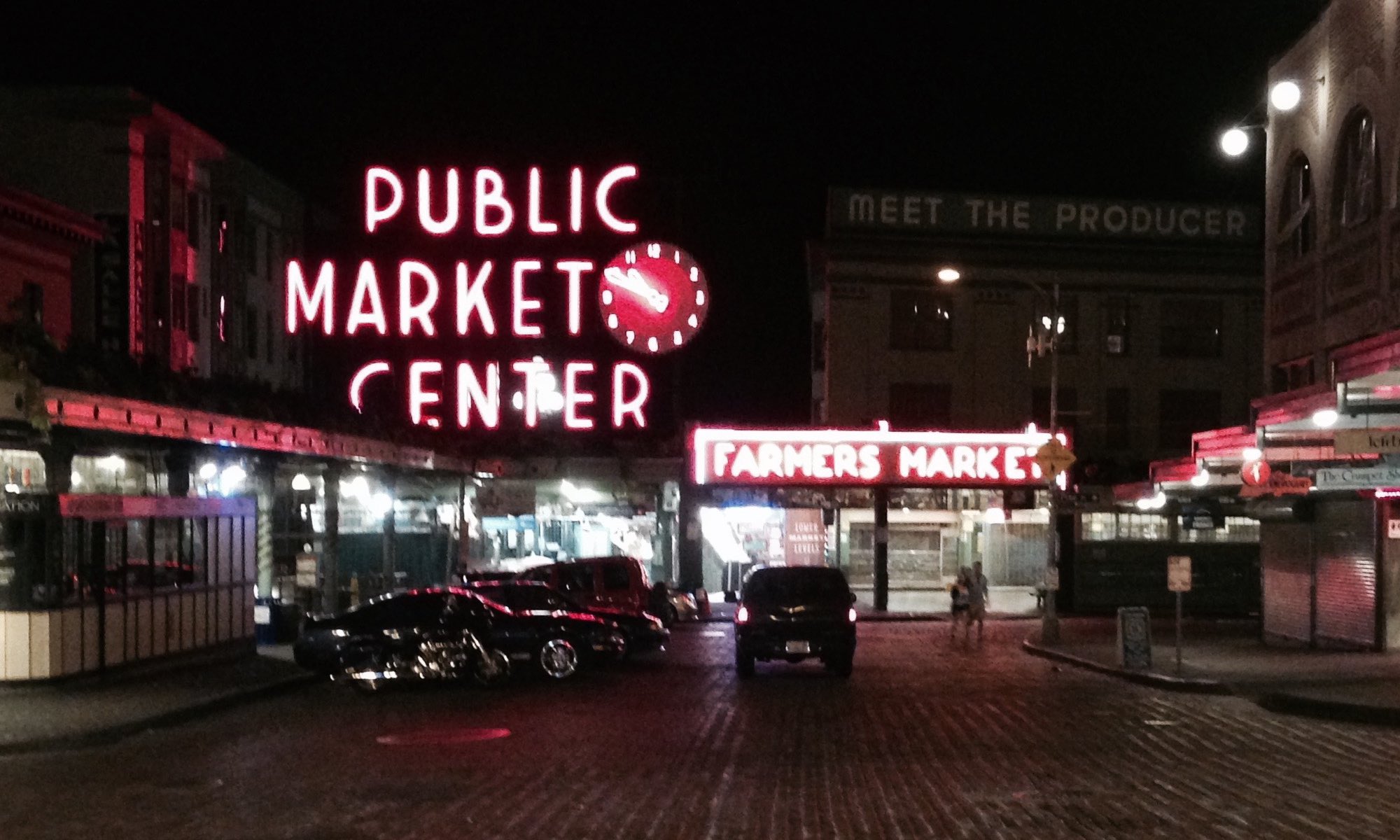 Pike Place Market is probably the thing Seattle is most well-known for. First opened in 1907, Pike Place Market focuses on locally made goods and food. If you're looking to just walk around and shop, there's plenty to experience from clothes, to flowers, to crafts, to produce, to the famous salmon-throwing fish stalls.
In addition, Pike Place has become a center of Seattle's restaurant scene. Restaurants range from stalls selling long-time local favorites like Piroshky Piroshky's eastern pastries and Mee Sum Bakery's delicious hom boas, to fancy sit down restaurants like Matt's in the Market that often have outstanding views.
If you're looking for a place to relax and enjoy the views from downtown, Pike Place is hard to beat. Some of the best bars in Pike Place Market include Alibi Room, Old Stove Brewery, and Radiator Whiskey.
4. The Gum Wall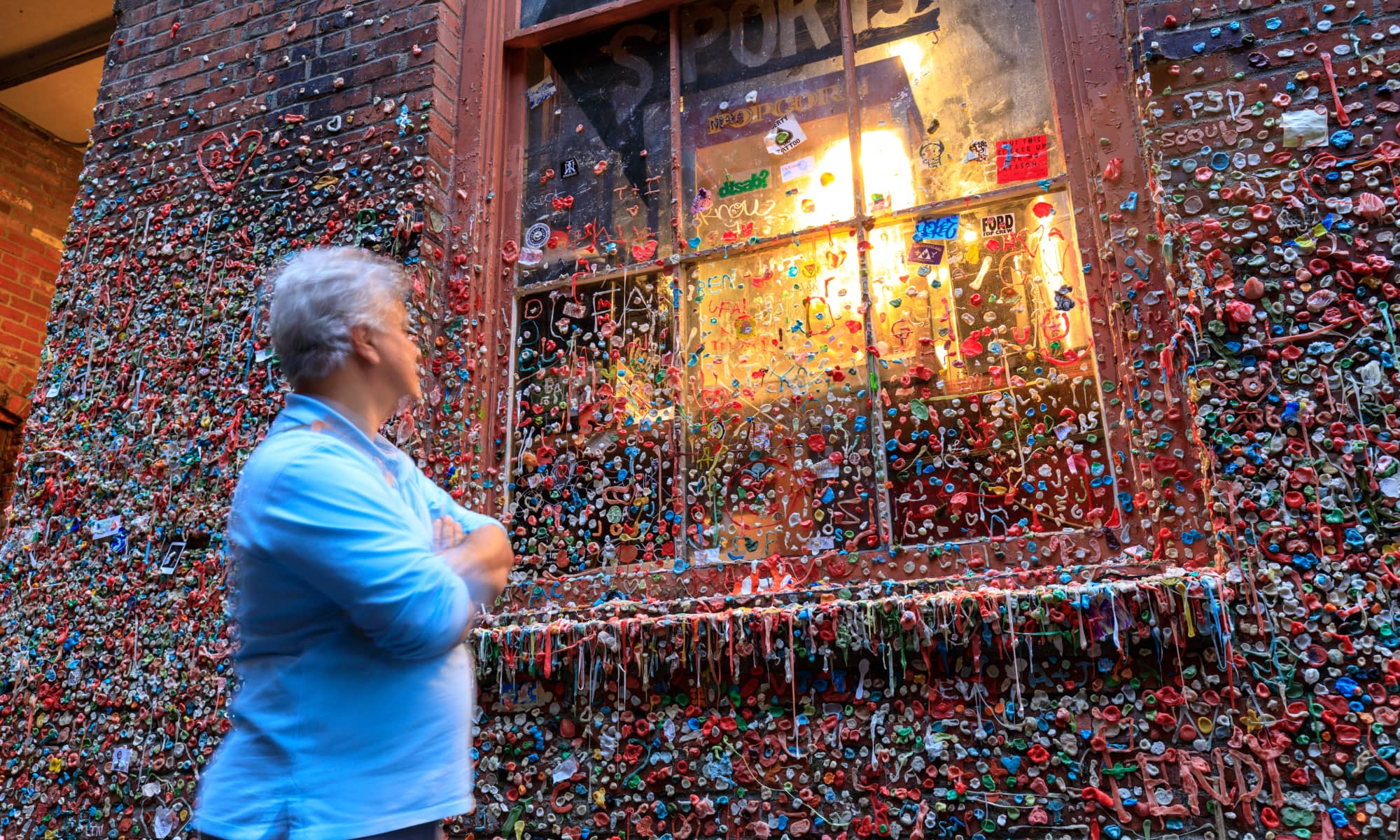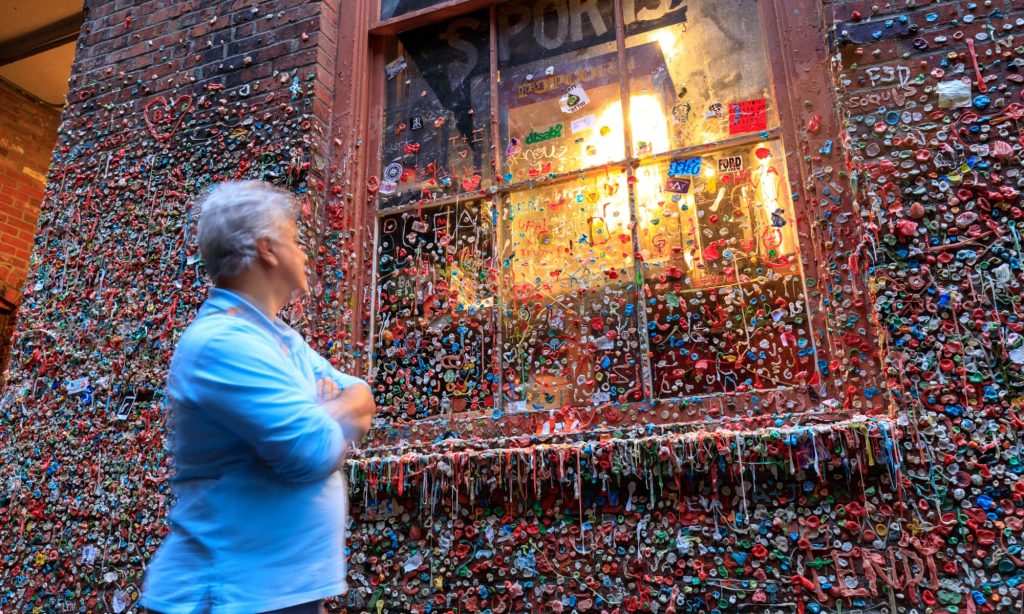 Seattle has several unusual attractions it's known for (we'll get to a giant troll later), but the Gum Wall might take the cake. Located near Pike Place in Post Alley, the Gum Wall began in the 1990s when patrons of a local theater began filling a wall with gum. Over the years the Gum Wall spread to cover more than 100 feet in length.
City officials cleaned the wall in 2015, but it quickly grew back. There are places where the gum is several inches thick and reaches up to 20 feet above street level. There are even places where people have used gum to create impromptu "artwork."
Staring at thousands of pieces of discarded gum might not sound like your cup of tea (it makes me a bit queasy), but the Gum Wall is on Post Alley, which is a fun spot to visit. Its a pedestrian-friendly street that connects Seattle's ferry terminals to Pike Place Market and features several hidden restaurants, shops, and even has some wonderful areas to sit down and enjoy a meal or drink and people watch.
5. Alki Beach
If you're thinking of West Coast cities that are known for their beaches, Seattle does not come to mind. Puget Sound is a cold body of water and temperatures in the city rarely hit scorching levels.
Yet, there is one beach in Seattle that's worth a visit: Alki Beach. The beach is located in West Seattle and has continuous sandy beaches that stretch across a half-mile park. In addition, the street next to Alki Beach is filled with restaurants, bars, and coffee shops. If you want to celebrate a special occasion, book a table at Il Nido. If you're looking for fish and chips try Spud. Or, if you're just looking to enjoy a cocktail with a view of the beach you can stop by Cactus, Fire Tacos, or Alki Pho & Bar.
If you're downtown, the West Seattle Ferry carries passengers to a terminal that's about 1.5 miles from Alki. In addition, the ferry terminal has incredible views overtop Elliott Bay of downtown Seattle.
6. Ferries
Seattle sits on Puget Sound, a body of water that was carved by glaciers and created a number of islands and deep inlets and bays. Puget Sound is far too wide and deep to create bridges across it in most areas, so Seattle has built a ferry fleet to carry cars and people to surrounding islands and peninsulas.
From downtown Seattle, you can hop ferries that take you to areas like Bainbridge Island and Bremerton. Bainbridge in particular is an excellent day trip. It has restaurants and shops near the ferry terminal and is a popular destination for cyclists who take a ferry from Seattle and enjoy more scenic bike rides on the island.
Beyond the state-run ferry system, there are other boat rides that may appeal to you. The Victoria Clipper departs from downtown and moves customers from Seattle to Victoria, British Columbia at speeds of 36 knots. Several whale-watching boats also depart from Seattle's waterfront.
7. Beautiful Islands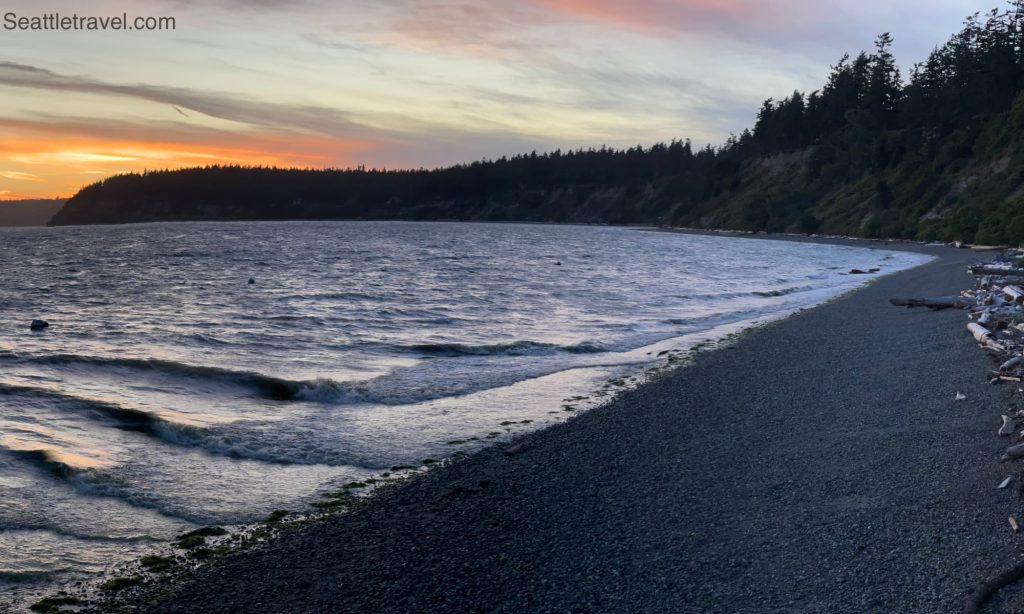 We just discussed how Puget Sound is filled with islands. In total, there are 35 major islands in Puget Sound, and most are accessible either by bridge connections or ferries. In general, the islands are more rural and extremely scenic. you'll find rocky shorelines with views of both the Cascade and Olympic Mountains. A few of our favorite island destinations include:
Camano Island: Accessible from Seattle in little more than an hour without needing to take a ferry, Camano Island is a rural island with several public beaches and parks located along its shores. The island also has a growing arts community.
Whidbey Island: Located next to Camano Island, but is generally easiest to reach by using a ferry that departs from Mukilteo. Whidbey Island is larger and features a growing wine community. If you're looking for a small town to stay in, give Langley a look.
Orcas Island: Part of the San Juan Islands, which are famous for their beauty and natural settings. Orcas is a dream for those who love hiking, kayaking, and other outdoor pursuits.
8. Amazon and its Spheres
The Amazon Spheres (or Seattle Spheres) are three domes that reach up to 95 feet tall and are found in the middle of Amazon's Seattle headquarter. The spheres house 40,000 different plants divided into Old World and New World plants. If you're looking just to take in the scenery there's a cafe inside and restaurants that have a view of the Spheres, such as Willmott's Ghost or 2120.
Weekend public tours are available, if you're interested in touring the Spheres they're open the first and third Saturdays of the month from 10 a.m. to 6 p.m.
9. Restaurants with a View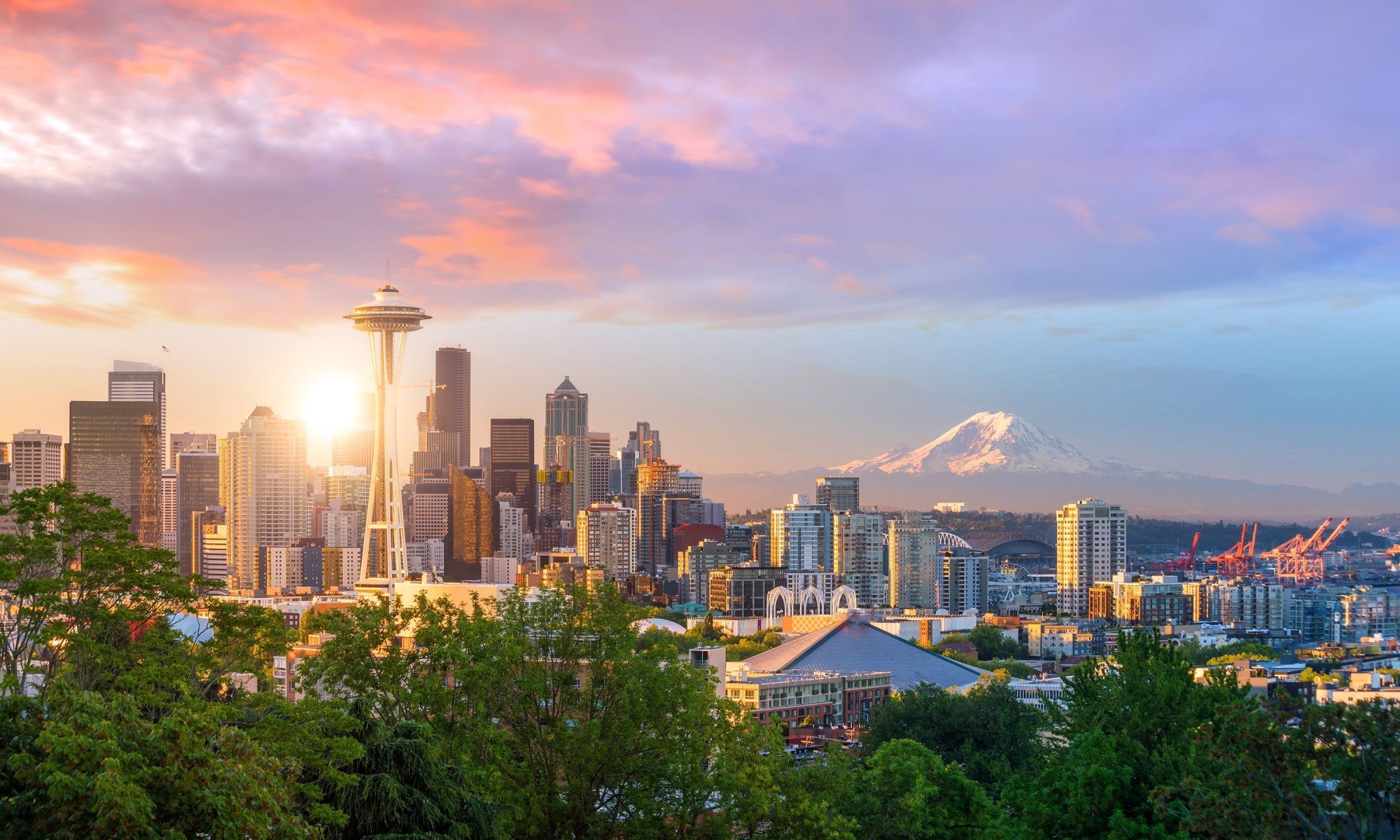 Seattle is built on seven different hills and surrounded by multiple lakes, a large body of water (Puget Sound), and two different mountain ranges. As you can imagine, this variety of terrain creates a number of areas with wonderful panoramas of the surroundings.
This makes Seattle one of the top cities for finding restaurants with a view. Some of our favorites include Ray's Boathouse (views of Puget Sound), Salty's on Alki (views of downtown Seattle), Ascend (views of the region from Bellevue), Agua Verde Cafe (views of the Montlake Cut), and the Pink Door (views of the waterfront from Pike's Place).
10. National Parks
There are three National Parks within driving distance from Seattle: Mount Rainier National Park, Olympic National Park, and North Cascades National Park. This makes Seattle an ideal central point for exploring some of the most awe-inspiring National Park settings in the United States.
If you're trying to decide which National Park to visit, our vote is that Mount Rainier is best for a day trip while North Cascades are the best if you're looking to avoid crowds. If you're looking to visit Olympic National Park make sure not to miss Rialto Beach, Hurricane Ridge, and Crescent Lake.
11. Cruises to Alaska
During summers, it's a common sight to see cruise ships docked along Seattle's waterfront. The most popular destination is Alaska, where cruises tour glaciers, fjords, and other areas filled with natural beauty (and mild weather!).
In 2022, Seattle projected 1.26 million cruise ship customers to pass through the city. If you're looking to explore Seattle, one fantastic way to do that is to book a couple of extra days before or after a cruise to enjoy the city alongside a cruise.
12. Its Rainy Weather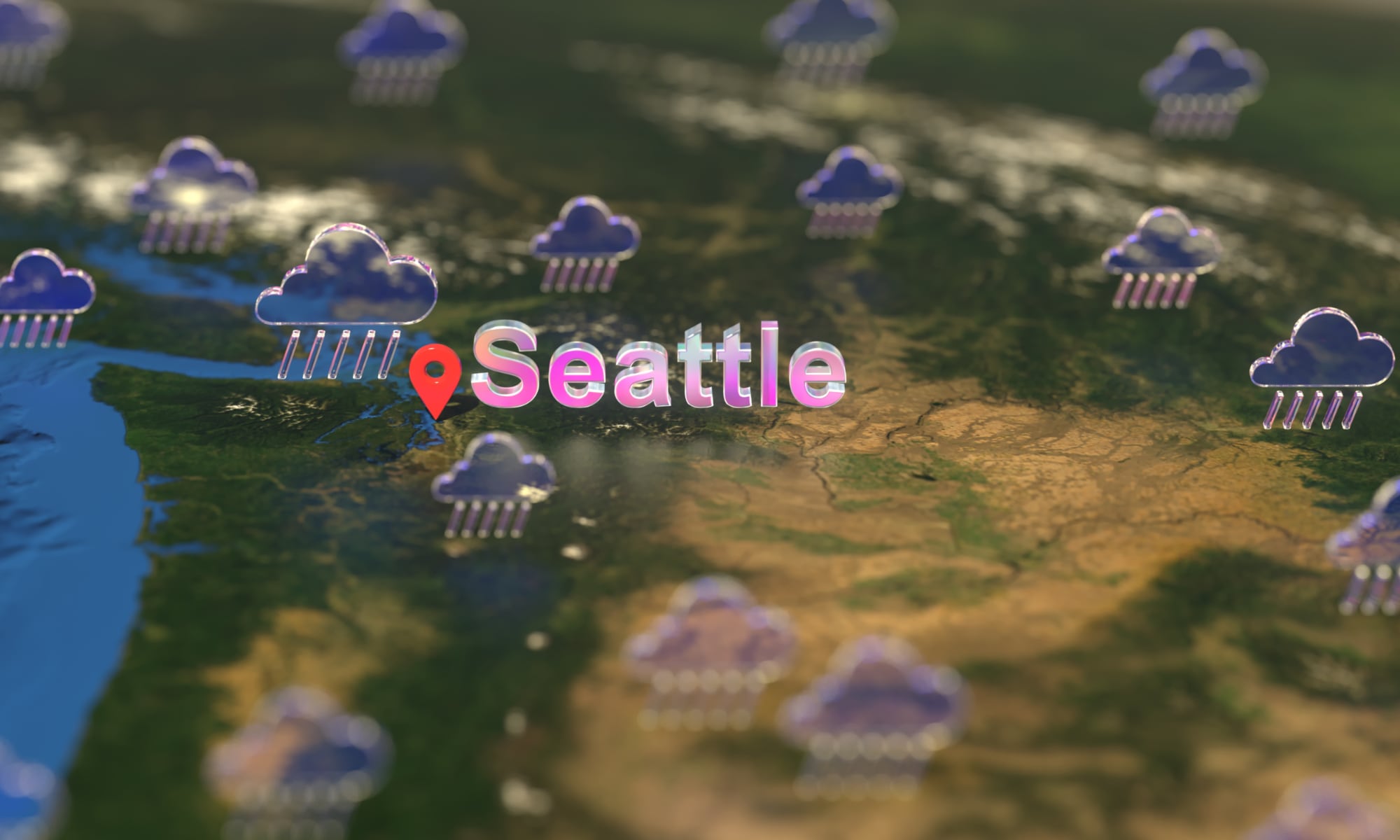 Seattle is famous for its rainy weather, but how rainy is it? The rainy season in Seattle runs from October through March, with the highest amounts of rain happening in November, December, and January. Each of these months receives about 6 inches of rain.
Overall, Seattle only gets about 39 inches of rain per year, which is less than New York City, Chicago, and Washington DC. That fact might surprise people as out of that group it's Seattle that's known for its rain. So, why is that?
The primary reason Seattle is known for being rainy is the amount of rainy days in the city. It rains in Seattle an average of 156 days per year and the winters are extremely overcast. The rain is rarely very heavy; instead, there's a more common drizzle.
If you're visiting Seattle in the summer, the city is closer to desert conditions than being rain-soaked. Mid-June to mid-September only averages about an inch of rain per month. In addition, these months are very sunny. For example, 65% of daylight hours are sunny in July!
13. Washington Wines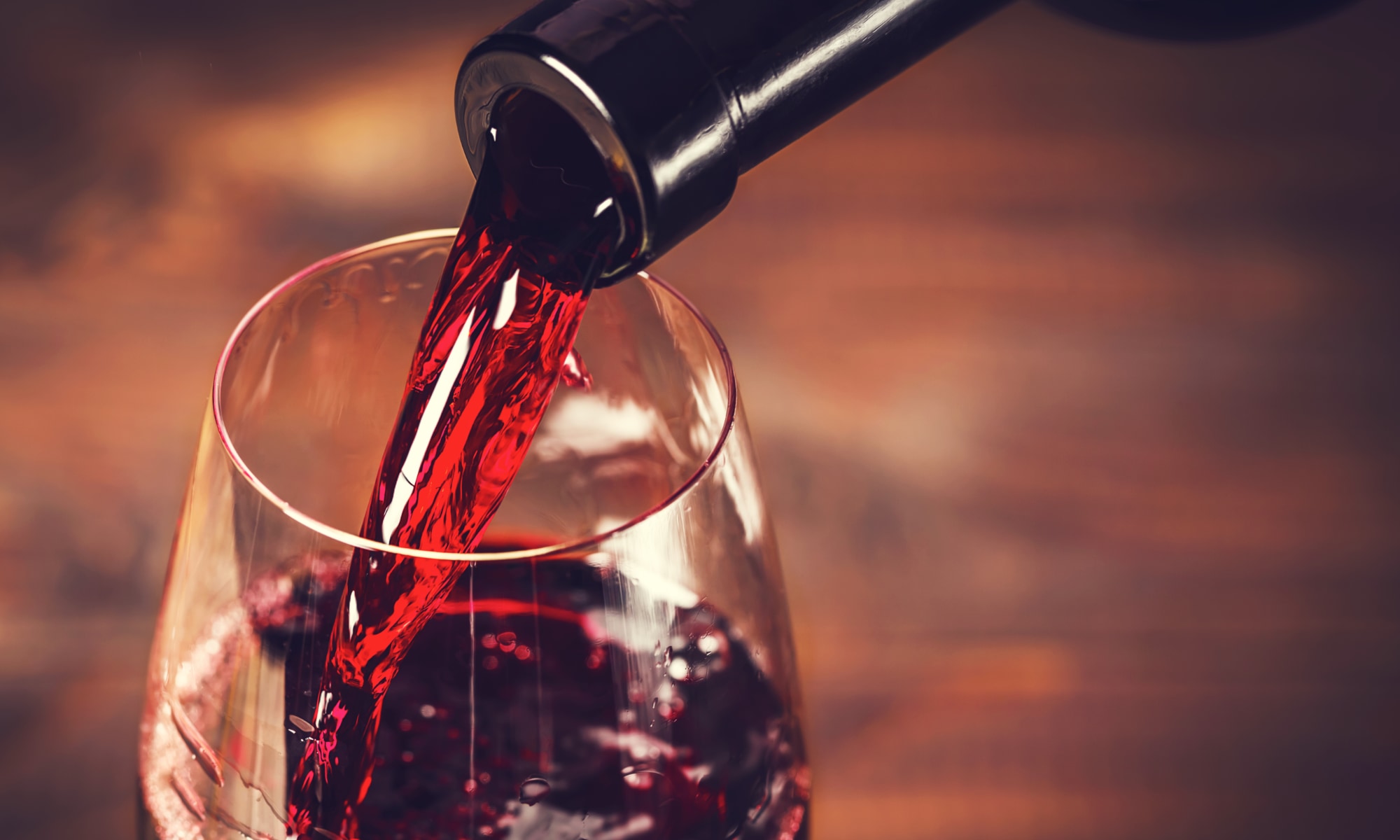 Eastern Washington is the second-best region in the United States for wine grape production. Its desert-like climate is ideal for growing red wines. With so much grape production in Eastern Washington, many wineries have moved production to the Seattle Metro area to be near a large population center.
South of Seattle's downtown you'll find a cluster of wineries in the SoDo UrbanWorks. If you're looking for the premier wine destination in the area, you'll want to take a 30-minute drive over to Woodinville, which has become famous for its dozens of tasting rooms and vibrant wine culture.
14. Loud Stadiums (Seahawks and Huskies)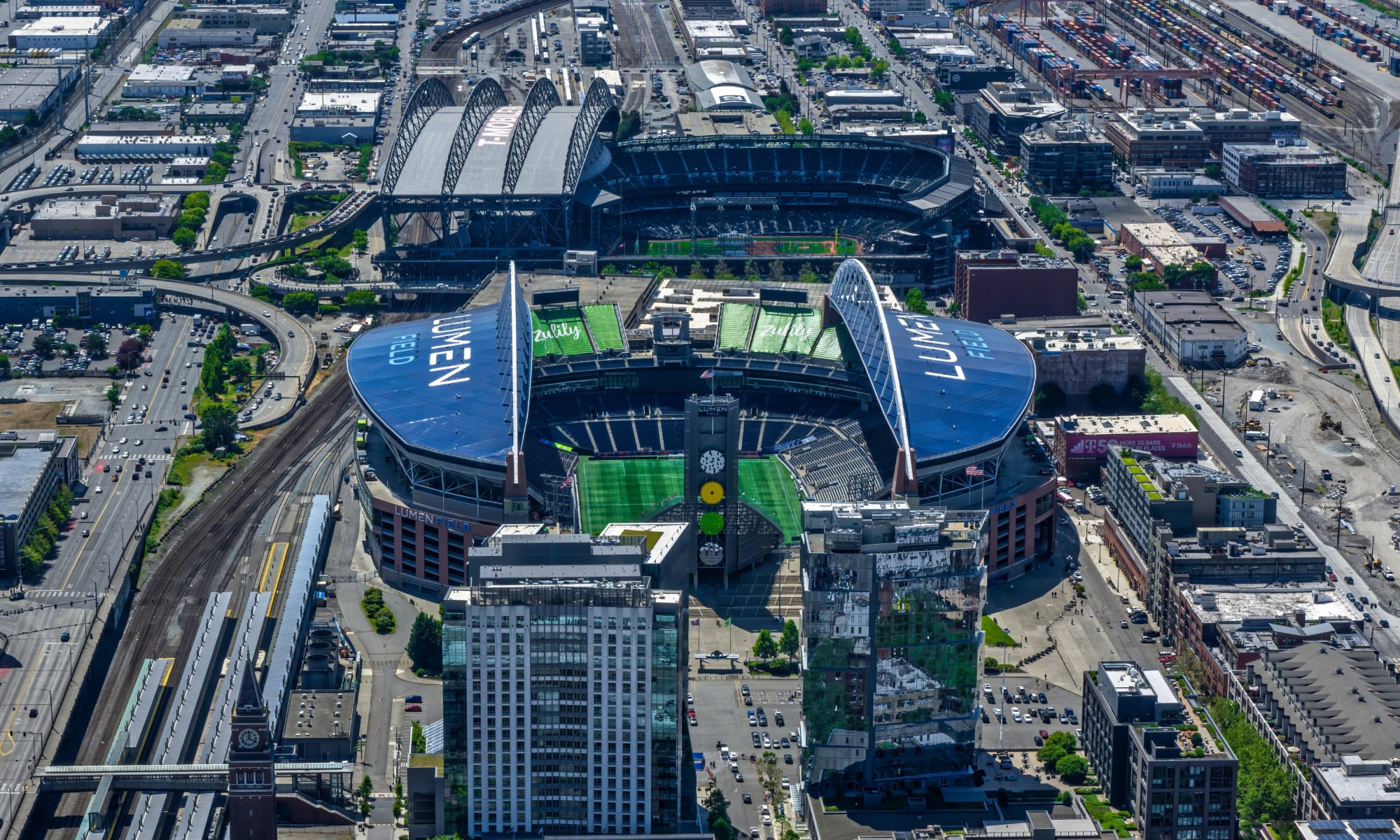 The Seahawks are famous for the "12th Man," their rebid fanbase that has hit 137.6 decibels. However, the Seahawks' stadium is actually modeled after another Seattle Classic – the University of Washington's Husky Stadium.
Husky Stadium is located on Washington's campus, a couple of miles north of downtown. It sits on the water and is famous for its "Sailgating" scene (more on that later). The stadium has a cantilevered steel roof that redirects sound back to the field. Thanks to this unique architecture, Husky Stadium holds the record for being the loudest-ever recorded college football stadium (at 133.6 decibels).
If you're looking to attend a raucous football game, Seattle has two world-class options.
15. The Space Needle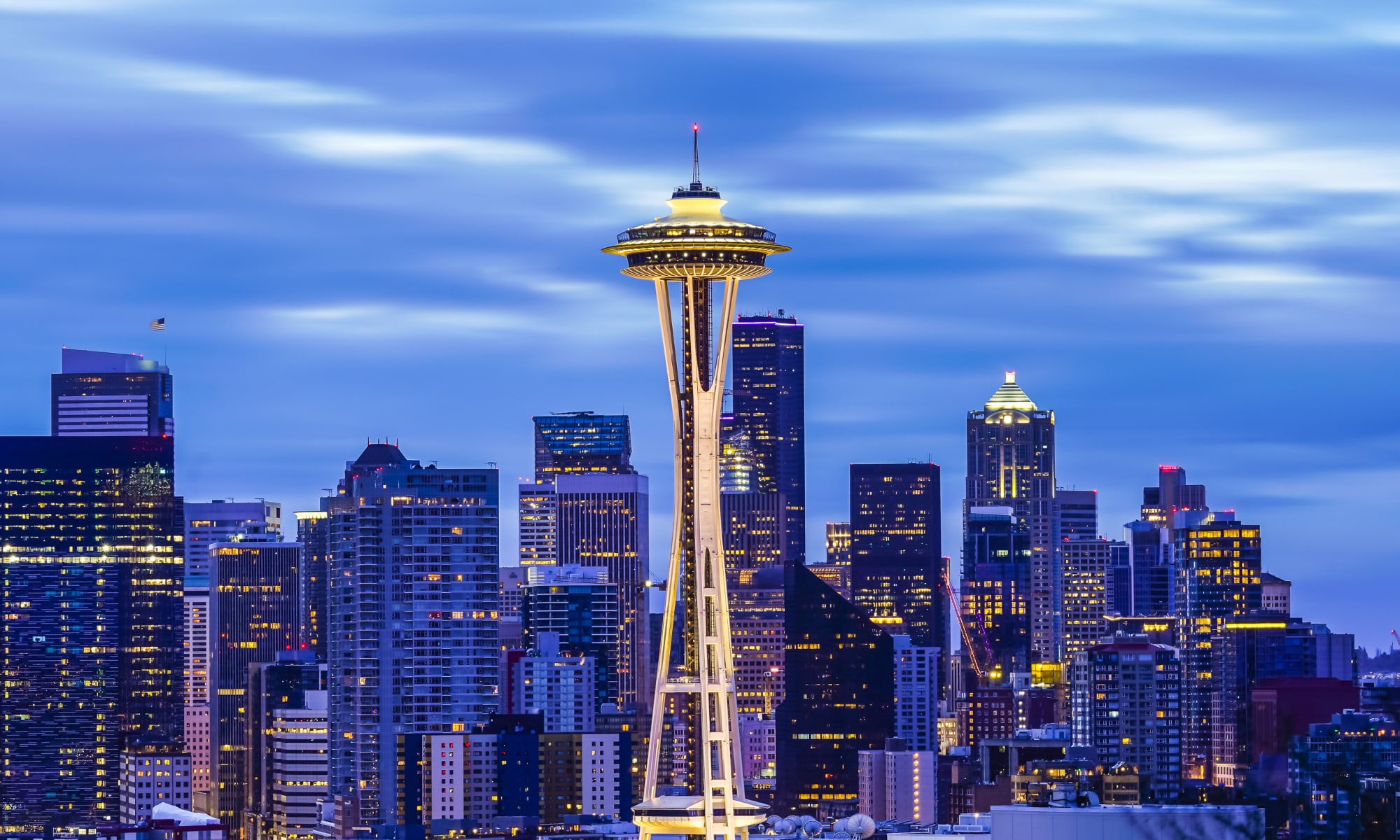 If you're visiting Seattle for the first time, you may be surprised to find that the Space Needle is significantly shorter than expected. The Space Needle is 605 feet tall, making it just the 9th tallest building in the city. So why does it look so much larger in most pictures (like the one above)?
The reason is that the Space Needle sits north of downtown, and pictures from Seattle's Queen Anne hill have it positioned closer than other buildings. So, the Space Needle's height in most pictures is an optical illusion.
The Space Needle was built for the 1962 World's Fair. Today it has an observation deck and a restaurant that rotates, giving diners a view of the entire Seattle region.
16. The 1962 World's Fair
In 1962 Seattle hosted the World's Fair and welcomed nearly 10 million attendees between April and October. With the Cold War raging, the World's Fair focused on showcasing the incredible science and technology advancements of the age. On the World's Fair grounds Seattle built a brand-new arena (which today is the Seattle Kraken's home arena), the Space Needle, and a monorail to whisk attendees to the fair from downtown hotels.
We've inventoried the major attractions of the 1962 World's Fair here, today most have been repurposed as part of the city's Seattle Center area. If you're traveling to the city with kids, we recommend a trip to the former World's Fair grounds to visit the Pacific Science center.
17. The Fremont Troll
Fremont is famous for being one of Seattle's "weirdest" neighborhoods. There's a 16-foot-tall statue of Lenin standing near the busiest shops in the neighborhood and 1,000 feet to the east sits a troll statue underneath the Aurora Bridge.
The troll itself is 18 feet tall and weighs 13,000 pounds. It's impressively large when seen in person. The story of how the troll came to be is fairly odd. In 1990 a local arts council launched a competition to create "hostile architecture" in the area to keep out vagrants, garbage, and other "blights" commonly found under bridges. The troll design concept fit the quirkiness of the area and won the competition. With plenty of shops, restaurants, and a trail along the Fremont Cut (a waterway), you may find yourself in Fremont on a trip to Seattle. If so, we strongly advise a quick stop off to see the troll.
18. Amazing Hikes
There are many cities you can see mountains from, but few offer such convenient hiking as Seattle does. We reviewed some of our favorite hikes in our guide to hikes around Seattle, but here are a couple of our favorites.
Poo Poo Point: Located near the suburb of Issaquah, Poo Poo Point is a 7.2-mile trek with an unexpected highlight. The trail is a favorite for paragliders that launch off the hill and glide above the surroundings of Seattle.
Little Si: Is a hike about 37 minutes from downtown Seattle that offers a moderate 3.7-mile roundtrip. The top of the trail offers a stunning view of Snoqualmie Valley.
19. Glassblowing Studios
Seattle is home to a vibrant community of glassblowing artists and studios. Their creations range from small items like glass shaped like Apples to massive installations stretching more than 100 feet in length (see the interior of Chihuly Garden and Glass above).
The most famous place to visit is Chihuly Garden and Glass. Dale Chihuly discovered modern glassblowing techniques on a trip to Italy in 1968 and founded glass schools and programs in the area. Today, his studio produces an incredible amount of glass artwork. Chihuly Garden and Glass is located at Seattle Center near the Space Needle. In addition to watching live glassblowing, you'll be able to venture through galleries and a garden filled with art installations.
20. Seattle Dogs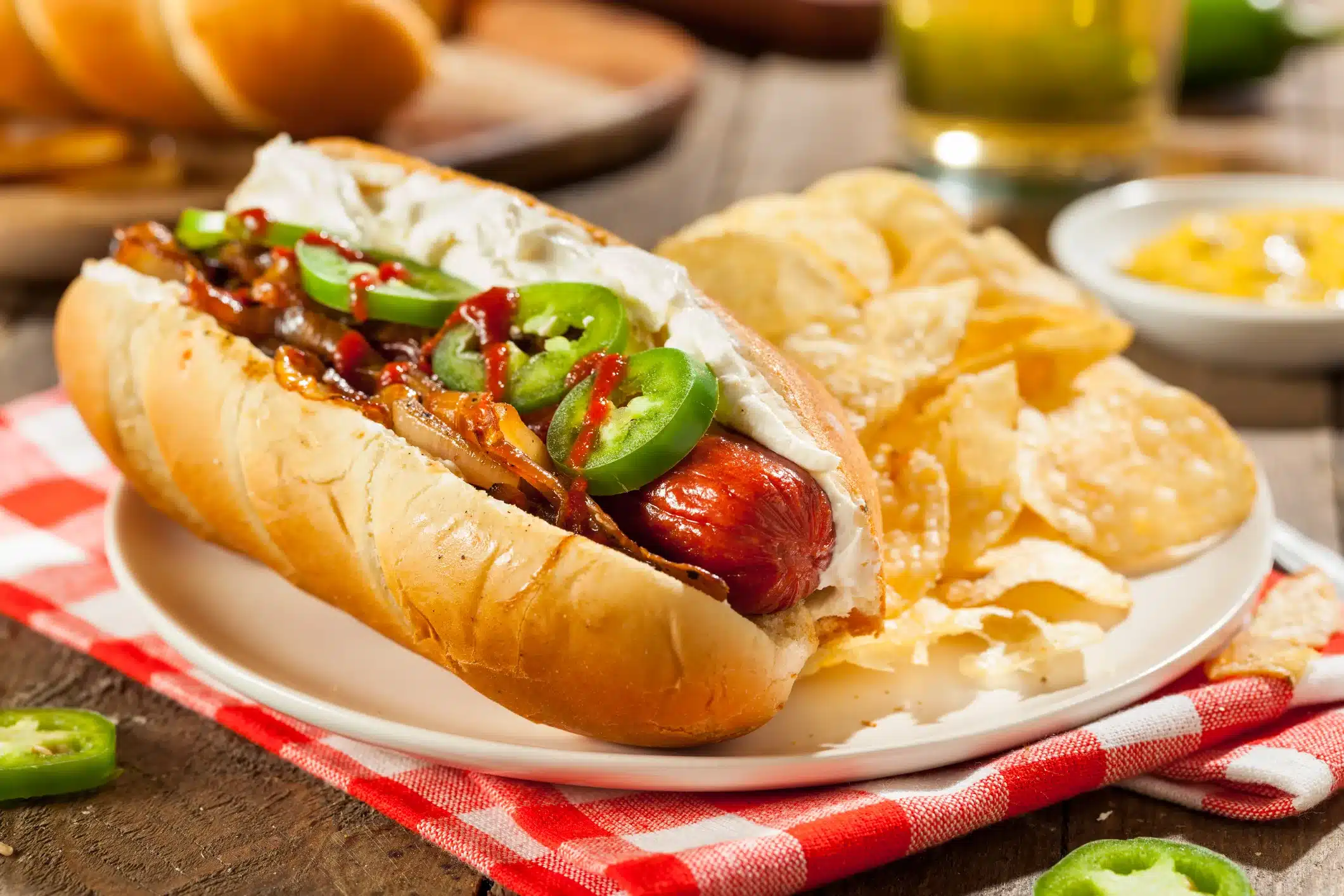 Seattle is home to many famous foods, but Seattle Dogs may be one of its odder creations. Late-night vendors outside Seattle's many music venues began slathering cream cheese and carmelized onions onto hot dogs. The dogs instantly became a hit and are found across the city today.
Beyond Seattle Dogs some other foods Seattle is famous for include:
Salmon: The waters around Seattle abound with shellfish and salmon. If you're in Pike Place Market, make sure to take in the famous vendors that throw salmon!
Coffee: Beyond being the home to Starbucks, Seattle is filled with coffee shops. While visiting the original Starbucks is a popular tourist attraction, independent coffee shops outnumber Starbucks by more than 3 to 1.
Dick's Burgers: The city's iconic fast food. Their burgers are reasonably priced but very high quality.
21. Grunge Rock and its Iconic Music Venues
Seattle has a storied music history. The 1960s saw Jimi Hendrix rise from the city's music scene and in the late 1980s Seattle was the epicenter of the rise of grunge music. Bands like Nirvana, Pearl Jam, Soundgarden, and Alice in Chains all played across small music venues in the city during this time. A number of these music venues such as Neumos and Showbox still exist to this day.
22. The Seattle Great Wheel
Giant Ferris wheels aren't quite the exclusive club they used to be. Cities ranging from Singapore, to London, to Las Vegas now have massive Ferris wheels in their tourism districts. Seattle's Great Wheel is unique for a couple of reasons. First, it's right on the waterfront, which gives a great vantage point overlooking ferries coming into the city. Second, it's covered in more than 500,000 LED lights. If you watch a big sports event in Seattle, odds are that you'll see the Great Wheel lit up to match the team's colors!
23. Hot Tub Boats
Wanting a truly unique night in Seattle? Try renting a hot tub boat from one of the many companies offering them on Lake Union. While many coastal cities sit on an ocean, Seattle is uniquely situated next to several inland lakes which provide calm waters.
Several companies now rent slow-moving boats that take advantage of these calm waters. While they only move at about 5 miles per hour, hot tub boats provide stunning views of the city while you can sit in relaxing 100-degree water. Trust us when we say, this is an experience you won't forget!
24. Lake Union and its Ice Cream Boat Tours
Number 24 on our list keeps us on Lake Union. While the lake is small (just 580 acres of surface area), it's right off downtown and presents a lot of boating opportunities.
More than a dozen companies now do sailings out of Lake Union. Beyond hot tub boats, there are a number of options that are a treat for all ages. One of our favorites is the ice cream cruise hosted by Seattle Water Tours (read more about it here). On this cruise you can sample local ice creams while taking in all of Lake Union's most famous landmarks. There's also a pirate ship you can ride on Lake Union or cruises that take you into Lake Washington to see the incredible mansions from Seattle billionaires like Jeff Bezos and Bill Gates. If you want more details check out our favorite Seattle boat tours.
25. Whale Watching Tours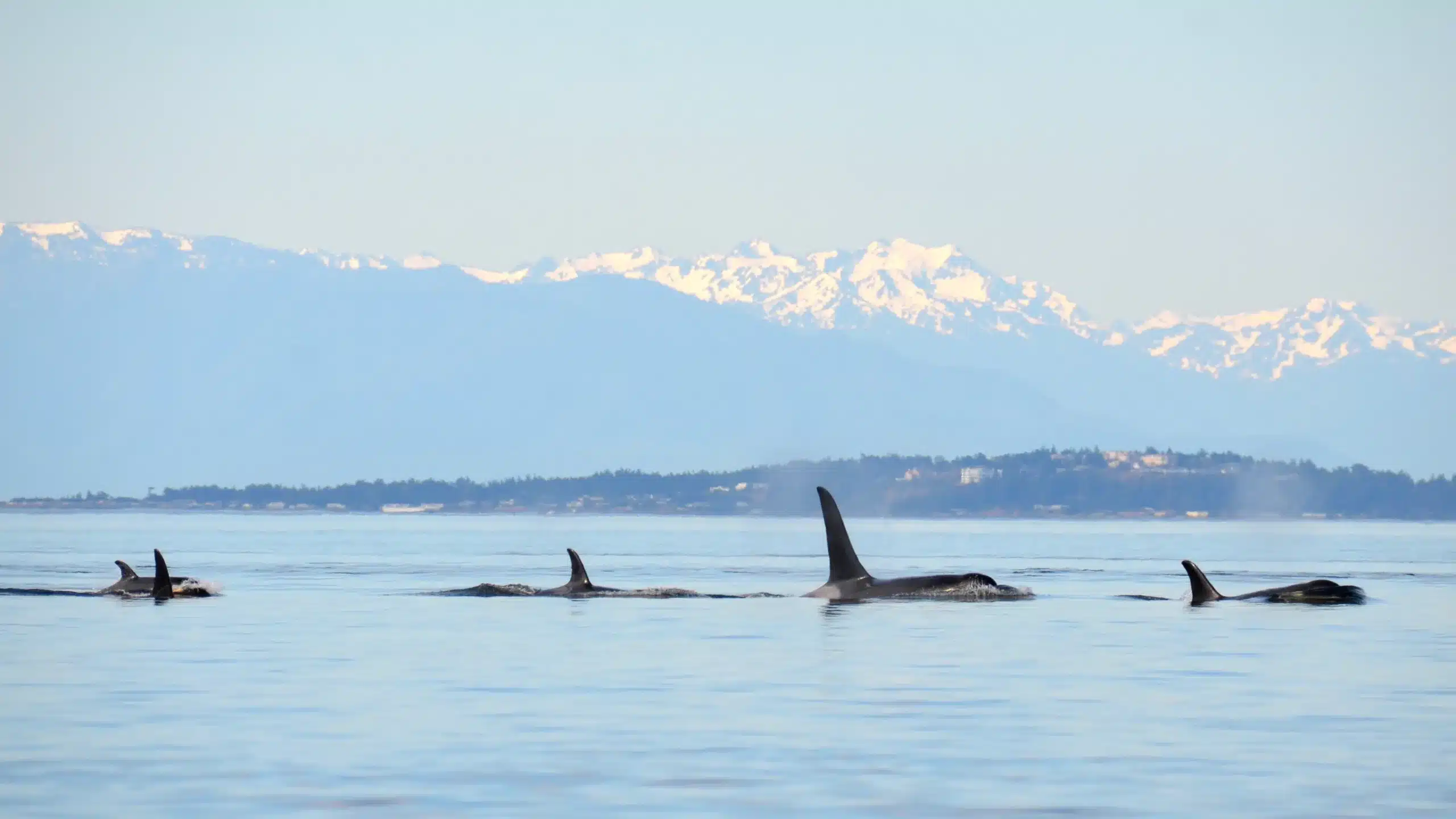 Seattle is home to a number of fantastic whale-watching tours. The Puget Sound is home to a resident pod of orcas as well as gray whales and humpback whales that migrate through the area. Another whale species that's sometimes spotted is the minke whale.
What type of whale you spot depends on the season. Gray whales migrate from a few estuaries off the coast of California up to Alaska during the spring and are most commonly sighted near Seattle in March through May. Humpback whales and minke whales also travel through Puget Sound waters seasonally. Overall, the Pacific Whale Watch Associaton reported sighting:
Bigg's killer whales 278 days during 2022
Humpback whales 274 days
Gray whales 200 days
and minke whales 158 days
Most whale-watching companies in Seattle promote 90% of tours spotting a whale and will offer vouchers for another tour if one isn't spotted.
26. Sleepless in Seattle
Seattle is famous for its place in a number of movies and TV shows. Some famous ones include Frasier, Grey's Anatomy, and parts of Twilight. Yet, Sleepless in Seattle remains the most famous movie that's synonymous with the city.
In Sleepless in Seattle viewers are taken to numerous landmarks across the town. Tom Hanks' lead character lives in one of Seattle's famous houseboats (pictured above), there are scenes set in Pike Place Market, and Alki Beach even makes an appearance!