Did you know that there's a tropical oasis in the middle of downtown Seattle? Thanks to Amazon's dedication to providing spaces that inspire creativity in their employees, Seattle has one of its most gorgeous pieces of architecture. It's a set of three conjoining glass spheres, and if you think the outside is a sight to behold, you should see it from the inside! Twice a month, Amazon opens the building to the public and you can do just that.
Let's dive into everything you need to know about visiting the Amazon Spheres. They have hours available for tours every other week, but if your trip to downtown Seattle doesn't line up we'll reveal how best to get a view of this beautiful oasis in the city.
The Background on the Amazon Spheres
The Amazon Spheres (also called the Seattle Spheres) began development in 2012. Until 2010, Amazon's headquarters were in an old healthcare facility in Seattle's Beacon Hill neighborhood, but the company decided to build an urban campus sprawling across several blocks of downtown.
At the center of this campus, then-CEO Jeff Bezos wanted an eye-catching landmark. The main theme he landed on was a collaborative indoor garden. The Spheres would not only be an icon in downtown Seattle, but would also be a space for Amazon employees to connect with nature and spur innovation at its headquarters. After several design iterations, the Spheres design was approved in late 2013 and construction began in June 2015.
By December 2016, all glass panels had been installed on the Sphere (there are 2,643 panes of glass!), and work shifted to filling its interiors with plant life. Highlights of plant life include a 49-foot tree nicknamed "Rubi," and a 4,000 square-foot "Living Wall" filled with a variety of plant life.
Where Are the Amazon Spheres Located?
The Amazon Spheres are located in a part of downtown Seattle known as the Denny Triangle. Their address is 2111 7th Ave, Seattle WA 98121. Near the Spheres, you'll find several other office buildings that are part of Amazon's downtown campus. If you're looking for activities after visiting the Spheres, the surrounding blocks are filled with restaurants, coffee shops, and bars.
The Amazon Spheres are a 12-minute walk from Pike Place Market that should take about 10 to 15 minutes.
What's Inside the Amazon Spheres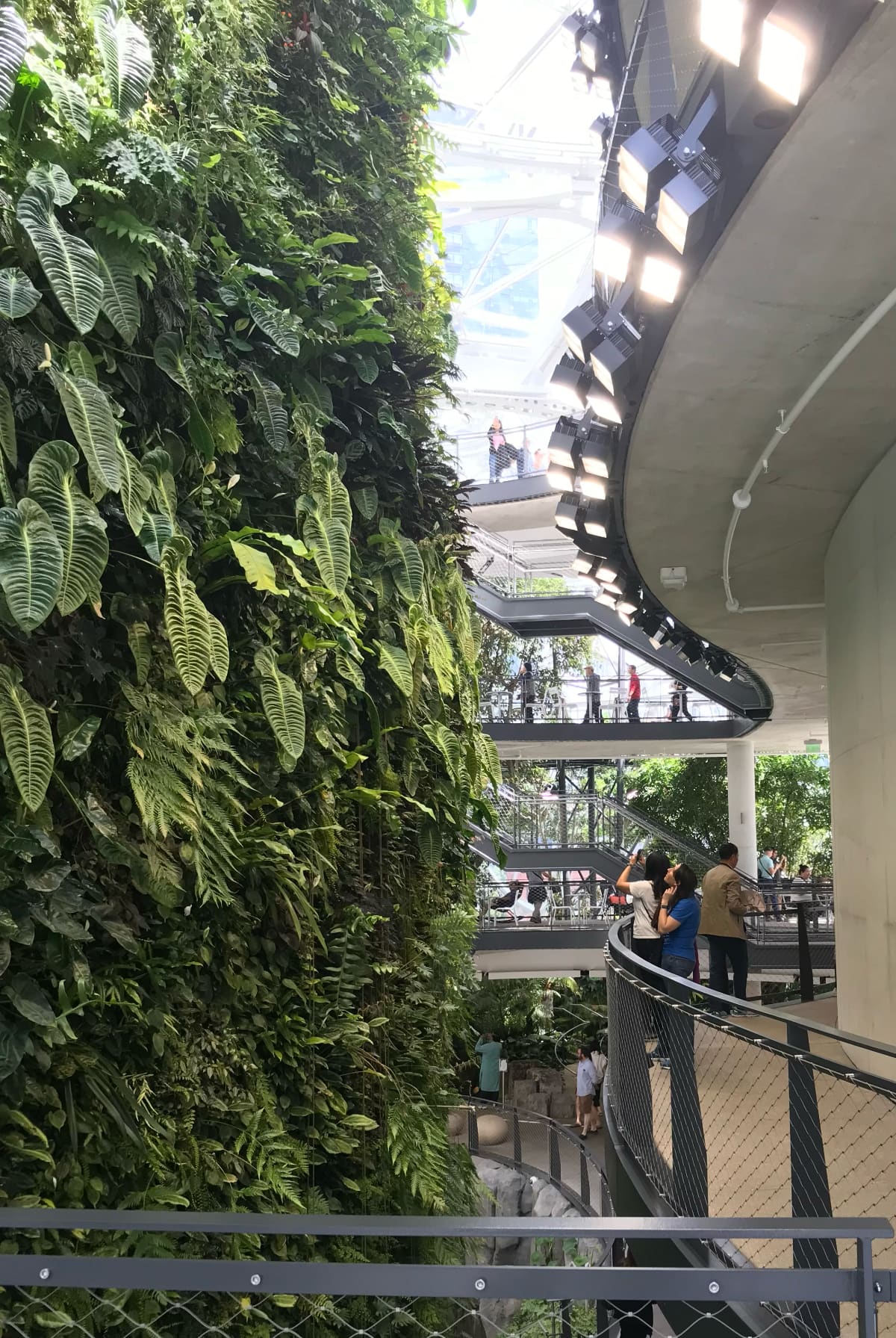 Inside, you will enjoy a balmy 72 degrees Fahrenheit and 60% humidity year-round. Tropical plants from South America, Asia, Africa, and Australia fill various themed spaces. Enjoy them while wandering pathways, from the many sitting areas, or staring up at the jaw-dropping four-story high plant wall. My personal favorites were the wide variety of orchids, the interesting shapes of the pitcher plants, and the impressive size of the infamous corpse flower. What you find can change from one visit to another, however. Amazon has enormous greenhouses in the Seattle suburb of Woodinville, from which they regularly switch out the plants of the Spheres.
The Amazon Spheres Tour and Hours of You Can Visit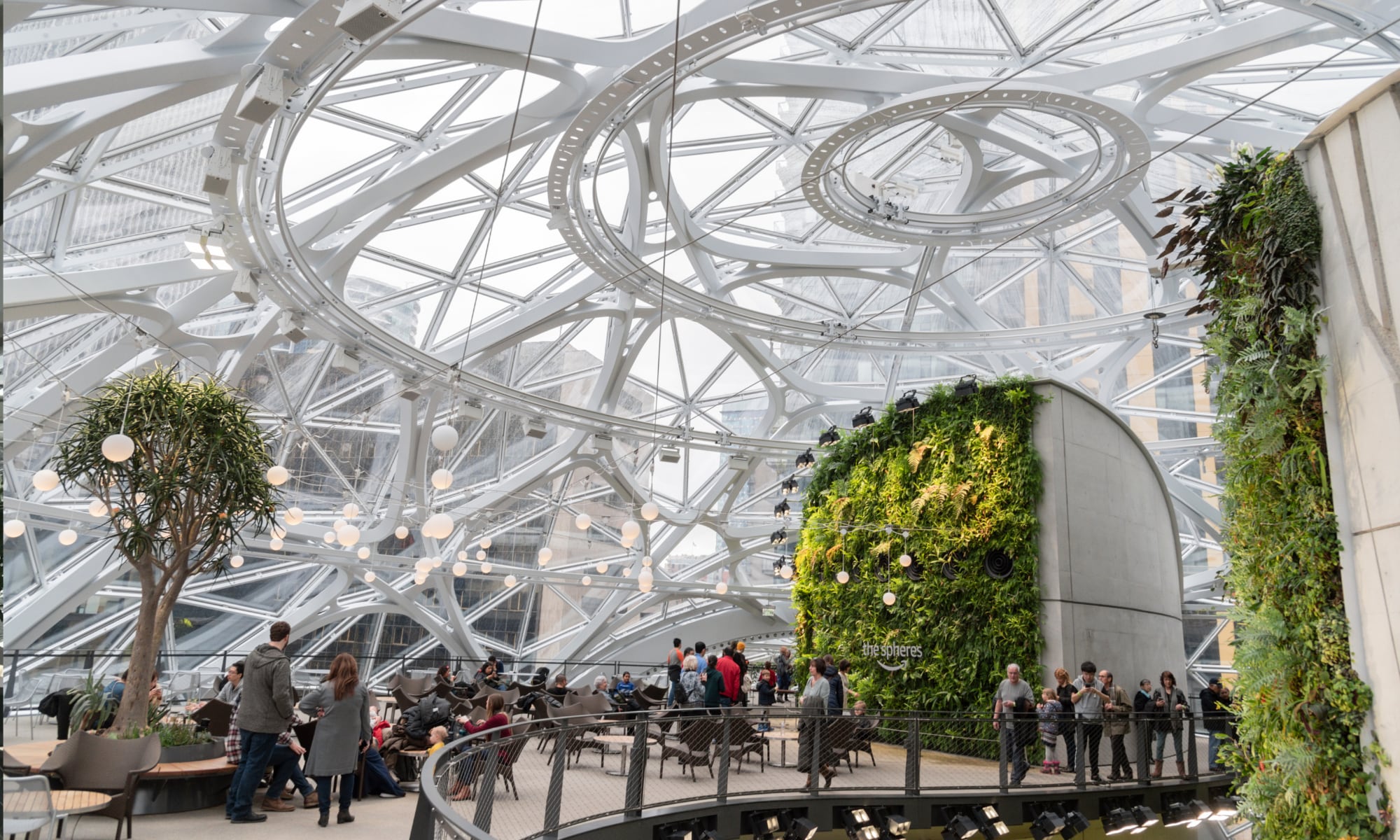 Planning ahead for a visit to the Spheres is a must as space is limited and highly in demand. The days reserved for general public visits are the first and third Saturdays of each month. While free, tickets must be reserved in advance by visiting seattlespheres.com. Reservations open 15 days prior to the day of your visit so mark your calendar because they go quickly!
Now if you're reading this and realized you've missed your window to get tickets during your visit to Seattle, not all is lost! Amazon has their Understory Exhibit waiting for you. It sits literally under the Amazon Spheres, requires no tickets or reservations, is free, and is open Tuesday through Saturday 10 am-6 pm. This exhibit is about the concept on which the Spheres were created; bringing nature together with design, art, and technology. Part art exhibit and part science exhibit, it's both educational and interactive. It's worth a visit on its own or it's a great addition to your day at the spheres.
Parking and Getting to the Amazon Spheres
The day of your visit, you can find parking conveniently located next to the spheres at 2021 7th Ave or use nearby public transportation. The closest light rail station is Westlake Station, which is about an 8-minute walk from the Amazon Spheres. The Spheres are also located near the Westlake and 7th stop of the South Lake Union Streetcar.
Adults, remember your photo ID and leave pets and big bags at home; no bags over 12"x12" are allowed.
Foods in the Amazon Spheres
Do bring your appetite! Inside the Spheres, you will find coffee and donuts courtesy of General Porpoise. Operated by the same folks as Ballard favorite The Walrus and The Carpenter, these are not your typical donuts and are worth a trip all on their own. They're a filled donut similar in style to a Hawaiian Malasada and the flavor list is ever-changing. There will be a rotating variety of local, in-season favorites such as Rainier cherry jam or huckleberry cream. As well as year-round favorites like honey yogurt and vanilla custard.
Restaurants Near the Amazon Spheres
If you're looking to dine or grab a drink near the spheres, there are some fantastic options for taking in a view and enjoying top-notch food. A few of our favorites include:
2120: Features entrees ranging from sweet potato coconut curry to standards like prime New York steaks. 2120 sits on the corner of Amazon's Day 1 building, which gives its outdoor patio a sweeping view of the Amazon Spheres.
Willmott's Ghost: A full-fledged restaurant inside the Spheres. The space inside Willmott's Ghost is optimized for views of the plant life inside the Spheres. It's cozy, with 49 seats total that include both tables and a curved bar with seating for 8. The food is Italian, with a mix of pizza, salads, and panini (for lunch). The dinner menu adds entrees that are generally between $30 to $50.
Deep Dive: Would you believe that the Amazon Spheres have a speakeasy-style bar inside them? If that sounds like your idea of fun, make sure to check out Deep Dive. It's styled after an upscale European bar and has drinks cocktails that change daily and an expansive wine menu. Foods are mostly lighter fare that includes Jamon Iberico, rockfish pave, and a hot dog with salmon caviar and cream cheese (yes, seriously).
One Last Tip: Our Favorite Place to Take a Photo
Make sure to travel all the way to the top floor or you'll miss two favorite spots in the building. There's a great photo background with the Amazon Spheres logo on a wall of greens. Plus, my favorite place in the whole building, the lounge chairs at the top of the dome. As long as some sun is peeking through, it's a great, warm spot to gather some vitamin D during the long Seattle winter!