Seattle Activities
Great Things to Do in Seattle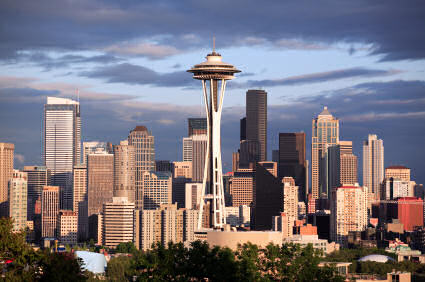 Space Needle
Located at the Seattle Center with many other family activities, the
Space Needle is Seattle's major landmark. You can take an
elevator to the top for around $8 and see amazing views. There is
also a restaurant at the top that is pretty pricey. The Space
Needle is a lot cooler from a distance than close up. It is made
of metal and somewhat run down, but worth a look.
Pike Place Market

Historic market with fresh seafood and produce
together with crafts… This is Seattle's #1 tourist attraction
to see the fishmongers throw fish. Huge crowds and a fun
atmosphere with unique craft shopping and restaurants. Don't miss
the fish throwing!!!
Seattle Aquarium

Seattle's Aquarium is a great stop for families and rainy
days. Incredible exhibits where fish surround you in glass roofed
aquariums. Favorite attractions include sea lions and sea otters
in indoor / outdoor exhibits connected to the Puget Sound's natural
waters.
Underground Tour
Under the streets of Seattle lies the wildest history you can
imagine. One of Seattle's favorite and most unique attractions…
Snoqualmie Falls
Stunning waterfall visited by millions annually. Do not miss this incredible site.
Olympic Sculpture Garden
Free waterfront sculpture park over 9 acres – views of Elliott Bay
and Space Needle, plus cafe – (healthy) walking distance from Belltown /
downtown.
Seattle Ship Locks
Ballard "Locks" allow boats to pass from Bay to Lake. The Hiram M.
Chittenden Locks are an amazing site a short drive from downtown.
Alki Beach – West Seattle
Great beach with awesome views of Seattle's downtown.
Pioneer Square
Historic Seattle district known for antique shopping, great restaurants, and hot nightclubs with live music.
Bainbridge Island
A beautiful ferry ride to a small-town island paradise…
Seattle Shopping
Great department stores and boutiques with personal service in downtown Seattle…
Museum of Pop Culture
The most unique music museum in the world…Dedicated to the best kind of music – rock.
Pacific Science Center
Great for kids… The center includes 200 interactive hands-on
exhibits, a planetarium with two shows, an IMAX theater, and a laser
theater. Features include making a giant sheet bubble, computer
simulations, virtual reality hang-gliding, and robot battles.
Learn a lot and have fun at Seattle's Pacific Science Center.
Museum of Flight
Airplane museum photo essay with videos. Perfect for a family activity.
San Juan Islands
Amazing island getaway nearby Seattle – known for whale watching.
Seattle Colleges
Spend a long vacation going to school in Seattle.
Seattle Convention Center
Ensure a convenient trip to your next conference in downtown Seattle
with our detailed guide to the Seattle Convention
Center with places to eat, things to do and hotels near by.