It's time for the Space Needle vs Golden Gate Bridge battle!
Seattle and San Francisco have a lot in common. For one, they're two of the largest coastal cities on the United States' West Coast. Beyond that, they're also both known for their moderate climates and concentration of jobs in the tech industry. Of course, the economic success of both cities has led to some downsides such as skyrocketing cost of living and homeless crises in both cities.
Let's stack up San Francisco vs Seattle and compare the two cities side-by-side. We'll go over the pros and cons of each city, the weather, cost of living, popular things to do in each city, and more!
Comparing Seattle vs San Francisco
| | Seattle | San Francisco |
| --- | --- | --- |
| City Population (2021) | 733,919 | 815,201 |
| Population Density Per Square Mile (2021) | 8,775 | 18,634 |
| Metro Area Population (Combined Statistical Area) | 4,953,985 | 9,545,921 |
| Yearly Precipitation | 39.34 inches | 22.89 inches |
| Days with Precipitation | 156.2 | 71.2 |
| January Average High/Low (Fahrenheit) | 48.0 high / 37.7 low | 57.8 high / 46.6 low |
| July Average High/Low (Fahrenheit) | 77.4 high / 56.8 low | 66.3 high / 54.4 low |
| Hours of Sunshine Per Year | 2,169.7 hours | 3,061.7 hours |
| Median Household Income (2021) | $110,800 | $121,826 |
| Median Listing Home Price (2022) | $850,000 | $1,275,000 |
| Income Taxes (2022) | 0% | 1% to 12.3% |
| Sales Tax (2022) | 10.25% | 8.63% |
Weather data from NOAA. Population data from Census Bureau.
The Main Differences Between Seattle and San Francisco
The key differences between Seattle and San Francisco boil down to cityscape, weather, and cost of living. San Francisco is a much denser city with a population density more than twice Seattle. When it comes to weather, Seattle has warmer temperatures and less annual sunshine whereas San Francisco has more year-round moderate temperatures. Finally, San Francisco is a more expensive city to live in with significantly higher real estate prices.
Let's examine each of these areas in more detail below.
Differences in Weather Between San Francisco and Seattle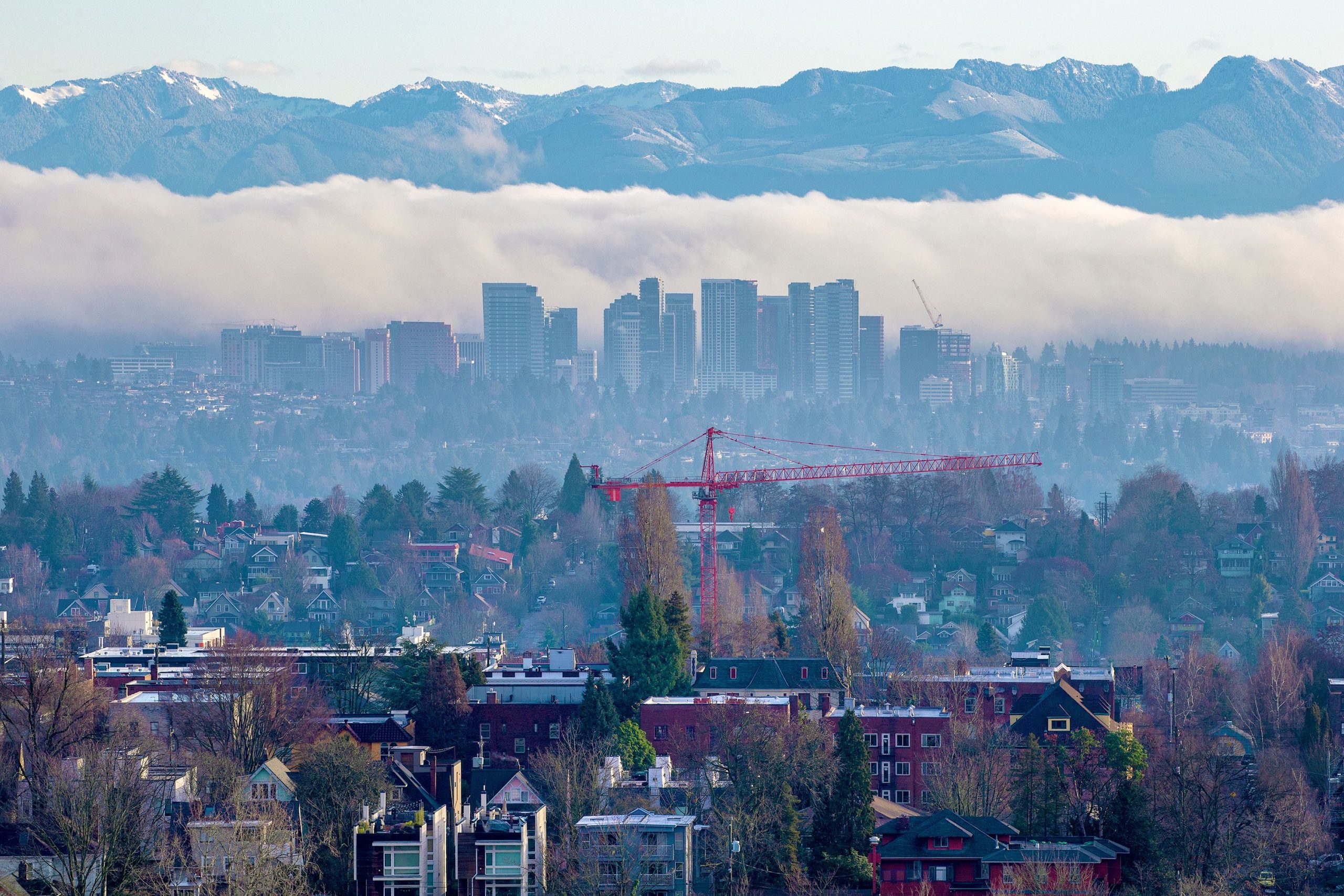 The weather in San Francisco is more moderate than Seattle, with the primary difference being San Francisco is warmer in the winter and colder in the sunner. San Francisco also has a sunnier climate with significantly less precipitation.
If you look on a map, San Francisco is about 679 miles south of Seattle. Given its southerly latitude, you'd expect the city to be significantly warmer. However, that's not entirely correct.
Sitting at the end of a peninsula sandwiched between the Pacific Ocean and a large bay, San Francisco has extremely unique weather patterns. Its common for neighborhoods along the coast to be covered in dense fogs in the morning across summer. In fact, the warmest month in San Francisco is actually September!
| Month | San Francisco Average High (Fahrenheit) |
| --- | --- |
| January | 57.8 degrees |
| February | 60.4 degrees |
| March | 62.1 degrees |
| April | 63.0 degrees |
| May | 64.1 degrees |
| June | 66.5 degrees |
| July | 66.3 degrees |
| August | 67.9 degrees |
| September | 70.2 degrees |
| October | 69.8 degrees |
| November | 63.7 degrees |
| December | 57.9 degrees |
| Average High | 64.1 degrees |
The difference in average high between July and January is less than 10 degrees in San Francisco.
Overall, San Francisco gets about 23 inches of rain from an average of 71 days with rain. That's significantly lower than Seattle's 39 inches of rain from an average of 156 rainy days. In addition, San Francisco gets 892 more sunshine hours than Seattle per year.
Here's a listing of Seattle's average high temperatures by month:
| Month | Seattle Average High (Fahrenheit) |
| --- | --- |
| January | 48.0 degrees |
| February | 50.3 degrees |
| March | 54.2 degrees |
| April | 59.3 degrees |
| May | 66.3 degrees |
| June | 71.1 degrees |
| July | 77.4 degrees |
| August | 77.6 degrees |
| September | 71.6 degrees |
| October | 60.5 degrees |
| November | 52.1 degrees |
| December | 47.0 degrees |
| Average High | 61.3 degrees |
The difference between winter and summer average highs is about 30 degrees in Seattle
The bottom line: Seattle is generally a much more "gray" than San Francisco. The summers are generally more pleasant in Seattle, while San Francisco's mild winters provide far more sunshine compared to Seattle's long stretches of cloudy days that take place November to February. Thankfully, best cities have very low humidity (dew points) that is a welcome change if you've experienced summers on the East Coast!
Cost of Living in Seattle vs San Francisco
San Francisco is a more expensive city than Seattle, but they're both extremely expensive relative to the rest of the county.
A boom in the tech industry has fueled both wage growth and real estate prices in both cities. The median single family home in San Francisco was $1.275 million in September 2022, that's exactly 50% higher than Seattle's median $850,000 price point.
When it comes to renting, San Francisco's average rental rate in November 2022 stood at $3,400 for a 740 square foot apartment. Once again, that's significantly higher than Seattles average of$2,334 for a 691 square foot apartment.
Of course, both cities are so expensive in part because of their attractive job prospects, and the median household income figures for both cities are extremely high relative to the rest of the country. In San Francisco, the median household income stands at $121,826 while Seattle's about 10% lower at $110,800. For perspective, the median household income in the United States was $70,784 in 2021.
As you can expect, other categories like food and groceries, healthcare, and transportation will be slightly more expensive in San Francisco and Seattle than the broader United States. However, the main difference in the cost of living for both cities is their sky high housing and rental prices.
One final consideration, as of 2022 Washington state has zero income tax. (That's right, zero). That can be a major difference versus California, where a family making $100,000 per year is in a state tax bracket paying 9.3% of their income. Sales tax in Seattle is 10.25% while San Francisco is slightly lower at 8.63%.
Neighborhoods and Cityscape
San Francisco is one of the smallest major US cities when it comes to total area. San Francisco is just 46.9 square miles, which is 37 times smaller than Anchorage, 16 times smaller than Jacksonville, 10 times smaller than Los Angeles, and 6 times smaller than New York City.
Seattle, by comparison, is nearly twice the area of San Francisco by area. Yet, San Francisco actually has more people than Seattle!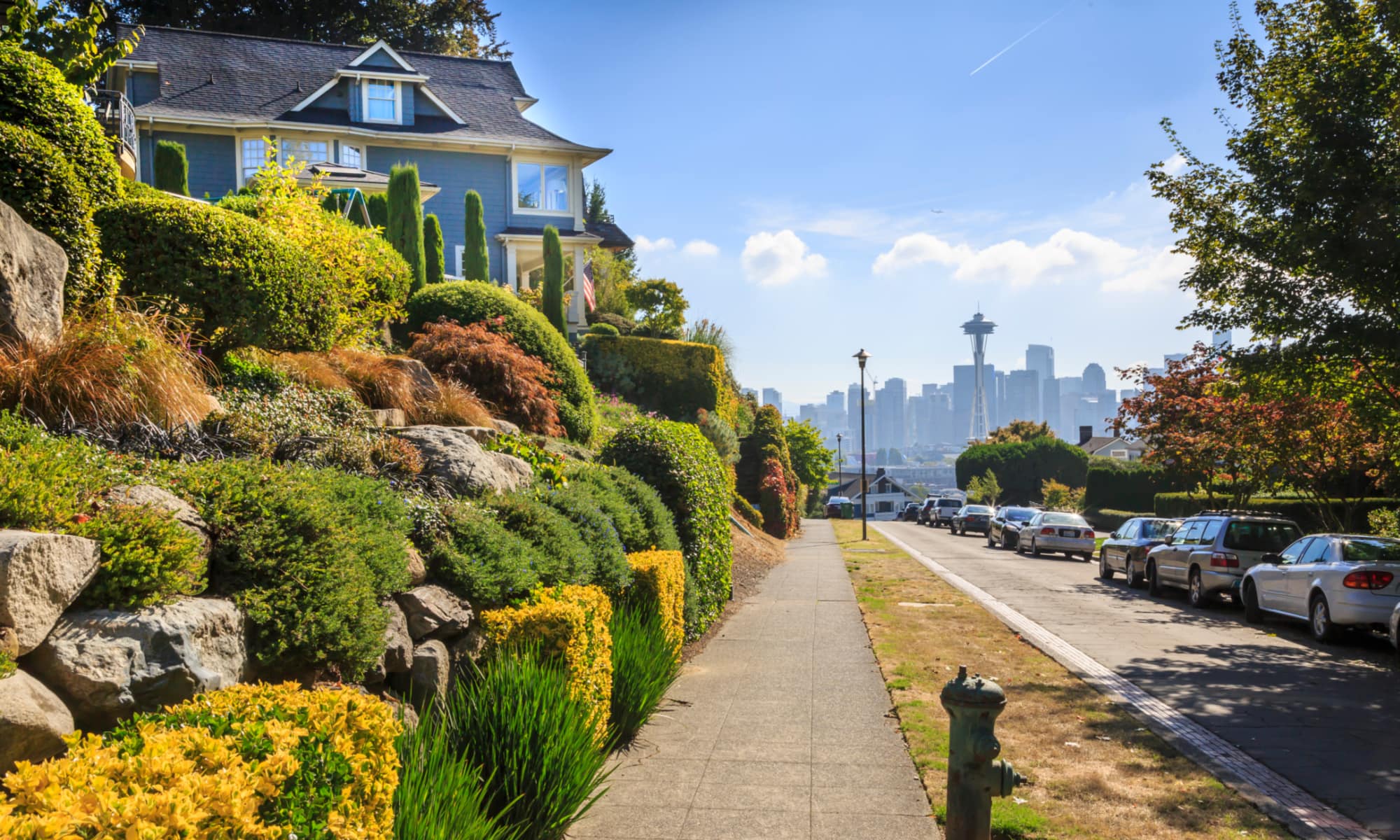 Why is that? For one, the cityscapes of Seattle and San Francisco are very different. Roughly 70% of Seattle is zoned for single-family housing, while that number is only 40% for San Francisco. Walk around the majority of San Francisco and you'll find homes without much in the way of yards. In areas like Richmond and Sunset you'll find blocks of homes that touch one another.
That's a stark contrast to neighborhoods like Wallingsford or Queen Anne in Seattle that have plenty of Craftsman-style homes. Let's dive into some famous neighborhoods from each city.
Seattle Neighborhoods
Some of the most notable neighborhoods in Seattle include:
West Seattle: A collection of neighborhoods that sometimes includes Alki Beach, Admiral, and Fountleroy. West Seattle is separated from the rest of Seattle by the Duwamish River, which gives it a more "removed" character.
University District: Houses the University of Washington.
Queen Anne: A mostly residential community built ontop a hill that overlooks downtown Seattle.
Capitol Hill: A popular nightlife and entertainment area just east of downtown that's famous for being the heart of Seattle's "counterculture" community.
If you're looking for nightlife, mass transit, or getting outdoors, here are a few neighborhoods to keep in mind:
Nightlife: Capitol Hill, downtown, Lower Queen Anne, Ballard, and Fremont all have active night life areas and a concentration of restaurants.
Mass Transit: Seattle's light rail currently runs through Rainer Beach, through Columbia City, into downtown and continues northward to Northgate. Future extensions will bring service to more areas across the city.
Nature: Green Lake has a trail that runs across the lake and plenty of park space on alongside the edge of the lake. Magnolia has a large park named Discovery Park that overlooks Puget Sound. Another great neighborhood to get outdoors in Seattle is Madison Park, where you visit the Washington Park Arboretum.
San Francisco Neighborhoods
As noted, most San Francisco neighborhoods are significantly denser than Seattle. You'll find far more row homes across the city. A few of the more notable neighborhoods include:
Mission Bay: An area along the bay that used to be filled with warehouses by in recent decades has become a hotspot for young professionals. The Golden State Warriors recently opened their new arena in this neighborhood.
Haight-Ashbury: A neighborhood near the center of San Francico that fostered the hippie movement in the 1960s. Today the neighborhood is a popular destination for shopping and tours.
Chinatown: One of San Francisco's most popular tourism spots, Chinatown covers about 24 square blocks. Incredibly, it's the most densely populated area in the US outside New York City.
Russian Hill: The home of San Frincisco's famous winding Lombard Street. Russian Hill is famous for its views that include the Golden Gate Bridge, Alcatraz, and the hills in Marin County north of San Francisco.
Pros and Cons of Living in Seattle
With this look at the both cities complete, let's weigh the pros and cons of Seattle vs San Francisco. Let's start with Seattle.
Living in Seattle: The Pros
Strong job market with diversification across industries: Major companies headquartered in or near Seattle include Microsoft, Amazon, Starbucks, Boeing Commercial Arilines, Wayerhauser, Alaska Airlines, and Costco.
Summers are beautiful: While Seattle is known for being a rainy city, the truth is that during the summer there's only about an inch of rain per month. With very little humidity, Seattle's summer climate is incredible.
Natural beauty: If you love the outdoors, its hard to beat the natural beauty of the Seattle area. There are not one but two mountain ranges in view from the city (the Cascades and Olympics), while Mount Rainier is a nearly ever present sight during the summer months. Within a couple hours you'll find hiking, islands to explore, and recreational activities like kayaking.
Taxes: Eight states have no income tax and Washington state is one of them. Paying less in income tax can reduce some of the cost of living adjustment you might experience when moving to Seattle.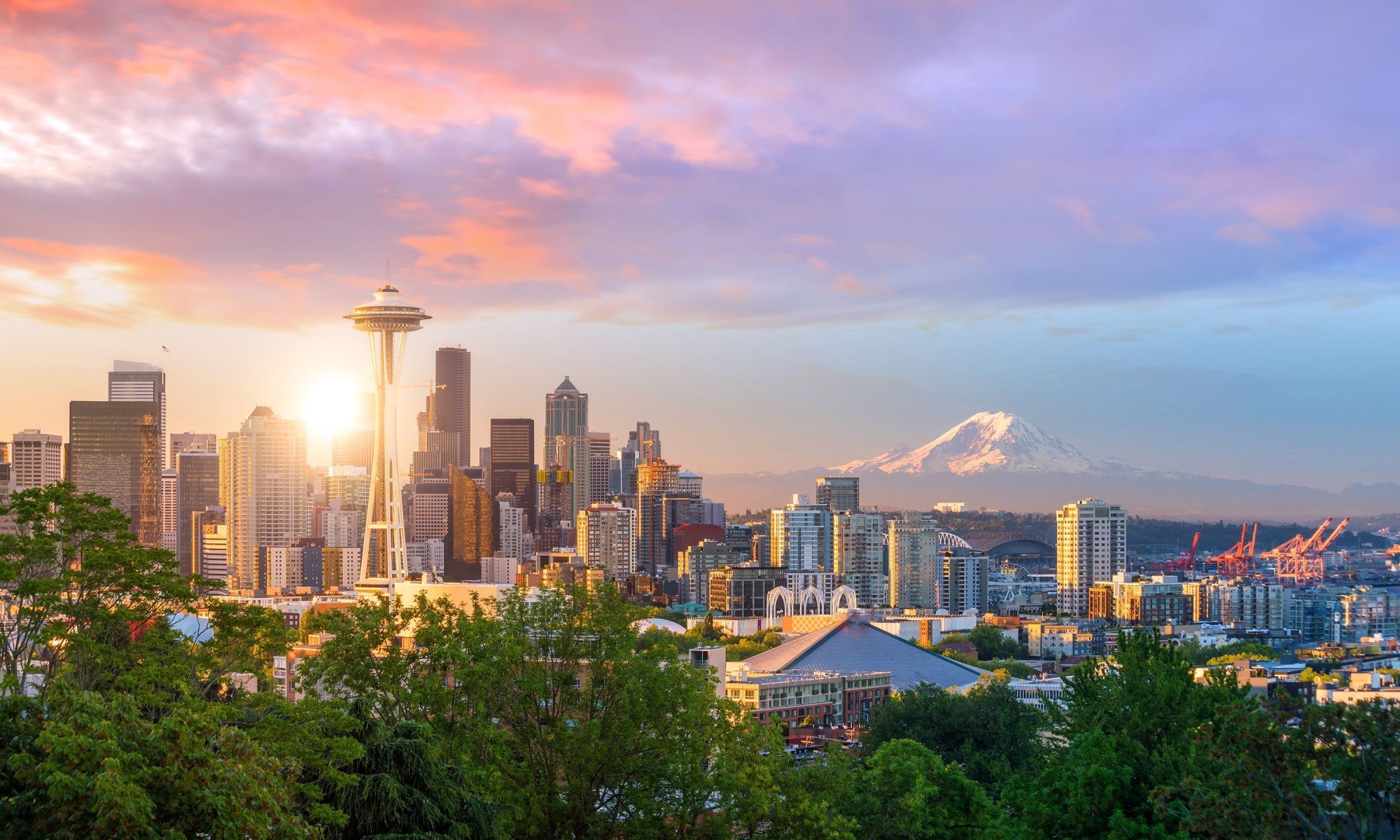 Living in Seattle: The Cons
It's expensive: Yes, living in Seattle isn't as expensive as San Francisco, but it's still very expensive. While home prices in Seattle city proper have seen their upward march slow, areas that are more popular with families (like Seattle's Eastside suburbs) have home prices still rising at blistering rates.
Winters are not beautiful: November in Seattle sees just 73 hours of sunshine, December has 53 hours, Janury 78 hours. Each month averages about 18 rainy days. There's no way to sugar coat it, winters in Seattle can be very difficult, especially if you suffer from seasonal affective disorder.
Homelessness on the rise: Seattle has seen a rise in homelessness as its cost of living has skyrocketed. This has particularly affected the downtown area, where tent cities are common sights across sidewalks in areas like Pioneer Square.
Pros and Cons of Living in San Francisco
Now let's review the positives and negatives of San Francisco.
Living in San Francisco: The Pros
Moderate climate: Yes, Mark Twain once said "the colest winter I ever spent was a summer in San Francisco," but the climate of the city is pretty outstanding. If the summers are too cold, remember that a 30 minute drive southward to Silicon Valley can quickly be a 30 degree temperature difference!
Walkable with culture: San Francisco has the second highest population density of any major US city. With so many people in such a small area, that makes San Francisco extremely walkable (just be ready for hills!). A day's walk can take you from such cultural icons as the Castro, Haight-Ashbury where the "Summer of Love" converged, and Chinatown.
The tech capital of the world: Silicon Valley is the world's number one center for technology, and the amount of tech companies and jobs that have moved to San Francisco in recent years is staggering. Salesforce.com, AirBNB, and Uber are some of the companies located in San Francisco. In addition, most Silicon Valley companies have office space in the city as well.
Explore the Bay Area: From San Francisco you can take a short drive to the coast, travel down to Big Sur, go on hikes in the hills surrounding the area, or head on up to Sonoma for a day of wine tastings. There's simply an incredible amount of activities from across the Bay Area.
Living in San Francisco: The Cons
Did we mention it's REALLY expensive: It just needs to be restated one more time, San Francisco is extremely expensive! With a median home price of well above a million, living in San Francisco is simply out of the price range of most people.
Homelessness and downtown decay: San Francisco estimates there are about 7,800 homeless people in the city. If you're in downtown, you're simply going to notice areas that are rough around the edges. In addition, lesser crimes like vehicle break-ins are commonly reported across the city. If you're visiting, it's highly recommended not to leave anything valuable in your car.
Bureaucracy: San Francisco is famous for its bureaucratic challenges to things like constructing new apartments or opening a restaurant. For most people, this is a concern you won't have to directly deal with. However, it does rear its head in areas that can affect quality of living. One recent example was the city budgeting $1.7 million and two years to construct a single toilet.
Which City is Best: San Francisco or Seattle?
If you're looking for a lower cost of living, Seattle is likely best for you. Both cities have thriving tech industries and strong job prospects. However, the median housing price in San Francisco remains 50% above Seattle.
However, there are reason you may prefer San Francisco. If you're looking to live in a very walkable community, the density of San Francisco makes it a more walkable city. Another key reason you might prefer San Francisco is the weather. Winters in Seattle are simply gray and rainy enough that it bothers many people. San Francisco gets significantly more sunshine throughout the year.
If you're looking to take a vacation between the two cities, it depends what you want from your trip. If you're looking for more outdoors time and natural beauty, a trip to the Seattle area in July can't be beat. If you're looking to enjoy the city and restaurants, walking around the neighborhoods of San Francisco is an outstanding trip.