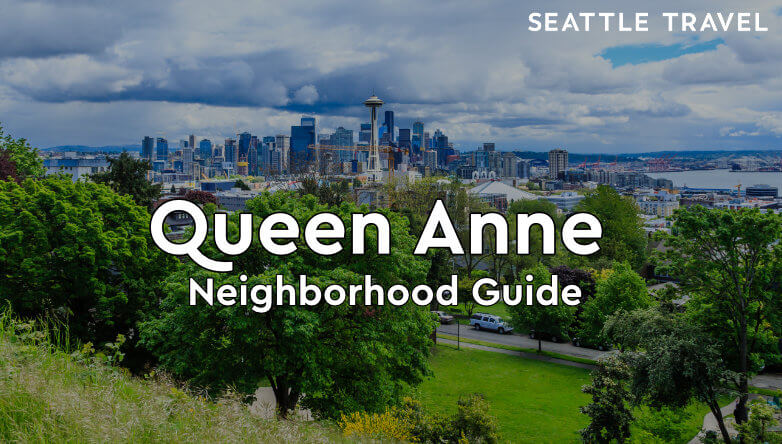 Queen Anne is one of the most well-known and noteworthy neighborhoods in Seattle. The neighborhood is the site of the iconic Space Needle and some of the most magnificent views in Seattle. Tourists and locals alike visit Queen Anne because of its rich architectural history, local eateries, and compelling attractions. Let's dive into some of what makes Queen Anne so special!

Killer Views
One of the most compelling reasons to live in Queen Anne is its breathtaking views. Queen Anne features striking views of the city and almost every natural landmark in the greater Seattle area, including Puget Sound, the Olympic Mountains, Mount Rainer, the Cascades, Lake Union, and Glacier Peak.
One of the best places to check out Seattle's views is Kerry Park, a small park located on a cliff. Kerry Park (also called the Queen Anne Hill) offers a postcard-perfect view of the Downtown Seattle skyline and Space Needle. 
Things to Do
Below, we'll list some of the things to do in Queen Anne. Keep in mind most of these attractions are either near the Seattle Center in Lower Queen Anne or along Queen Anne Avenue, where all of the locally-owned shops and restaurants are located.

The Space Needle
While the walk to the Space Needle is strenuous due to Queen Anne's hilly terrain, it is incredibly rewarding. The Space Needle is one of the top tourist attractions in Seattle and offers a 520-feet observation deck that features 360-degree views of Seattle and some of Pacific Northwest's natural landmarks. 
The Space Needle also features an inexpensive monorail that connects directly to Downtown Seattle's shopping district.

Lake Union
Queen Anne's western border is adjacent to Lake Union, where you'll find ample opportunities for watersports and boating. You can also check out many of the houseboats that Seattle is famous for along Westlake Avenue!

Meredith's House
If you're a fan of Grey's Anatomy fans, you should check out Dr. Meredith Grey's house in Queen Anne. Keep in mind this house was only used for exterior shots, scenes weren't actually filmed here! Here's the address where you can check it out.
Seattle Center
The Seattle Center is a hub for entertainment and arts in Seattle, with over 30 cultural and educational attractions. For example, in Lower Queen Anne, you'll find Memorial Stadium, the Seattle Opera, the Pacific Science Center, the Museum of Pop Culture, and the Seattle Children's Theatre. Many of the buildings at the Seattle Center were reused from when Seattle hosted the 1962 World's Fair, producing a very unique mid-century aesthetic.

Cardio-Friendly Terrain
The typography of Queen Anne is incredibly hilly and is reminiscent of San Francisco. In fact, the steepest hill in Seattle is located in Queen Anne. The upside is that the challenging terrain makes the neighborhood a challenging cardio experience! Remember to wear appropriate shoes!
Coffee
While Seattle is famous for its coffee, some of the best cafes are located in Queen Anne. Local favorites include Queen Anne Coffee Co, Milestead, and Storyville Coffee Company.
Restaurants
There is a mix of about 30 restaurants, cafes, and bars on Queen Anne Ave North. This stip forms the commercial core of the neighborhood and includes some options such as:
5 Spot: A neighborhood diner that you can't miss. The sign of a coffee cop filling up has long been a Queen Anne landmark. After closing briefly during Covid, 5 Spot has opened back up with new ownership. Stop in if you're looking for an upscale diner experience that's famous for its breakfast.
How to Cook a Wolf: This Italian restaurant from famed Seattle chef Ethan Stowell has earned rave reviews. The house specialty is expertly plated pastas.
Eden Hill Restaurant: Our winner for "most romantic" restaurant on Queen Anne. There are only 24 seats though, so make sure to get reservations ahead of time! Eden Hill serves dishes ranging from roasted beets, to coho salmon, to cod in carrot curry. Dishes are served with a rotating selection of seasonal vegetables.
If you want to go more in-depth on the Queen Anne dining scene, we recently published our Best Restaurants in Queen Anne Seattle dining guide!

Real Estate
Queen Anne features a plethora of truly magnificent historic bungalows and craftsman style houses. The neighborhood was actually named after the Queen Anne architectural style due to its many homes that resemble the style. 
Many people visit the neighborhood just to gawk at its notable architecture. Some of these homes also feature elaborate gardens, with neatly-trimmed walls of shrubbery that tower over those who walk by.
As you might expect, many of the homes in Queen Anne features sweeping panoramic views of Downtown Seattle, Puget Sound, and various mountain ranges. 
Queen Anne has attracted an influx of affluent residents in recent decades, with many of Seattle's elite calling it home. As a result, many of the early 20th-century bungalows have been replaced with contemporary mansions. However, some historic architecture still remains.
While most of Queen Anne is dominated by single-family residences, there are apartments, townhomes, and condos within the neighborhood.
Queen Anne's Sub-Neighborhoods
Queen Anne actually has distinct areas that could be viewed as "neighborhoods within a neighborhood". The general rule of thumb is that Upper (northern) Queen Anne is more residential and Lower (southern) Queen Anne is more commercial. Let's run through each part of Queen Anne:
North Queen Anne

is primarily residential but is a short distance from some of Queen Anne's top shops and restaurants. It's also the location of

Seattle Pacific University

.

West Queen Anne

is a sleepy also mostly residential and contains the

SW Queen Anne Greenbelt park

. The western portion runs along Queen Anne Avenue, which is where you'll find local eateries and shops. This part of the city is great if you're looking to easy access to the neighborhood's amenities without dealing with tourists.

East Queen Anne

is the largest chunk of Queen Anne and mostly contains single-family residences.

Lower Queen Anne

is where you'll find most of the tourists and major attractions, including the Space Needle, Seattle Center, and Memorial Stadium.
Fun Facts
Queen Anne used to be part of Downtown Seattle and was first named Eden Hill.

Queen Anne is named after the

popular architectural style

the bears the same name. This architectural style was popular in the 1880s, and many houses within the neighborhood are authentic 19th-century Queen Anne-style homes.

Queen Anne sits upon a 456-foot hill and features over 100 pedestrian staircases. There's even

an entire website

dedicated to Queen Anne's stairs!
Verdict
The good:
The

Seattle Freeze

isn't as pronounced in Queen Anne, people are friendly here and it is not uncommon to strike up conversations with strangers.

No matter where you live in Queen Anne, you're close to some of Seattle's coolest shops, restaurants, and attractions.

Queen Anne is a great choice if you're looking to own a classic or historical home.
The bad:
Queen Anne attracts tourists from around the world. Seattle as a whole saw

41 million

tourists in 2019, and it is safe to assume that many of these tourists came to Queen Anne. If you plan on living here, the swarms of tourists in the southern portion of Queen Anne may be bothersome. 

Queen Anne is one of the most expensive neighborhoods in Seattle, as its fantastic amenities come at a cost!

Street parking is pretty scarce in Queen Anne, particularly in the busier commercial areas.

People have noted that the somewhat narrow and hilly terrain is frightening to drive on at first.
If you like Queen Anne, chances are you'll also like Magnolia, a similar neighborhood that is nearby.