Located along the waterfront, downtown Tacoma is a lively blend of business, fun, and history. Largely erected at the end of the 19th century after the arrival of the Northern Pacific (NP) Railroad, the area quickly went from trees and log cabins to a thriving town.
Many of these original buildings have been transformed into spaces for living, working, and entertaining, including restaurants and bars for all ages and pallets. For a surefire place to start your culinary explorations, check out the best downtown Tacoma restaurants:
McMenamins Elks Temple
The Forum
Red Star Taco Bar
The Old Spaghetti Factory
en Rama
Stanford's Steak
Wooden City
Indita Mia
Over the Moon Café
Indochine Asian Dining Lounge
Indochine Asian Dining Loung offers a Thai-fusion fine dining experience complete with dazzling chandeliers, ornate decorations, and even a central fishpond. Ideal for small parties and large groups alike, this upscale restaurant brings over 20 years of experience to downtown Tacoma.
The menu focuses on Thai favorites like Phad Thai, Drunken Noodles, and curries, but you'll also find influences from China, India, Japan, and Vietnam. The Orange Chicken is perfectly crisp with just the right amount of flavor, and the Spring Rolls are fresh and hearty with a generous side of peanut sauce.
You'll also find an assortment of seafood and vegetarian dishes, and much of the menu is gluten-free. Pair your meal with one of their specialty cocktails like the Drunken Buddha or the Pink Orchid to round off the experience, or treat yourself to Thai Iced Tea for dessert.
1924 Pacific Ave, Tacoma, WA 98402
Deemed "the most romantic restaurant in Tacoma", Over the Moon Café is a cozy bistro with a whimsical red brick exterior. With a rotating menu and plush wingback chairs, this boutique restaurant has been a staple in downtown Tacoma since 2001. Paired with a diverse menu of Italian and French-inspired comfort food and you have the perfect spot for special events and date nights.
The family-run restaurant prides itself on providing the freshest seasonal ingredients. Entrees may include Black Angus steaks and wild salmon filets, alongside fresh salads, savory appetizers, and decadent desserts. They even offer a vegan, sugar-free, dairy-free, nut-free, and gluten-free dessert made with mixed fruit and coconut cream – because everyone deserves the chance to treat their sweet tooth in a dreamy environment.
Those who enjoy the history of downtown Tacoma will also delight in the former use of the venue. Its location in the Historic Passages Building was once the backstage of the first Opera House in Tacoma, after which the name has recently acquired the nickname, Opera Alley.
709 Opera Alley, Tacoma, WA 98402
For authentic Mexican food in downtown Tacoma, look no further than Indita Mia. Advertising recipes "from our great-great grandmother to my mom", this family-owned restaurant focuses on the traditions and gastronomy that define indigenous Mexican culture.
The menu is filled with mouth-watering dishes like flautas, chilaquiles, and tacos, each filled with an assortment of meats, spices, peppers, and fresh produce. Everything is made with quality ingredients, and they even make their tortillas in-house.
The restaurant has a sleek, minimalist interior with decorative lamps and a bright red wall. However, the simple décor allows for the hand-painted dishes, signature wooden serving boards, and lava stone ramekins to become the focal point, adding to the classy presentation of each dish and the overall character of the venue.
1126 Commerce St, Tacoma, WA 98402
Wooden City focuses on community, both within the restaurant itself and in the greater Tacoma area. They believe in genuine hospitality, quality cuisine, and relationships built on love and compassion. Not only will you be greeted by friendly staff and a cozy dining space, but you'll be able to choose from a tasty selection of homestyle favorites.
The industrial-chic interior draws on the natural textures of the brick walls, wooden counters, and steel framing to create a sleek, yet cozy atmosphere. An enclosed outdoor seating area with heat lamps is also available throughout the year, though reservations are recommended as the space tends to fill up.
At Wooden City, you'll enjoy delicious dishes like Lamb Bolognese and Chicken Schnitzel while you sip on a Hemingway Daiquiri or a freshly made mocktail. They even donate $1 of each Draft Old Fashioned to support local organizations.
714 Pacific Ave, Tacoma, WA 98402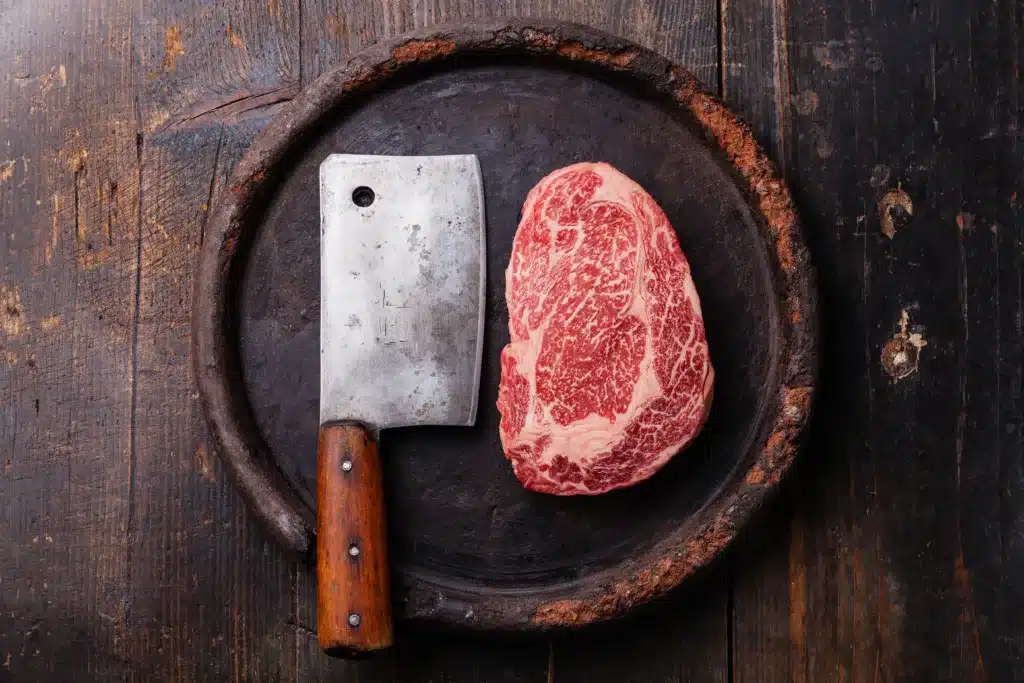 Stanford's Steak in downtown Tacoma is the most recent addition to a line of steakhouses in the Pacific Northwest region. Focused on offering hand-trimmed premium cuts alongside a specially curated wine list and a contemporary atmosphere, this restaurant is all about giving back and supporting local communities.
Not only do they offer an assortment of USDA Certified 1855 Black Angus Beef steaks, but you'll also find seafood, poultry, pasta, burgers, salads, and appetizers. You can't go wrong with an order of filet mignon or a new york strip steak, though the Mediterranean Style Chicken and the Knife & Fork Crab 'n Artichoke Sandwich shouldn't be overlooked.
As part of the Ascend Hospitality Group, a Black and female-led restaurant group, Stanford's Steak makes an effort to improve the surrounding communities. Ask your server about any current promotions or specials, such as the AHG Cares Community Cocktail which gives a portion of all proceeds to charity.
1502 Pacific Ave, Tacoma, WA 98402
En Rama is a cute Spanish-inspired restaurant on the main floor of Courthouse Square, a former post office building that now houses an assortment of local artisans and entrepreneurs. Recommended by locals and industry workers, they offer pasta and small plates, boozy desserts, a curated wine list, and perfectly built cocktails.
The cozy interior has a simple décor with wood paneling and industrial-style pendant lighting. Large arching windows let in ample sunlight, while the outdoor patio provides additional seating day or night.
Many of the dishes on the menu are vegetarian, though there's no lack of flavor with plates like the Easter Egg Radish Fritto and the Braised Chickpeas. Other proteins include an assortment of seafood dishes as well as the en Rama Burger and Bocadillo de Pollo.
1102 A St Suite 220, Tacoma, WA 98402
The Old Spaghetti Factory is a family-owned Italian restaurant chain that's known for its fun ambiance and tasty three-course meals. The décor features classical designs with antique lighting fixtures, old-fashioned trolley cars, colorful wingback chairs, and colorful stained glass.
The restaurant chain was originally founded in 1969, with the first location in Portland, Oregon. The Tacoma location opened in 1971 and was originally located in the old Tacoma Biscuit and Candy Company building on Jefferson Avenue. It was relocated to Pacific Avenue in 2016 and now sits right in the heart of Downtown Tacoma.
The menu is relatively uniform across locations, but the tried-and-true recipes don't disappoint. Each meal starts with warm bread and butter as well as your choice of soup or salad, and it's finished with a scoop of spumoni or vanilla ice cream.
Entrees include Gourmet Jumbo Crab Ravioli, Chicken Marsala, and Spaghetti Vesuvius, while tasty beverages like Italian Cream Sodas and Cotton Candy Limeade are a treat for kids and adults alike.
1250 Pacific Ave #101, Tacoma, WA 98402
On the far end of the downtown area, at the intersection of St. Helens Ave. and 6th Ave., is a swanky little restaurant that specializes in tacos and tequila. Red Star Taco Bar is a hidden gem with delicious fare and excellent specials. They have two happy hours daily, ample floor and bar seating, and friendly servers.
The tacos are the stars here, and Taco Tuesdays bring a selection for only $2. The diverse menu includes flavors like Agave Shrimp and Elote, Korean Short Rib, and Kara'age Fried Chicken. They also have more classic options like Carne Asada and Baja Fish Tacos, as well as vegetarian options like Sriracha Honey Tofu.
An exquisite selection of tequila and mezcal cocktails is perfect to round off your meal, though a full bar and selection of non-alcoholic mocktails are also available. While you wait for your meal, you can enjoy the lively atmosphere of this popular restaurant or catch up on the latest MMA match on one of their big-screen TVs.
454 St Helens Ave., Tacoma, WA 98402
In the heart of downtown Tacoma on what was once known as Whiskey Row lies The Forum, a popping 21-and-over joint that serves a delicious assortment of American cuisine alongside seasonal cocktails and local brews. While their menu is reason enough to visit, they also host weekly trivia and brewers nights, as well as a daily happy hour.
Located in the Olympus Hotel building, you'll step past the outdoor seating area and into a quaint interior. The cozy décor includes vintage details like stained glass hanging lamps and a patterned tile floor, as well as wood paneling, early 20th-century brick walls, a decorative center stone wall, and big screen TVs throughout.
The fusion of classic American and contemporary charm is complemented by a menu filled with burgers, sandwiches, soups, salads, and comforting appetizers. Their house-made Mac and Cheese Balls with a side of salsa ranch is a favorite dish that pairs excellently with a local draught, while their 1/3 pound Forum Burger is sure to hit the spot when you're hungry.
815 Pacific Ave A, Tacoma, WA 98402
Last on our list, but certainly not least, the McMenamins Elks Temple is more than just a restaurant—it's a hub for entertainment and history. Built in 1915 and listed on the National Register of Historic Places, this Beaux-Arts building includes a hotel, events ballroom, and several themed bars and restaurants that serve three different food menus and countless libations.
Located on one of Tacoma's many hillsides, The McMenamins Elks Temple has seven floors that traverse the slope it's built upon. The commanding façade is a Renaissance Revival design by architect É. Frère Champney. Directly next to the building is the Spanish Staircase, modeled after the Roman Scalinata di Spagna, connecting the upper and lower entrances.
As you walk into the main St. Helen's Ave. doors, you can choose to take the stairs or elevator to another floor or to be seated in The Pub, the Elk Temple's all-ages restaurant that serves everything from breakfast to late-night cocktails.
Here, you can admire the lavish décor, dazzling chandeliers, and breathtaking views of Foss Waterway, then enjoy a delicious spread of classic Northwestern cuisine that includes seafood, burgers, pizza, and more. If you're in the mood for some pool, shuffleboard, or darts while you wait for your meal, you can also order from the same menu at Doc's Bar on the third floor.
The Spanish Bar and Ballroom, located on the second floor of the building, offers tapas and Mediterranean-inspired fare in a softly lit atmosphere. The menu includes dishes like the Spanish Steps Gyro and Smashed Avocado Emparedado, along with plenty of gluten-free, vegan, and vegetarian options.
The Old Hangout, located on the bottom floor and themed after a tropical tiki paradise, offers yet another unique dining experience. It has an oblong center bar, ample booth seating, pufferfish lamps, and even a running waterfall.
Complementary to its exuberant atmosphere is a menu featuring a fusion of tropical cuisine inspired by Polynesia, east Asia, and the Caribbean. From Gaucho Steak Bites and Jamaican BBQ Sweet Potato Fries to the Polynesian Bánh Mì and Lilikoi-Coconut Tart, the menu is filled with island flavors.
Before leaving, try your luck at finding The Vault, a secret speak-easy-style bar with cocktails like the Blind Pig Sazerac and the 1933 Negroni. And for a souvenir to take home, the Brewery Tasting Room & Bottle Shop on the bottom floor has you covered.
565 Broadway, Tacoma, WA 98402