As laid back as Seattle can be in many ways, it's certainly not a cheap place to live.
Compared to most cities in the United States, the overall cost of living in Seattle is quite high. In fact, Seattle ranks up there as having one of the highest national costs of living, alongside other heavy hitters like San Francisco, New York City, and Boston. 
However, like any large metropolitan area, Seattle offers up a slough of hidden gems, financial support systems, and affordable housing. Additionally, jobs in Seattle tend to pay a significantly higher amount than the national average, making it possible for workers in a variety of fields to live comfortably in the city. 
Let's dive into a full analysis of how expensive Seattle is.
Food Costs in Seattle
The bottom line is that food in Seattle is more expensive than in most cities. Estimates place Seattle grocery costs about 25% higher than the national average.
However, the average monthly cost of food in Seattle will depend on where and how you eat and purchase food. For example, dining out passes along labor costs and rent that are higher in Seattle and can lead to more expensive dinners.
On average, you can expect a meal for a single person at a relatively inexpensive restaurant to run you about $25. Upgrade that to a meal for two at a moderately priced dining establishment and you're looking at a $100 check.
Of course, there are places to dine out that offer lower-than-average prices, as well as your typical fast-food restaurants. If you're a Seattlite, though, you're probably headed for a burger at Dick's, which will cost you between $2.45 – $5.20. 
If you prefer to cook meals at home, do expect to spend about 25% more than the national average on groceries each month.
As a reference, here are the average costs of some typical foods:
Milk: 4.29
Rice: 2.50
White Bread: 3.80
Chicken (1 lb): 6.80
Housing Costs in Seattle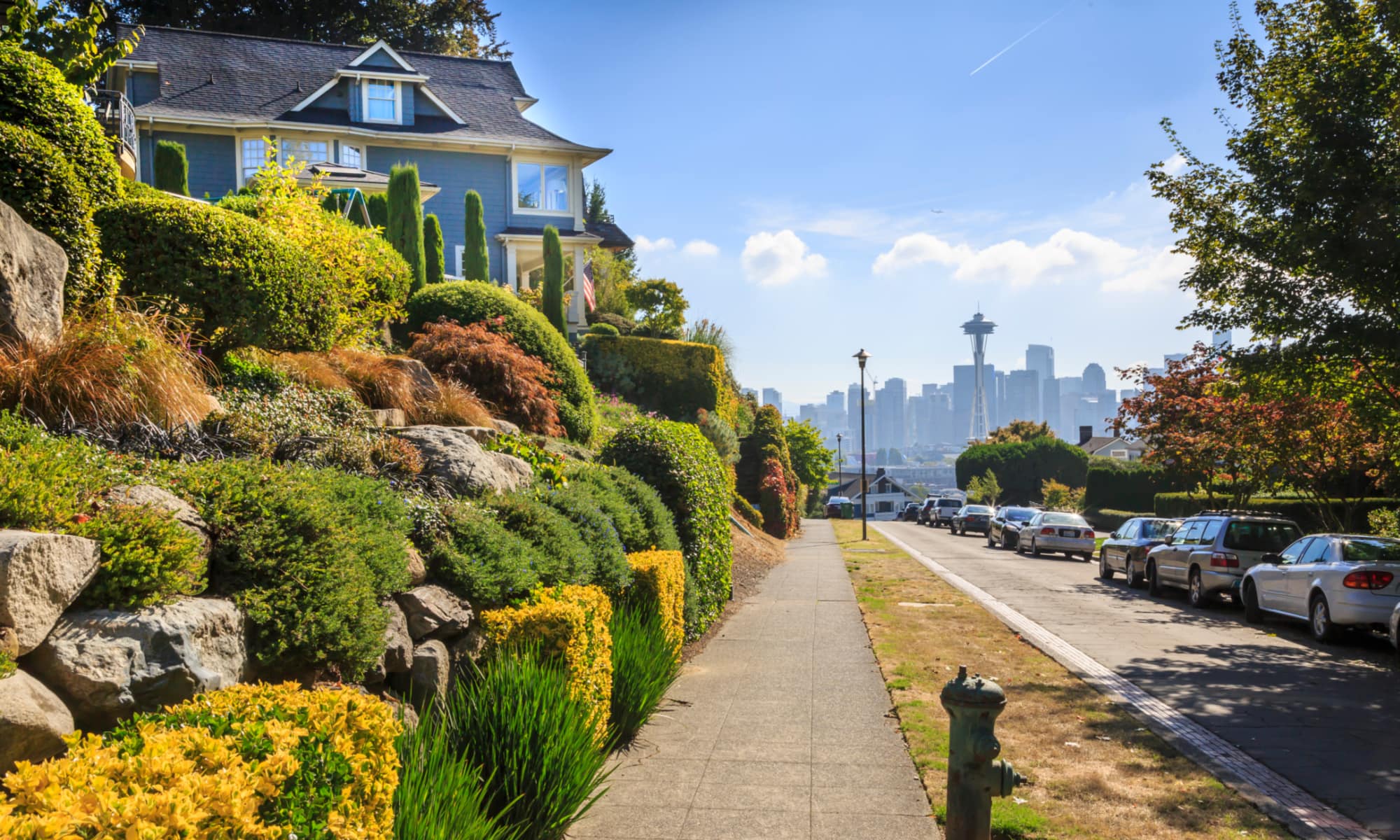 Housing is by far the biggest factor that makes Seattle more expensive than other major cities. Seattle housing. In the decade between May 2012 and 2022, Seattle area real estate prices rose by an incredible 200%.
Thankfully for those thinking about moving to the city, the non-stop rise in housing prices has slowed since then. The job market in Seattle during the 2010s and early 2020s was driven by growth in the technology sector, where employees not only had high salaries but stock options and grants that could be put toward large down payments.
As of mid-2023, the average apartment in Seattle is about 690 square feet and will set you back around $2,200 in monthly rent. Typically, this size would be a one-bedroom unit and the price most closely reflects the rent for modern apartments located in central locations, such as downtown or Capitol Hill.  
If you're hoping to become a homeowner in Seattle, get ready to enter a very competitive market. According to data from Redfin, a house in the city can sell in as little as 14 days. In 2022, the median sale price for a home in Seattle was $769,000, with 30% of homes being sold above the list price. As of mid-2023, Zillow estimated the average (which is typically higher than median) home value in the city stood at $850,000.
Median condo prices in King County (the county where Seattle is located) are about $500,000 as of mid-2023.
The cost of housing in Seattle varies depending on the neighborhood you live in, the size of your apartment or house, and whether you rent or buy.  
Seattle's Most Expensive Neighborhoods
Some of the most expensive neighborhoods in Seattle include:
Laurelhurst: A residential neighborhood situated near the University of Washington with views of Lake Washington, the median household income in Laurelhurt is Seattle's highest at more than $250,000. Most homes in the neighborhood sell for more than $2 million.
Broadmoor: Sandwiched between an arboretum and one of the city's most high-end country clubs, Broadmoor is another neighborhood where median home prices pass $2 million. Nearby neighborhoods like Madison Park, Washington Park, and Denny-Blaine are also quite expensive.
Magnolia: Magnolia is a large hill north of downtown Seattle. The neighborhood provides excellent views of downtown, with eye-watering real estate prices to match. Like neighboring Queen Anne — which is also built on a hill — the better the view, the higher the price.
More Affordable Neighborhoods in Seattle
While nothing in Seattle is "cheap" compared to national averages, there are more affordable options:
Beacon Hill: Seattle's light rail runs through Beacon Hill, which makes it convenient if you need to commute downtown for work. Many of the homes in Beacon Hill and surrounding neighborhoods (another light rail-friendly option is Columbia City) are cheaper than average options in the city while keeping you close to the city's center.
Fauntleroy: Located on the southern end of the city, Fauntleroy and surrounding neighborhoods like White Center and Arbor Heights have homes that are frequently below Seattle's median price. White Center has undergone a massive revitalization in recent years and excellent bars, breweries, and places to eat.
Beyond Seattle neighborhoods, cheaper housing can also be found in the suburbs. While the Eastside (Redmond, Kirkland, Bellevue, and other nearby cities) is generally more expensive than Seattle, suburbs to the north and south of the city are cheaper.
If looking for cheaper housing, consider southern suburbs like Tukwilla or Burien which aren't far from the city by are close to light rail and rapid bus service to downtown. North of Seattle you could look at suburbs like Lynnwood or Shoreline, which will soon be connected by light rail and also have rapid bus service.
Transportation 
Seattle is a sprawling city meaning that it can be difficult to reach different neighborhoods by foot. Luckily, there are tons of options when it comes to transportation and they are all offered at a range of price points.
Public Transit: If you're looking to ride public transportation, you can purchase an ORCA card. A single-ride fare on the bus is $2.75 for adults with a discounted price for children and senior riders. You can also use your ORCA card to access the monorail, water taxis, and the light rail. Seattle's light rail continues to expand. Plans for 2025 will have it stretching from north-to-south from Lynnwood to Federal Way with an extension to the Eastside suburbs that reach Redmond. Once these extensions are complete, Seattle's light rail will cover a significant amount of the region. Metro bus service also covers the region and there are numerous rapid transit options from suburbs and popular neighborhoods downtown. You can use the Metro website to see how convenient bus service would be for any trip.
Rideshare: Popular rideshare services, such as Lyft and Uber, are available in Seattle although the prices have risen significantly in recent years. Ordering a ride from the airport to downtown will typically cost about $50. Another alternative is taking the light rail downtown.
Driving: Of course, if you have a car, driving can get you anywhere you need to go (even on a ferry to a neighboring island). Right now, gas in Seattle averages about $4.61 a gallon.
With so many travel options, you can pick the one that matches your lifestyle and budget preferences. 
Entertainment
Seattle is filled with a variety of wonderful entertainment options, from music venues and hiking trails to museums and sporting events. While many of these activities tend to be on the more expensive side, there are options available for every budget. 
Museums: The price of museum tickets vary depending on the specific gallery or show that you are visiting. The classic Chihuly Garden and Glass, for instance, offers general admission tickets for $30, a price typical for many of the larger museums in the city. Smaller museums, such as the Museum of Museums located near Seattle University, are often cheaper or free of charge. 
Sporting Events: Seattle loves its sports. From the Seahawks to the Sounders to the Kraken, there is a team for everybody. During the regular season, Seahawks tickets range from $65 – $300 dollars a seat. Sounders tickets tend to be slightly less expensive, falling between $20 and $120 a pop. Of course, prices fluctuate based on the specific game and how well the team is doing during any given season, but these are the typical price points. 
Music Venues: A city absolutely bursting with musical talent and diversity, Seattle offers many venues to see live music at a variety of price points. Smaller venues, like The Sunset in Ballard, offer shows at a lower cost, while mid-size to larger venues may offer tickets anywhere from $40-$300. 
If you prefer your entertainment to be free, Seattle has an abundance of beautiful hiking trails and coastal vistas. Pack a lunch and enjoy a picnic by the ocean or challenge yourself with a hike to the top of Mount Rainier for some astounding views.
Education 
Whether you are a parent of school-aged children or an adult looking to attend a college program, it is important to become familiar with the education options available in your city.
Like any city, Seattle offers its children and families the option to enroll in public school through the Seattle Public School District, which is free. Families also have the choice to enroll their children in private, religious, or charter schools. 
Private Schools: The typical private K-12 school in Seattle ranges from $13,000 – $20,000 a year, with prices increasing with grade level. Of course, you can find options well above this as well, especially for schools that specialize in a specific area.
Religious Schools: Although there is a range, most religious schools offer slightly lower prices than a traditional private school, with tuition ranging from $4,000 – $9,000 a year.  
As far as higher education goes, Seattle has several options. One of the most well-known is The University of Washington, although there are many smaller four-year universities and community colleges as well.
University of Washington: Average tuition at UW is about $12,000 per year, without financial aid.
Seattle University: Tuition at Seattle U is about $50,000 per year, without financial aid.
Seattle Pacific University: Attendance at this college is about $27,000 a year.
Seattle Central College: This is a public college and has an average cost of about $5,000 a year.
No matter your educational goals, Seattle offers many options for a range of incomes.
Fitness
While it might be tempting to lump fitness into the entertainment category, there has been increasing research demonstrating the important connection between our physical and mental health. Seattle has many places, both free and paid, to get your body moving.
If you prefer to get some fresh air while you work out, you can complete an outdoor run or a park yoga session, free of cost. 
Because of the frequent rain, many Seattlites opt for an indoor workout. Seattle is teeming with a variety of gyms that can help you reach goals, regardless of what they are.
An average monthly gym pass in Seattle will cost you about $65, often paired with an additional join fee. If you are interested in adding personal training to your membership, you can expect to pay anywhere from an extra $50 to $100 a session.
If you love the motivation of working out in groups, Seattle has also kept up with the trend of boutique gyms that offer a specific style of group class. Fitness classes like these, such as Barry's or Rowdy Box, are typically $20 to $30 per class, with monthly membership options available.
Overall Cost of Living in Seattle
While the general cost of living in Seattle is higher than the national average, there are many ways to enjoy the city on a budget. Take advantage of the gorgeous natural escapes offered up by the Pacific Northwest, seek out great deals or promotions, and make a plan!