Olympic Sculpture Garden
Seattle Art – Waterfront Walk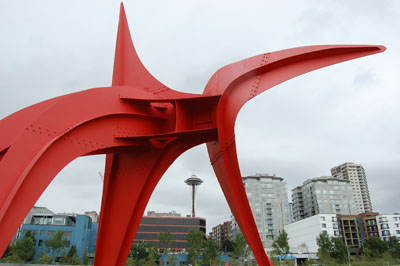 Eagle by Alexander Calder / 1971
Just South of Seattle's Belltown, you can find an amazing oasis of art in the city's waterfront. The nine acre (free!) Olympic Sculpture Garden is operated by the Seattle art museum and has some amazing sculpture art in a relaxing setting — including both seating areas to view the art and a well rated cafe. The garden features both permanent and rotating sculpture exhibits and is one of the most unique in the country.
The park includes integrated landscape gardens and in itself is an environmental restoration area that has won many awards around the country. The park's path is over 2,220 feet in a "Z" shaped pattern and moves through four ecological environments to reach Elliott Bay's waterfront. Each area has unique sculpture art you can see pictured below.
Wake by Richard Serra (Steel 2004)
The park has won numerous awards from the American Institute of Architects, and other design / engineering awards for its unique design.]
Seattle Art Museum – Official Site
You can visit the park from 30 minutes after sunrise to 30 minutes after sundown. There is no cost and there is a cafe (Taste) located on-site.