It may surprise you that you can visit both Bruce Lee and Brandon Lee's grave sites in Seattle.
Bruce Lee was a Chinese-American actor who was born in San Francisco in 1940 and spent his childhood in Hong Kong. He began his acting career at a young age, starring in over a dozen movies by the time he was 18. Lee's notoriety began in earnest, however, when his martial arts abilities were featured front and center in his movies. Some of his most notable movies are The Kid, Fist of Fury, The Way of the Dragon, and, his best, Enter the Dragon.
Bruce Lee's son, Brandon Lee, was similarly gifted in martial arts and acting, choosing to follow in his father's footsteps. He was just getting started in his career with breakout roles in Showdown in Little Tokyo and The Crow.
Tragically, both Bruce Lee and Brandon Lee passed at the young ages of 32 and 28. Bruce Lee died of a cerebral edema and Brandon Lee was fatally wounded from a firearm malfunction while filming The Crow.
Despite their early passing, they each left their marks on the world through their movies and martial arts expertise. Beyond martial arts, Bruce Lee broke down industry barriers when he became the first Asian-American actor in a leading role in Hollywood.
Fans of Bruce Lee and Brandon Lee can pay their respects by visiting father and son where they're laid to rest in Seattle.
In this article, I'll answer the question of why Bruce Lee and Brandon Lee are buried in Seattle and where to find their graves. I'll also include a few other places to visit in Seattle where you can learn more about Bruce Lee and his legacy.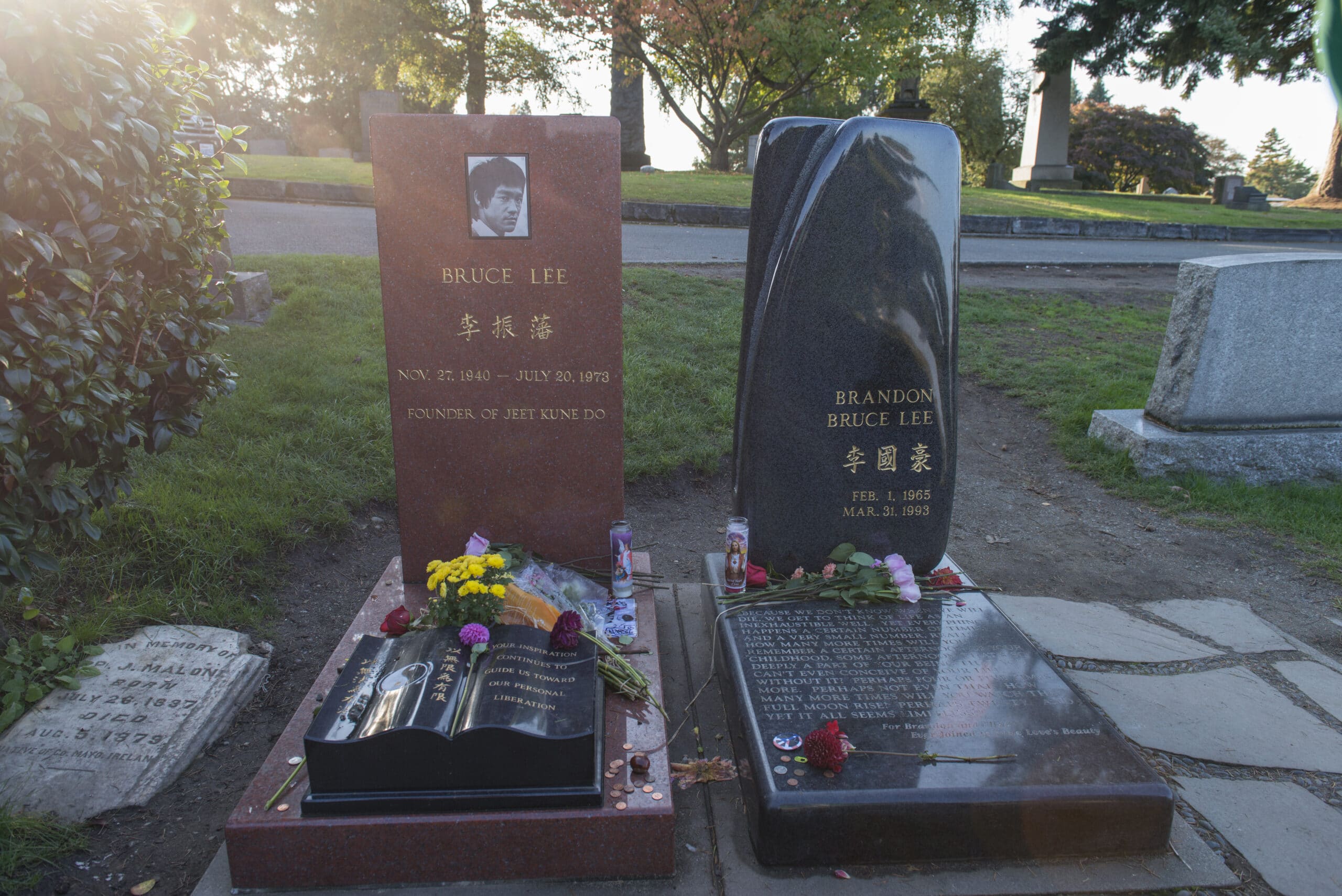 Why are Bruce Lee and Brandon Lee buried in Seattle?
Bruce Lee is buried in Seattle, Washington. While he spent a lot of his life in Hong Kong and California, a major part of it was spent in Seattle. According to family members, it was the place he felt happiest.
Lee moved to Seattle in 1959, and it's where many of his important personal life experiences occurred. Bruce met his wife, Linda Emery Caldwell, in Seattle. He also attended the University of Washington where he studied philosophy and drama, and he opened his first martial arts studio, the Lee Jun Fan Gung Fu Institute, in Seattle. It was here that he developed and taught his own version of kung fu called Jun Fan Gung Fu.
Brandon Lee is also buried in Seattle. This is likely because of his deep admiration of his father who greatly influenced him. Brandon followed in his father's footsteps, learning martial arts and studying acting before eventually pivoting to make it his career. Because Bruce and Brandon Lee both died tragically young deaths, it seems fitting for them to be laid to rest beside one another.
Can I visit Bruce Lee's grave?
Anyone can visit Bruce Lee's grave. It is completely free to do so, and people and fans from all around the world visit his grave to pay their respects.
Stop by and leave flowers, coins, notes, fruit, and other meaningful offerings. The cemetery is quiet, well-maintained, and peaceful.
Where is Bruce Lee buried?
Both Bruce Lee and Brandon Lee are buried at Lake View Cemetery. This cemetery is in Seattle's Capitol Hill neighborhood, just north of Volunteer Park. 
Lake View Cemetery is open every day of the year. From November 1st to March 31st, the Lake View Cemetary gate is open from 7:30 am to 5:30 pm. From April 1st to October 31st, the cemetery gate is open from 7:30 am to 7:30 pm.
You'll find the graves near the center of the cemetery, right beside one another. Simply follow the directions on Google Maps and you can walk or drive right up the gravesite near the top of the hill. There is a small bench nearby for visitors who want to stay for a while. The graves are well-kept, visible, and nearly always have flowers and other tokens of respect and remembrance on them.
Seattle Sites with Bruce Lee Significance
Visiting his gravesite is the most obvious way to pay your respects to the martial arts legend. However, there are a couple of other places that big fans can visit in Seattle to get a deeper glimpse of Bruce Lee's life in the Emerald City.
Tai Tung is a restaurant in the International District, and it's incredibly obvious from the first glimpse that it's a sight for Bruce Lee fans. On the outside of the restaurant, you'll see a mural with Bruce Lee and Kareem Abdul-Jabbar. Inside, you'll find photographs, posters, and a cardboard cutout of Bruce Lee.
Lee lived across from Tai Tung and it was one of his favorite restaurants. His order? Oyster Sauce Beef and Garlic Shrimp. In honor of Lee's legacy, Tai Tung put up the cutout of Bruce Lee in the back corner where he would always sit. 
Come here to try Bruce Lee's favorite dish and snap a few photos. Tai Tung is also the oldest Chinese restaurant in Seattle and is regularly voted its best.
After lunch, walk just a few blocks over to the Wing Luke Museum. This top-rated museum focuses on the ways Asians have influenced and shaped the Pacific Northwest. One of the most popular exhibits in the museum is about Bruce Lee.
The interactive and well-executed exhibit has a lot of information. Visitors will learn about his personal life and philosophic background and walk away knowing what titles were in his massive collection of nearly 3,000 books.
For an even deeper dive, book the museum's Signature Bruce Lee Walking Tour. This guided tour takes visitors through the neighborhood and to some of Lee's favorite spots – his practice space and first martial arts studio.
–
Hopefully, this guide has helped answer your questions about where to find Bruce Lee and Brandon Lee's grave sites in Seattle. The Emerald City was an important stop on Bruce Lee's journey and it's a must-visit for anyone who wants to learn more about his life and legacy.