Notorious as one of the biggest tourist destinations in all of Seattle, Pike Place Market is the place for all things food. From local artisans and bakers to some of the best sit-down restaurants and bars in the city, there's plenty of good reasons that locals and tourists alike flock to the market.
As charming as the market is, it can also be overwhelming just how many options there are to choose from. Although there are a seemingly countless number of wonderful places to choose from, below are 10 of some of the absolute best sit-down restaurants that Pike Place Market has to offer, including Italian burlesque, masterful Japanese sushi, local chowders, and more.
Pike Place Chowder
When it comes to dining at Pike Place Market, Pike Place Chowder immediately comes to mind. In its 20 years of business, Pike Place Chowder has become famous for world-famous chowders, sourdough bread bowls, and seafood rolls. On top of their delicious food, Pike Place Chowder serves 100% certified sustainable seafood in partnership with the Seattle Aquarium and the James Beard Foundation.
Le Pichet
This adorably small and cozy French bistro and bar is located just outside of Pike Place Market on the corner of 1st Ave and Virginia St. The short walk outside of the market provides guests with a breath of fresh air and a break from the bustle of the market, complete with delectable French food. Open every day, Le Pichet has a breakfast, lunch, and dinner menu, as well as a wine list and cocktail menu. Their most popular dishes are their charcuterie boards and their slow-roasted chicken for two.
The Pink Door
Located in Post Alley, tucked behind Pike Place Market's famous Starbucks location, is one of the most unique Italian restaurants in all of Seattle. Part fine Italian dining and part burlesque show, The Pink Door is a spectacle for the senses. Not only do they serve fantastic Italian food made from locally sourced ingredients but they also have an entertainment menu that changes monthly, including local jazz entertainment, aerial shows, dances, and more. Guests can reserve dinner for date night, stop by the lounge for a drink, or take a lunch break from the market on their gorgeous patio, complete with stunning views of Elliott Bay.
Sushi Kashiba
It's only fitting that a place as seafood centric as Pike Place Market have its own high-end sushi restaurant. Sushi Kashiba is the city's crown jewel when it comes to traditional and masterful sushi. Owned and operated by Chef Shiro Kashiba, who trained under sushi maestro Jiro Ono in Tokyo, Sushi Kashiba's menu combines the freshness of seafood in the Pacific Northwest with the Edo-mae style and shun philosophy. The result is sushi that is truly sensational, from their a la carte items to their chef curated omakase.
Cafe Campagne
Also located in Post Alley between Sushi Kashiba and Pike Place's Beecher's is a cozy bistro that serves up classic French dishes. With nearly 30 years of business, Cafe Campagne has curated the ambience and taste of a Parisian cafe right in the heart of the market. Guests can find comforting classics like charcuterie boards and boeuf bourguignon or more adventurous dishes like escargots de bourgogne. They also serve amazing desserts all day long, like creme brulee, chocolate cognac mousse, and opera cake.
The Athenian Seafood Restaurant and Bar
This local favorite serves breakfast, lunch and dinner, complete with window seats that overlook the Puget Sound. Alternatively, guests can sit at their bar counter seating and watch market goers come and go. You might get lucky and sit at the very stool Tom Hanks sat in during Sleepless In Seattle. Their menu is a combination of Greek cuisine and Seattle seafood with dishes like Pacific King Salmon and Seafood Saute. The Athenian is also one of the oldest restaurants in all of Seattle, founded in 1909, making it a historic destination as well.
Matt's In The Market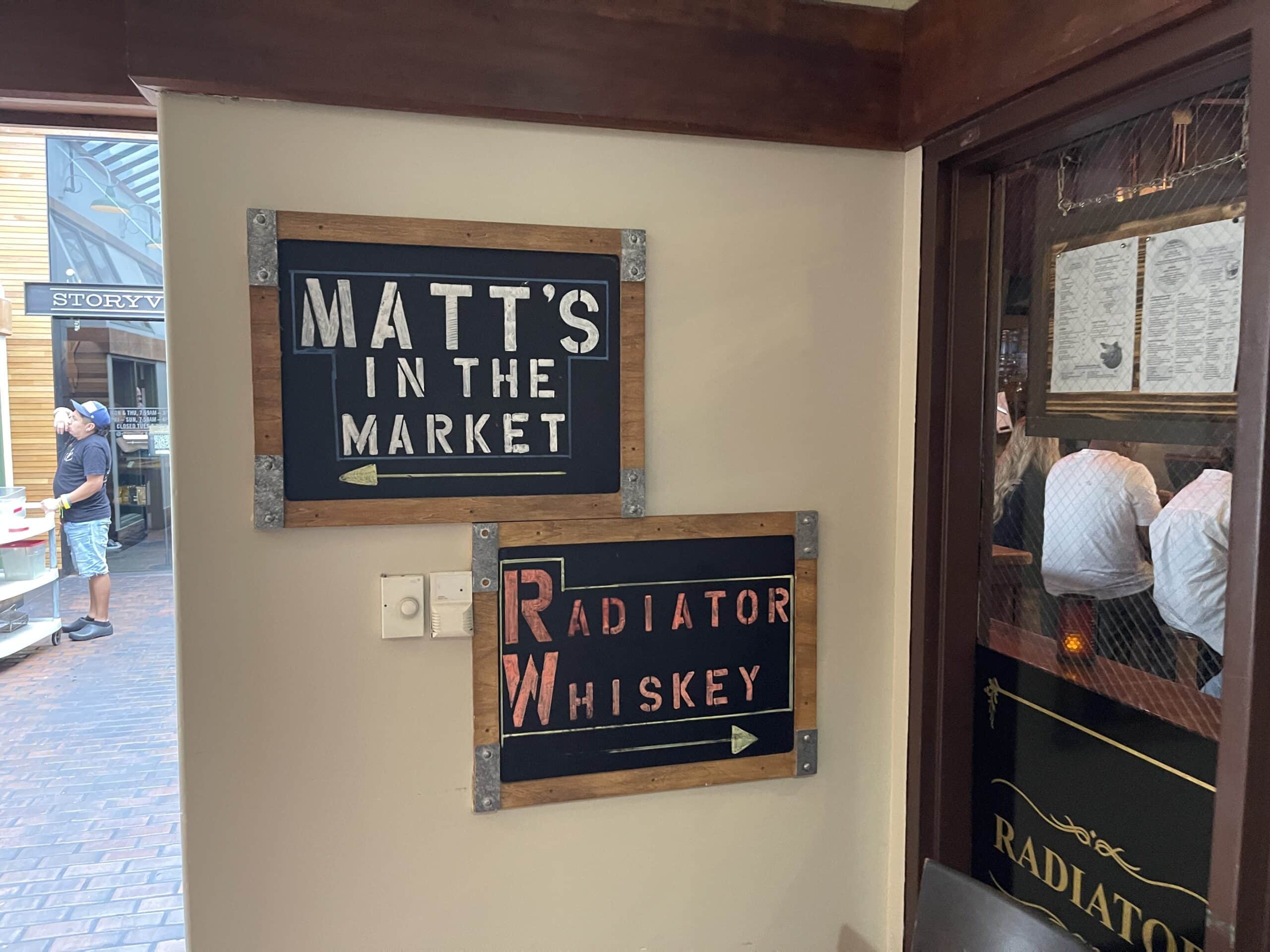 If you want a taste of the Pacific Northwest, Matt's in the Market is one of the best places to see, smell, and taste what the city has to offer. They are open for lunch and dinner Tuesday through Saturday and lunch only on Sundays. For lunch, they're best known for their seafood sandwiches like their Dungeness crab rolls and their cornmeal crusted catfish. For dinner, the restaurant gears towards dishes like pan roasted halibut, seared scallops, and king salmon, perfect for a fancy date night.
Radiator Whiskey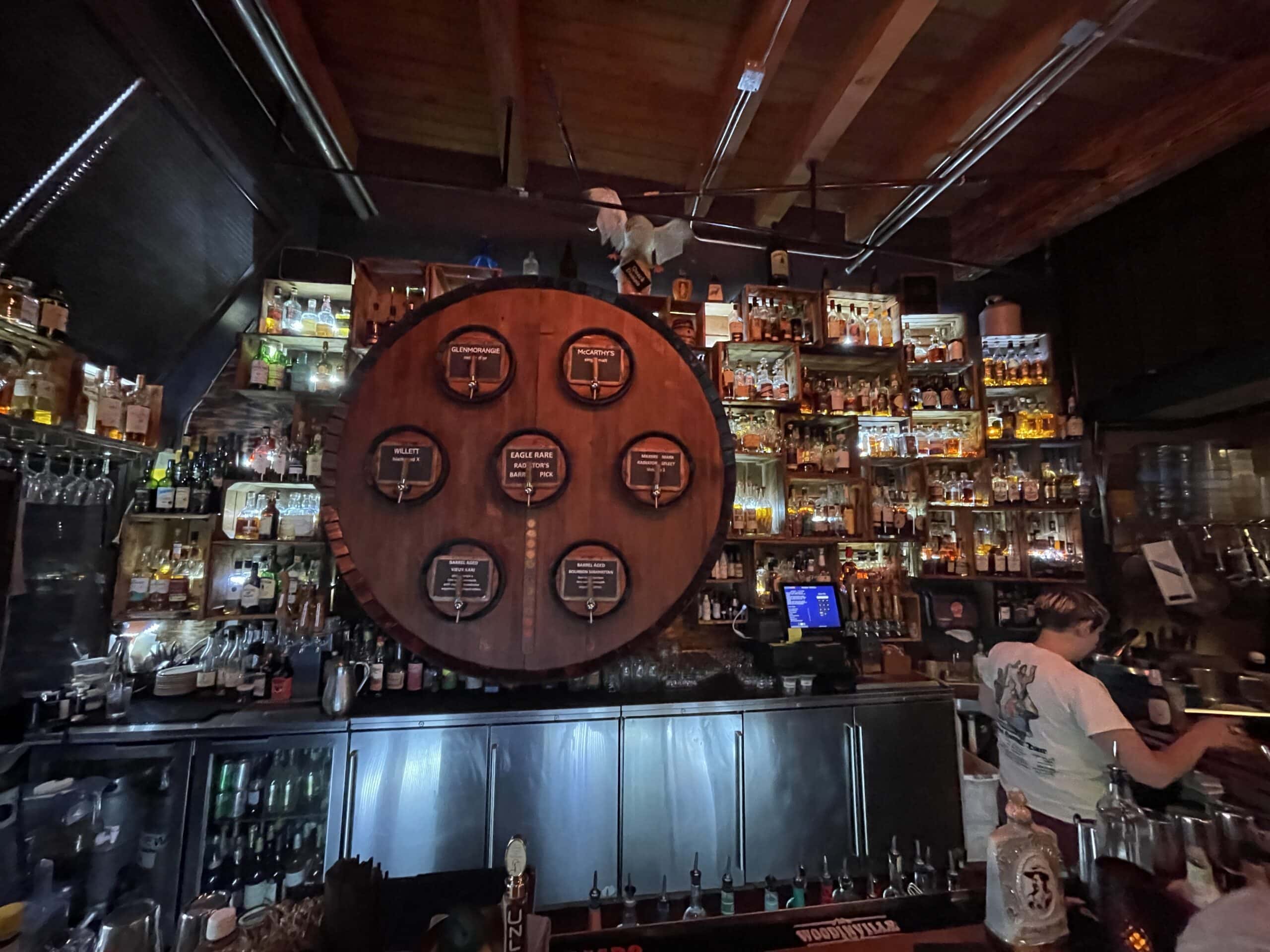 As the name implies, Radiator Whiskey is known for their extensive drink menu including music themed cocktails, standard and remixed classic cocktails, and whiskey flights. Their food menu has a little bit of everything, from classic bar foods like tater tots and bbq wings to intriguing dishes like fried pig ears and smoked ½ pig head. They also have happy hour from 4 to 6 PM and 10 to 11:30 PM Tuesday through Saturday. Their rustic interior and open view of the kitchen makes Radiator Whiskey a perfect spot to kick back with a refreshing drink.
Shama
Proudly serving authentic Moroccan food, Shama combines the taste of Morocco with fresh and locally sourced ingredients of the Pacific Northwest. Dinner is served daily with dishes like couscous, spiced Moroccan lamb cutlets, and baked fish of the day. On Friday through Sunday, they also serve lunch with lighter fare like lemon chicken and falafel wraps. Their menu is perfectly paired with craft cocktails and a wine list specially curated by sommelier Hamid Majdi.
Biscuit Bitch Pike Place
As comical as the name might seem, Biscuit Bitch is quite serious about their biscuits. This southern-inspired restaurant is as unique as its name, from its funky decor all the way to the hilarious names of each item on the menu. Primarily known for their biscuits and gravy, Biscuit Bitch also has sandwiches and a fully fitted cafe that serves hot and cold drinks. Their Pike Place location is just north of the main Pike Place Market entrance on the corner of 1st Ave and Stewart St. Although vulgar in name, their biscuits are a welcome warm treat on colder days and are always reasonably priced.