Let's just get this out of the way, December is not considered the best time to visit Seattle. After all, it's a very gray and wet month.
Yet, maybe you're coming for a work conference, to visit family, or to catch a sports event. The bottom line is that there are plenty of people traveling to Seattle at every time of year! In the post below, we'll detail what kind of weather you can expect and also some things to do in the month of December. With the holidays in full swing, there are a lot of activities to be enjoyed!
Seattle's Weather in December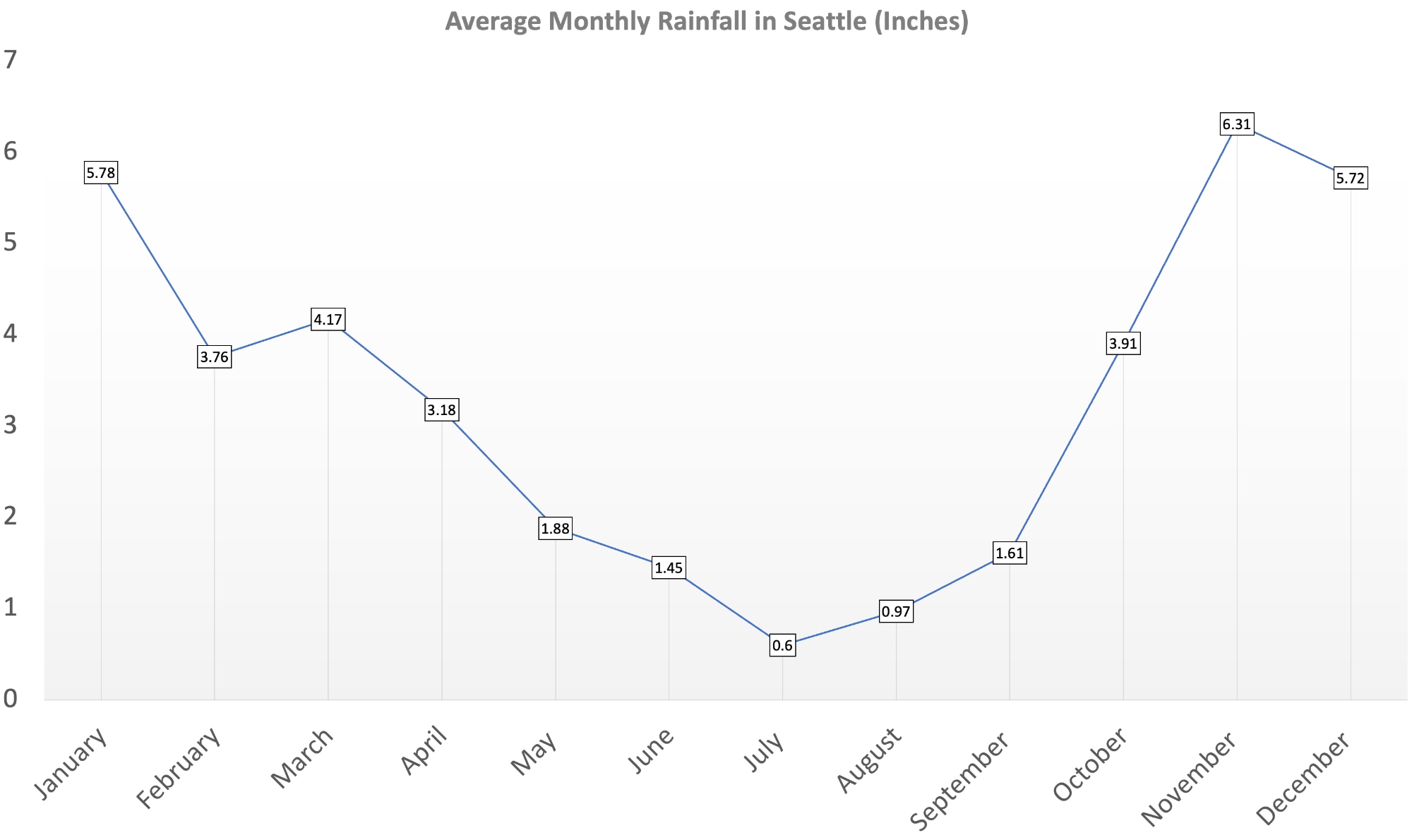 In December Seattle's weather is generally wet and gray. December is firmly in Seattle's rainy season and is the third rainiest month on average with 5.72 inches of rain. Days average just 1.7 hours total of rain. Part of that is due to Seattle's northerly latitude. On December 21st, the city sees the sunrise at 7:55 a.m. and set at 4:20 p.m, so if you're in the city in December be ready for the sun rising late and setting before dinner.
Although Seattle is further north than cities like Minneapolis, Boston, and Buffalo, you might be surprised to learn that its temperatures are in December are generally mild. Average highs are 47 degrees Fahrenheit while the average low is above freezing at 37 degrees.
The reason Seattle's temperature is so mild relative to its location is the moderating factor of being near several bodies of water. If you drove across the state to Spokane, which is located more than 200 miles from the Puget Sound, you'd find winters are much harsher. The average December low in Spokane is about 13 degrees colder than Seattle!
| Average December Weather in Seattle | |
| --- | --- |
| Rainfall | 5.72 Inches |
| Hours of Sunshine (Entire Month) | 52.9 Hours |
| Days of Precipitation (>.01 inches) | 18.4 |
| Record High Temperature | 66 degrees Fahrenheit |
| Average Daily High Temperature | 47 degrees Fahrenheit |
| Record Low Temperature | 6 degrees Fahrenheit |
| Average Daily Low Temperature | 37.1 degrees Fahrenheit |
Does Seattle See Much Snowfall in December?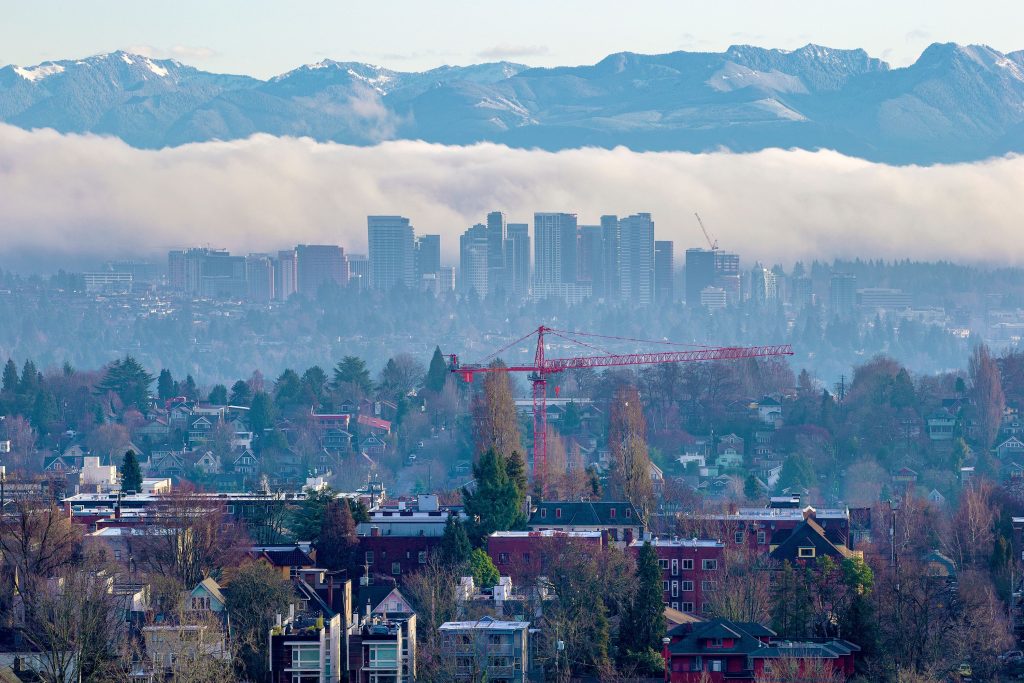 Thankfully, Seattle doesn't experience much snowfall in the winter. The city sees an average of just 1.7 inches of snowfall in December. That snowfall generally happens only once a month, with an average of 1.5 days with snow in the month.
If you're looking at other times to visit Seattle near December, Seattle rarely experiences snow in surrounding months. November averages just .2 inches of snow while January averages just 2.2 inches of snowfall. In fact, in an average year, only 6 inches of snow falls in Seattle. More "extreme" snow events are possible but rare. On February 13th of 2021, Seattle received 8.9 inches of snow in a 24-hour period.
In short, your risk of a major snowstorm causing travel delays and other havoc in Seattle around the holidays is relatively minimal.
| Heaviest 24-Hour Snowfalls in Seattle in Recent Years | |
| --- | --- |
| 2021 | February 13: 8.9 Inches |
| 2020 | December 21: 0.5 Inches |
| 2019 | February 8: 6.4 Inches |
| 2018 | February 21: 1.0 Inches |
| 2017 | February 6: 5.1 Inches |
Things to Do in Seattle During December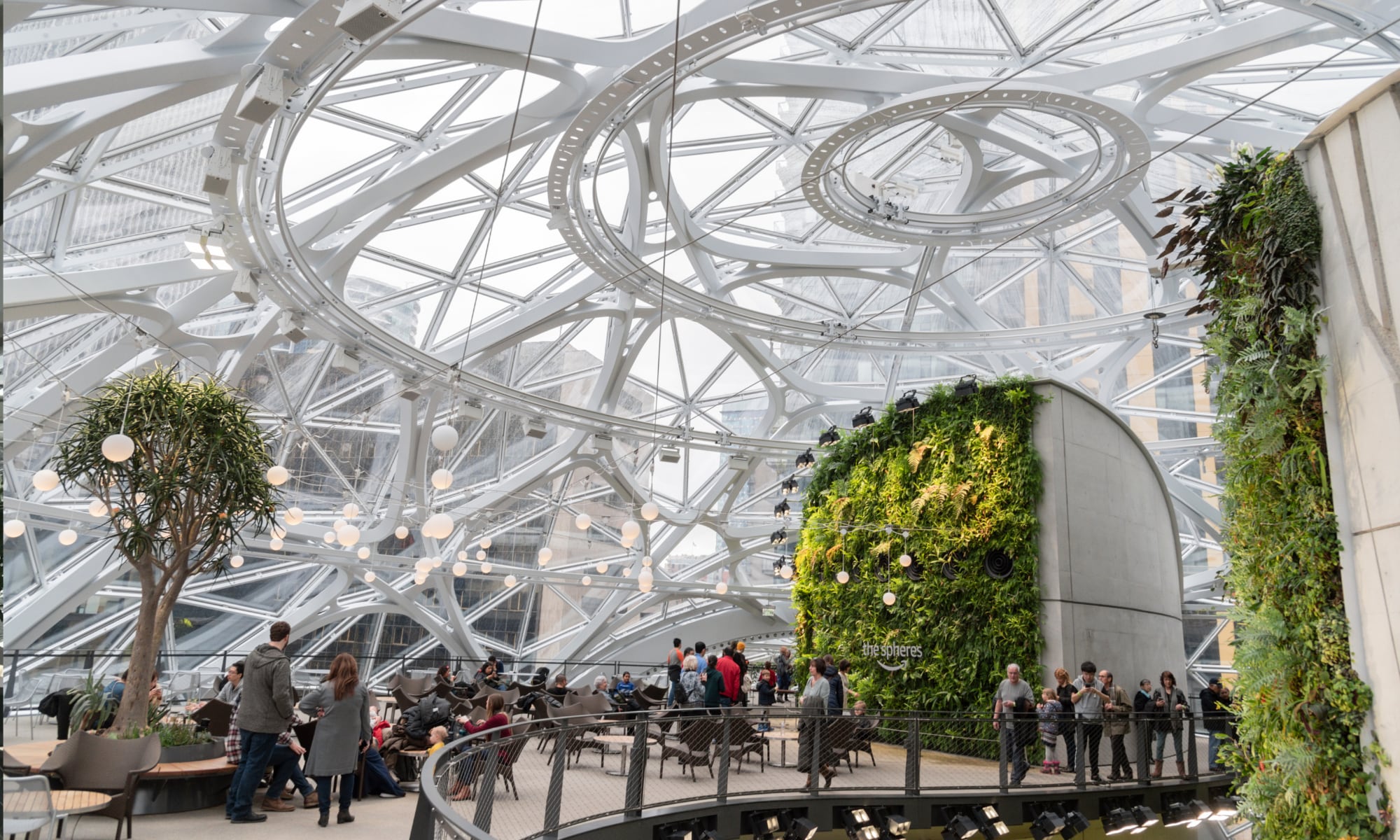 If you're traveling to Seattle in December and are prepared for limited sunshine and a majority of days being drizzly, what are some activities to enjoy during the month? Here are a few of our favorites:
Shopping: Pike Place Market is still buzzing during the month of December and you can walk through the majority of the market in covered areas. If you want to cross the bridge over to Bellevue, you can shop at Bellevue Square, which is the region's largest enclosed mall. During the holidays it hosts a nightly parade called "Snowflake Lane" that's quickly becoming a local holiday tradition.
Museums: Seattle is full of museums that range from the Museum of Pop Culture, to the Pacific Science Center, to more under-the-radar options like the Seattle Pinball Museum. Most of these museums are either downtown or a short trip away, and can be a perfect indoor activity if the weather outside is frightful.
Activities: The holidays mean it's Nutcracker season at the Pacific Northwest Ballet. Beyond the ballet, winter sports are still in full swing in December with options like the Seattle Kraken or Seattle Seahawks games.
Landmarks: The Amazon Spheres open up every other Saturday for tours (read our full guide here), and are a great climate-controlled activity downtown. If the weather is accommodating and you catch a sunny day, a trip to the Space Needle can provide gorgeous views across the region.