Sammamish isn't known for having the same quality of restaurants as nearby neighbors like Redmond or even Issaquah. That's partially because Sammamish is much more residential whereas both Redmond and Issaquah have downtowns with plenty of commercial zoning and offices.
Yet, as Sammamish's population continues growing, its dining scene is growing as well. Here are some of the best restaurants in Sammamish. Whether you're looking for takeout, a leisurely happy hour, pizza, or a nice sit-down meal, there's something on this list for all kinds of appetites.
The Best Restaurants in Sammamish
Sammamish Cafe & Spirits
Big Block Brewing
Jobo's Pizza Pub
La Casita Cocina Mexicana & Cantina
Papaya
Tanoor Lebanese
Mommy's Kitchen
Vinason Pho Kitchen
1. Sammamish Cafe & Spirits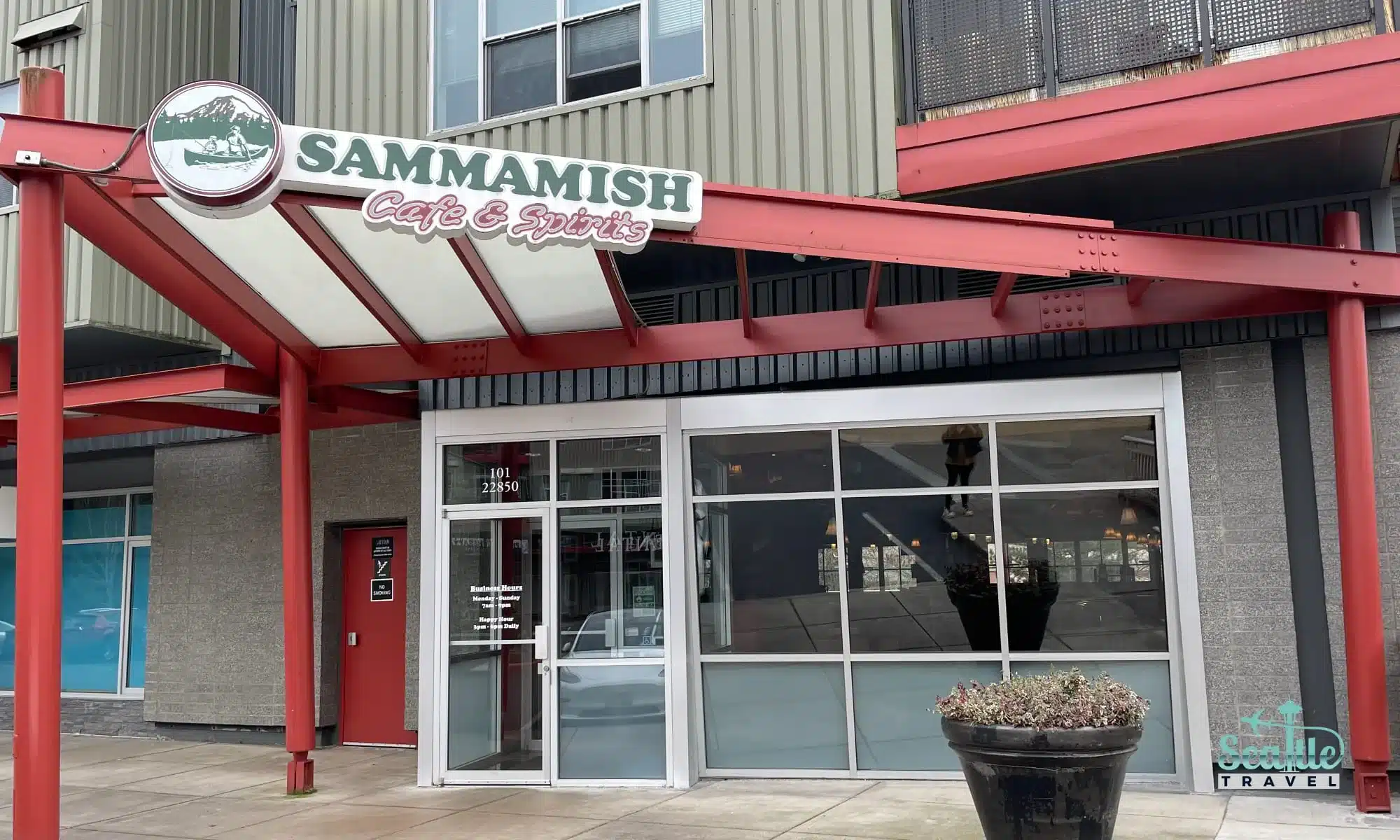 Sammamish Cafe and Spirits comes from the same family that founded the beloved Village Square Cafe in Redmond. The food here tilts heavily to breakfast, where you'll find specialties like breakfast burritos, huevos rancheros, and corned beef hash. Then there are griddle options like waffles, french toast, pancakes, crepes, and more. If you're looking for a hearty breakfast like a chicken fried steak, you likely won't find a better option in the area.
There are also more limited lunch options to complement "brunch hours" that add sandwiches and burgers. However, once dinner time rolls around the menu shifts to some very hearty and soulful meals like turkey dinner, pot roast, meatloaf, and fried chicken.
If a ribeye stacker or prime rib served with mashed potatoes sounds like a bit much, you're best avoiding the Sammamish Cafe and Spirits. The only salad you'll find here is the side salad. However, if you're looking for meals that take you back to childhood (but are probably done much better!), then give the Sammamish Cafe and Spirits a look.
As one final note: happy hours are few and far between in Sammamish. Sammamish Cafe and Spirits offers one of the few options, with happy hour from 3-7 available seven days a week. You'll find discounted beers, wines, and appetizers on their happy hour menu.
2. Big Block Brewing
As of 2020, Sammamish had just a population of a bit under 70,000 residents. Incredibly, that's more than double its population at the turn of the century. This is to say, the area is growing fast. Long-time residents will remember Lakeside Plaza, a one-story strip mall that sits on East Lake Sammamish. Its been around since long before Sammamish became a city, but today it hosts a couple of great spots you don't want to miss.
The first is Big Block Brewing. This is a brewery for beer lovers, so if beer isn't your thing, feel free to skip to the next entry on our list. However, if you do love beers, you won't want to skip Big Block. The company is extremely inventive, adding a wide range of beers beyond the standard IPAs you'll find in most craft beer aisles. There's a honey pale, milk stout nitro, chocolate porter, black ale, English bitter ale, and more.
(And if you are an IPA fan, there are plenty of those as well.)
In addition, the company keeps a rotating group of rotational beers that adds something new. If you're in a group, local wines are available in addition to beer. Finally, Big Block has a large patio that's perfect for a nice day and hosts a variety of food trucks. The easiest way to see a schedule of food trucks is to check their Instagram page. There's a truck nearly every day from Thursday to Sunday and they cover foods from Taiwanese to Italian.
3. JoBo's Pizza Pub
Sammamish has a number of pizza places to choose from. There are Northwest chains like Zeeks Pizza and Pagliacci's which make excellent pizzas. That's in addition to other options like MOD Pizza, Papa Murphy's, and national chains.
However, our top pizza pick is very new and located right next to Big Block Brewing. JoBo's Pizza Pub just opened in 2022, so you might never have heard of it. The pizza here is hearty, with thick crusts (but not deep dish) and a generous amount of toppings. Beyond pizza, there are also wings, calzones, a few salads (greek, caesar, and house), and appetizers like cheese bread.
JoBo's isn't a high-end pizza place serving up artisanal pizzas from wood-fired ovens. Instead, it's more of a sports bar feel that's a great place to meet friends and share a large pizza. While the restaurant has only been open a short time, reviews of its pizza are nearly universally positive. If you live near Sammamish, it's worth supporting a local business and seeing whether JoBo's might be the perfect slice of pizza you've been looking for.
One note – JoBo's plans to open a happy hour. You may want to call ahead to see if their happy hour is in service as their garlic knots are delicious.
4. La Casita Cocina Mexicana & Cantina
La Casita is a Sammamish institution. The restaurant has been around for more than 30 years, which is a testament to the quality of food and service it provides.
The menu at La Casita has all the staples you'd expect at a Mexican restaurant. You'll find fajitas, chimichangas, burritos, enchiladas, and tostadas. However, the overall selection of options is impressive. For example, their seafood menu is expansive and includes a number of shrimp and fish dishes. Other standouts include the taco truck tacos and steak dishes. Across the board, portions are generous and ingredients are high-quality.
It's worth noting that the restaurant changed ownership at the end of 2022 and there have been some complaints about rising prices and declining service. We'll monitor this and remove La Casita if complaints continue. But for now, it keeps a place on the list for its long history in the Sammamish community.
5. Papaya
Papaya has been in the Seattle area for more than 25 years, but in 2020 moved to its current location in the Sammamish Village Plaza. The restaurant serves Vietnamese food and their menu is fairly expansive.
There's a large variety of noodle soups (pho) that includes a number suitable for vegetarian diners and rice dishes. In addition to staples like assorted fried rice dishes, you'll also find coconut curry and crispy honey chicken rice entrees.
Also, beyond meals the restaurant also has a variety of milk teas, iced teas, lemonades, matcha lattes, and my personal favorite: Saigon iced coffee. So even if you're not hungry for a large lunch or dinner, Papaya can be a great place for an afternoon treat.
6. Tanoor Lebanese Grill
Tanoor is a Lebanese restaurant with locations in Sammamish and Seattle. The specialty at Tanoor is family-style dining, such as their family mashawi options that provide varied kabobs, vegetables, and mezze items for groups ranging from two to six diners.
Overall, the menu is expansive. There are meat-heavy options ranging from lamb chops to ribeye to lemon chicken. Yet, if you're looking for lighter meals there are also plenty of street food options and vegetarian meals as well.
It's worth noting the Sammamish location of Tanoor has plenty of space and views of the mountains. In short, it's a nice place to relax and have a meal. If you've got some extra time, make sure to get either hot tea or Turkish coffee with cardamom along with a dessert like baklava. It's a fun presentation and gives you more time to enjoy the view and atmosphere.
7. Mommy's Kitchen
Mommy's Kitchen doesn't look like much. It's a single-story building that looks like an old house. You won't find a lively dining room either, Mommy's Kitchen specializes in takeout. You can find their menu here.
The restaurant is also the subject of mixed reviews online. Given all this, you might be asking why we're putting it on our list!
The simple reason is that while Mommy's Kitchen has its detractors, there is also plenty of praise for its homestyle cooking. Our recommendation – if you've been to Mommy's Kitchen – is to order from there once. Sprinkle in some favorites like tikka masala, samosas, paneer pakora, and a poori dish.
Then, if you think the food is amazing, you've found a hidden gem. If it's not your favorite, then you'll likely be going to further away options in Issaquah or Redmond to satisfy your craving for Indian dinners.
8. Vinason Pho Kitchen
Vinason Pho Kitchen has opened up locations across the Seattle area. They're in South Lake Union, SoDo, Kent, Kirkland, and now also in Sammamish.
Vinason is a fast-casual concept. In addition to their pho, you'll also find vermicelli noodles, spring rolls, banh mi, and salads. If you're a seasoned pho eater, you may be looking for more adventurous meats than they'll provide. Like other fast-casual restaurants, they prefer focusing on a smaller amount of menu items well rather than providing a very long list of options. However, what they do offer is of very high quality and should satisfy most groups.
Other Sammamish Restaurants Worth Trying
Beyond this list, some other favorites worth exploring include:
Big Fish Sushi: A neighborhood sushi restaurant if you've got the craving for some rolls or nigiri.
Yifang Taiwan Fruit Tea: A go-to spot if you're craving bubble tea in Sammamish.
Pine Lake Ale House: A great spot for watching games with a wide beer selection.
The Habit: The best burgers in Sammamish.
Zeeks Pizza: Very good pizza from a Northwest chain.
August Moon: The best Chinese restaurant option in Sammamish.