Ask someone about Redmond Washington and odds are the first thing that jumps to their mind is "Microsoft." Long the home of the computing behemoth, Redmond has traditionally been known as a sleepy suburb filled with no shortage of tech workers. However, in recent decades downtown Redmond has been transformed, with dozens of condos sprouting up.
As the city has grown denser, chain restaurants of old have been replaced by a more diverse dining scene. Today, Redmond has a mix of excellent ethnic cuisine, breweries and wineries, restaurants that showcase Northwest ingredients, and much more.
Let's dive into 12 of the best restaurants in Redmond Washington.
The 12 Best Restaurants in Redmond Washington
Before we dive into more details, here's a complete list of the best restaurants we'll examine below:
Pomegranate Bistro
Woodblock
Tipsy Cow
Sparks Pizza
The Third Place
Matador
Farine Bakery & Cafe
Kanishka
Blu Sardinia
Matt's Rotisserie & Oyster Lounge
Dough Zone
Bandido's Mexican Cafe
1.) Pomegranate Bistro
Address: 18005 NE 68th St A-150, Redmond, WA 98052
Best for: A little Southern hospitality in the Northwest
Pomegranate Bistro is located across from Whole Foods on Redmond-Fall City Road. The restaurant specializes in sourcing local ingredients across its menu, with a roster of local farms and vendors proudly displayed on its website.
The restaurant has grab-and-go bakery items (including desserts), breakfast, and dinner. Happy hour includes drink specials and a selection of about six smaller plates. Yet, the best reason for a trip to Pomegranate is their weekend brunch. Available on Saturdays and Sundays from 9 a.m. to 3 p.m.
Starters stretch from cinnamon rolls to Savannah hot puffs, to biscuits with jams and honey butter. This is truly a little taste of Southern hospitality. For entrees, you can stick with the Southern theme and order dishes like chicken and waffles or shrimp and grits or you can enjoy more traditional options.
Before you go, make sure to note that there is (as of late 2022) a 20% service fee that will be added to your check.
2.) Woodblock
Address: 16175 Cleveland Street, Suite 109 Redmond, Washington 98052
Best for: A meal just about any group can agree with and an incredible bar
Woodblock sits at the bottom of one of Redmond's many condos that are springing up across downtown. The cuisine is modern American, which is to say the gnocchi has brisket, an entire section is for burgers, and the main entrees are mostly seafood and steak.
The menu overall is well done and should satisfy most groups. However, the best reason to visit Woodblock is its bar which sets the restaurant apart from many options in the same price range. The house specialty is whisky, and they'll smoke cocktails and bring them to your table before taking the cover off. Beyond the novelty of seeing a smoked cocktail, they're just tasty.
Another one of our favorites at Woodblock is their Scotch Egg. It's soft-boiled, wrapped in sausage, panko breaded, and fried. Then sides like arugula, mustard aioli, and caramelized onions add even more flavor. It's decedent, and it's gooood.
3.) Tipsy Cow
Address: 16325 Cleveland Street Redmond, Washington 98052
Best for: Inventive burgers and well done fries and shakes
If you do a search for the best burgers on the Eastside, odds are the search is going to bring you to Tipsy Cow, and for good reason.
Tipsy Cow serves gourmet burgers (think the opposite of Shake Shack's small patties) alongside a variety of fries and milkshakes. Overall, the burgers are creative and extremely varied. There's a salmon burger, chicken, ahi tuna, black bean, and a whole host of ground beef patty options. If you're stuck on choosing a burger from their expansive menu our vote is to not overthink it and try the Tipsy Burger with Beecher's White Cheddar.
It should be noted that since these are gourmet burgers, the cost will run a bit higher. If you're looking to have a drink with your beer, there's a selection of local beers on draft.
4.) Sparks Pizza
Address: 16175 Cleveland Street, Suite 109 Redmond, Washington 98052
Best for: Delicious toppings and incredible pizzas
If you're a long-time resident of Redmond, you likely remember Frankie's Pizza. A staple of downtown, the low-key pizza place hosted a Garlic Fest where you could add between one and five cloves to dishes.
(Trust me when I say adding five cloves was a bad decision!)
Like so many prior staples of Redmond, Frankie's Pizza is gone today. However, its legacy lives on at Sparks Pizza. Their pizza 'Homage to Frankie's' is delicious. It has Italian sausage, pepperoni, basil, pickled peppers, mushrooms, and red onions.
Creativity is on full display across Spark's selection of pizzas. They have seasonal pizzas that are rotating and their "Legend Pizzas" that are piled full of ingredients.
Spark is starting to receive plenty of attention, so don't be surprised if there's a healthy wait on a Friday or Saturday night. Our bet is the wait will be worth it though. This isn't just the best pizza in Redmond, it might be the best pizza in the entire Seattle area.
5.) The Third Place
Address: 7844 Leary Way NE Ste 110 Redmon, Washington 98052
Best for: Delicious Korean food and fried wings
The Third Place certainly doesn't look like much. Situated in Old Redmond near Matador, it'd be easy to walk by this restaurant without even noticing it. Once you step inside, the interior is also fairly spartan.
Yet, skipping on this hidden gem would be a mistake if you're looking to try some of the best flavors Redmond has to offer. The Third Place is a Korean restaurant that specializes in Korean fried chicken. For years, discerning Korean fried chicken fans have driven down to Federal Way to get the best the region has to offer, but The Third Place offers an Eastside option that requires less travel. Our personal favorite is the honey garlic fried chicken, but there are plenty of options to try.
Beyond fried chicken, you'll also find excellent dishes like stone pot bibimbap, udon noodle dishes, and soups.
6.) Matador
Address: 7824 NE Leary Way, Redmond, Washington 98052
Best for: A good happy hour spot for the 21+ crowd
Say it with me, marinated steak nachos. Matador has long been a favorite happy hour spot in part because their Grande Nachos start at $6. The standard nachos are good, but they're outstanding when adding marinated steak. Other happy hour options include quesadillas, street tacos, and prawns. The reality is, most happy hours haven't been the same since Covid happened, and while Matador might not be quite the deal it used to be, it's still one of the best happy hours in town.
Beyond happy hour, if you're looking to try tequila, Matador is likely the best spot in Redmond (see the above picture for a snapshot of their bar). Beyond a wide selection of tequila you can try neat, Matador also features a wide range of seasonal cocktails that are largely tequila based. The last time we stopped in we had a blood orange margarita and enjoyed it.
If you're looking for dinner, the menu is above average with a wide variety of tacos, enchiladas, burritos, and entrees like fajitas. One important note is that Matador is a 21+ establishment, so if you have kids in tow you'll need to look for another option.
7.) Farine Bakery & Cafe
Address: 16450 Redmond Way Ste 100, Redmond, Washington 98052
Best for: A European style bakery that's serious about its baked goods
There is simply no better place in Redmond on a beautiful Saturday morning than Farine Bakery. This bakery takes its bread seriously. Farine is inspired by Belgian cafes and is open 7 AM to 3 PM each day of the week. Seating is first come, first served, but on a nice day, we recommend trying to get an outdoor seat.
What's there to eat at Farine? They serve bread baskets, boards of cheeses, meats, and nuts, breakfast sandwiches, and more classic breakfasts with eggs. Yet our favorite is their tartines. A tartine is essentially a very fancy slice of toast and their options include Croque madame, smoked salmon, avocado, and seafood. Tartine options will change as in the past we've enjoyed their roasted pear with whipped ricotta tartine, but it's not currently on the menu.
Last but not least, remember to grab some of their excellent baked goods and desserts on the way out.
8.) Kanishka
Address: 16651 Redmond Way Ste 180, Redmond, WA 98052
Best for: Delicious Indian food with lunch thaalis
Kanishka is a long-time staple of downtown Redmond having started in 1999. The cuisine is mostly northern Indian, with plenty of hearty curry dishes that are a mix of vegetarian and meat options. Trust us when we say the menu is fairly expansive.
Our biggest complaint? Kanishka used to have one of the best buffets with a wonderful variety of sambals. However, like many other restaurants, Kanishka removed their buffet post-Covid and it's yet to return. In its place is a thali special that's $14.99 for vegetarian or $16.99 for non-vegetarian. The thali comes with an option of curries, naan, rice, salad, samosa, and a small dessert.
9.) Blu Sardinia
Address: 8862 161st Ave NE Redmond, Washington 98052
Best for: A higher-end Italian dinner
If you're looking for a more classic sit down meal, Blue Sardinia is one of the top options in Redmond. The cuisine is Italian, with mains like ricotta stuffed chicken, filet, and wild salmon. However, don't be fooled by the menu as the restaurant keeps a solid rotation of specials that will often include items like rack of lambs, scallops, and other hearty items.
If you're more in the mood for a light meal, antipasti includes grilled octopus, charcuterie, or you could enjoy a pizza or one of their many pasta dishes (we've enjoyed the pesto prawns bucatini in past visits).
10.) Matt's Rotisserie & Oyster Lounge
Address: 7325 166th Ave NE f210, Redmond, WA 98052
Best for: Upscale casual that's serious about its oysters
Matt's first opened in 2003 and has been a long-time favorite in the Redmond dining scene. The restaurant calls itself "upscale casual." Mains are what you'd expect, with a mix of steaks, chicken, pork, and other classic entrees like salmon.
However, Matt's does provide some surprises you might not expect. For example, the menu includes a section for Argentine street tacos and rotates seasonal selections. We dined at Matt's in October and enjoyed butternut squash gnocchi, for example.
As you'd expect from the name, there is an emphasis on oysters and seafood starters I the menu. If you're looking to really enjoy oysters, Matt's does keep them on their happy hour menu.
11.) Dough Zone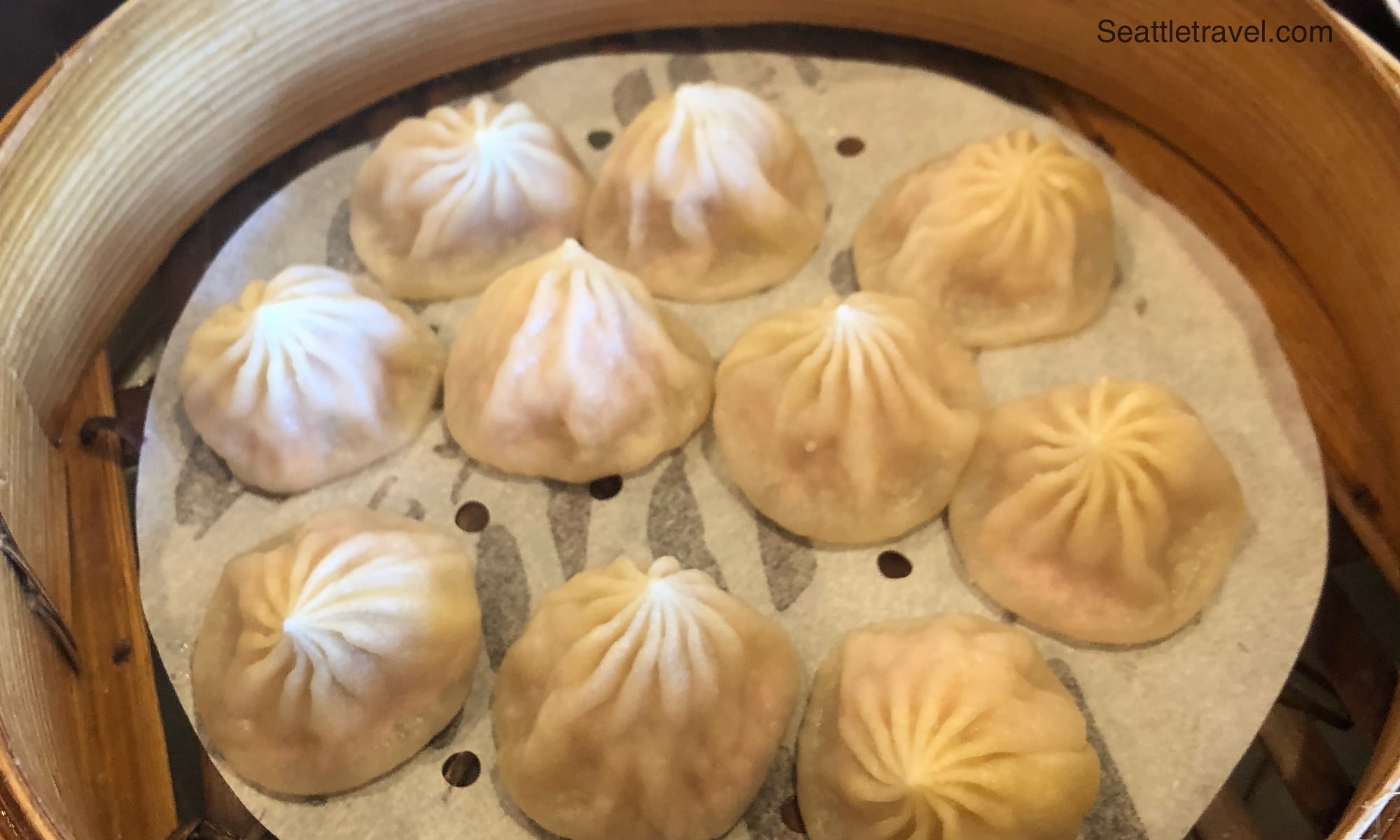 Address: 7625 170th Ave NE, Redmond, Washington 98052
Best for: Delicious xiao long bao without the wait of Din Tai Fung
One of the bigger pieces of Seattle food news was the announcement that Din Tai Fung was headed to Seattle in late 2015. The chain of Taiwanese restaurants had built a devoted following and been awarded a coveted Michelin star. Today, there are three Din Tai Fungs in the Seattle area, including one in Bellevue. However, Din Tai Fung does come with some frequent drawbacks and complaints which include long wait times and declining service.
With that in mind, Dough Zone has emerged as an alternative for Chinese comfort food. The star of the show is xiao long bao – or soup dumplings. We're happy to report that the quality of soup dumplings at Dough Zone is very comparable to what you'll find at Din Tai Fung. Beyond that, other standout items include their pan friend buns and dan dan noodles.
Dough Zone was only founded in 2014, but now features 10 locations across Washington state, with seven on the Eastside alone. If you're not near the downtown Redmond location, another option is a Dough Zone located next to the Fred Meyer in Overlake.
12.) Bandido's Mexican Grill
Address: 8151 164th Ave NE, Redmond, WA 98052
Best for: Delicious tacos at a reasonable price
Bandido's Mexican Grill is a little different than what you've previously seen on this list. In fact, it's not even really a restaurant, it's a food truck.
That's a good thing when it comes to street tacos, however. The best and most authentic flavors typically come from smaller operations. Whether you're looking to grab a standard carne asada, carnitas, or you're looking to try some beef tongue, their entire taco selection is worth a sample. If you're looking for something heartier, Bandido's also has California and wet burritos in addition to more standard meals like carne asada, fajitas, and quesadillas.
Trust us when we say a great taco stand is worth its weight in gold. Don't miss trying out Bandido's.