Queen Anne is a neighborhood that sits just north of downtown Seattle. It's named after the hill it sits on, which reaches 456 feet tall. While Queen Anne is mostly a residential area with 28,000 residents living in a mixture of single-family homes and apartments, it also has an emerging restaurant scene. Let's dive into some of the best restaurants you'll find in Queen Anne!
The Best Restaurants in Queen Anne Seattle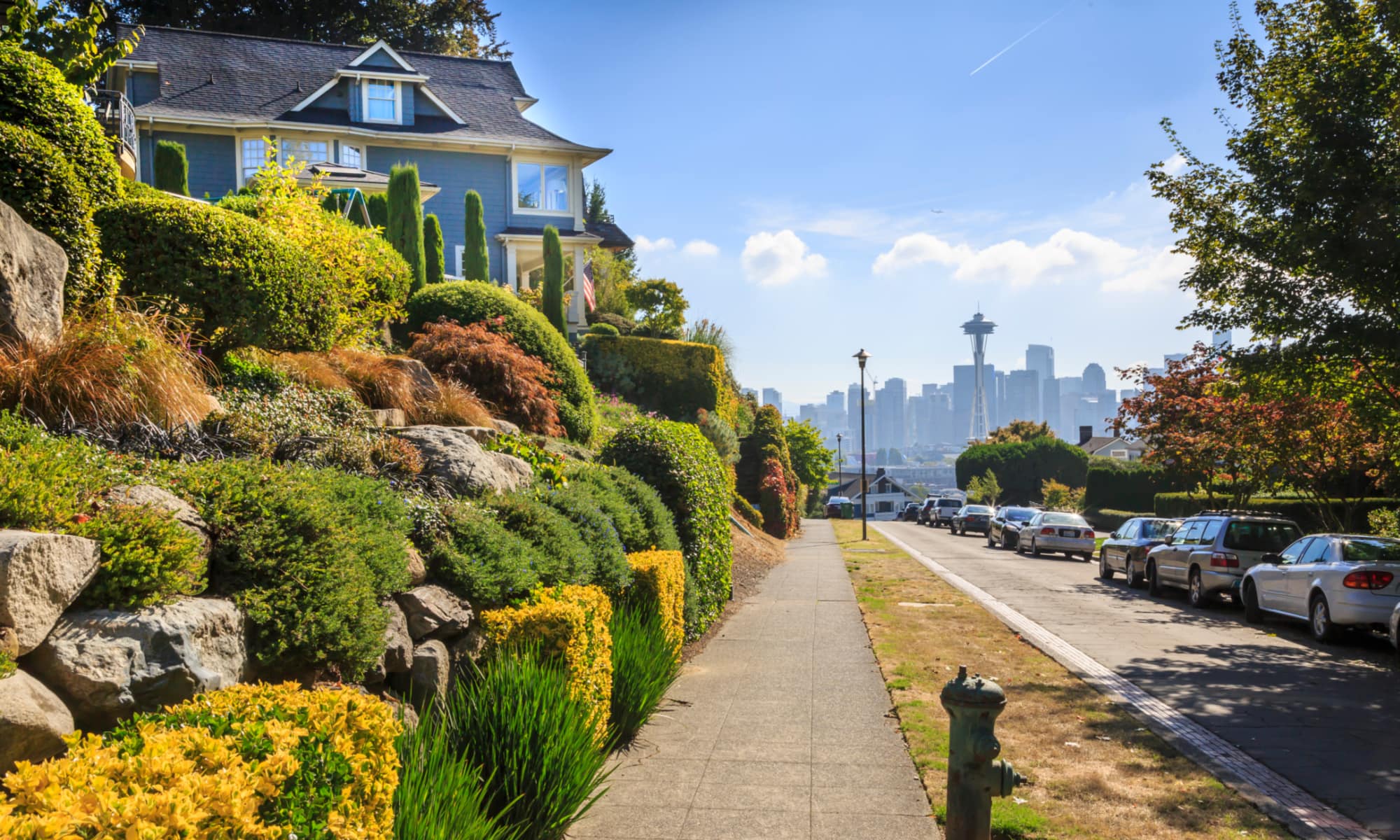 How to Cook a Wolf
Eden Hill Restaurant
Grappa
Melena's Taco Shop
5 Spot
Via Tribunali
1. How to Cook a Wolf
The heart of Queen Anne's restaurant scene is on Queen Anne Ave North. This is the main road leading into the Queen Anne neighborhood from downtown and has about a mixture of about 30 restaurants, bakeries, bars, and cafes in a half-mile stretch. Near the northern end, you'll find four of our favorite neighborhood restaurants tightly clustered into a single block.
First up is How to Cook a Wolf. This Italian restaurant is part of Ethan Stowell's budding food and drink empire. As of late 2022, Ethan Stowell owned an impressive 16 different restaurants across the city of Seattle (including a second How to Cook a Wolf location in Madison Park). Which is to say, he's quickly replaced Tom Douglas as Seattle's most notable chef.
How to Cook a Wolf describes itself as a delicately-plated restaurant. The menu changes, but the two main points of emphasis are smaller plates (think burrata, beet salads, crudo, and similar dishes), and pastas. The pastas are generally the star, with seasonal flavors such as Pumpkin Agnolotti in the fall as well as mixing in local ingredients such as Dungeness crab. If you're looking for a heartier entree, there is usually a choice of larger plates such as pork loin, hen, or salmon on the menu as well.
When booking, please note that there are both indoor and outdoor reservations. If it's a cool Seattle night, you may want to keep your reservation indoors. Overall, How to Cook a Wolf is a great experience whether on a date night, with friends, or visiting Seattle. The restaurant is a short uber or taxi ride from downtown, and you'll be able to take an enjoyable stroll around Queen Anne and maybe even take in a view of downtown Seattle after your dinner. Just please note that the dishes here are generally small, so the bill may be higher than a simple glance at the menu would suggest.
2. Eden Hill Restaurant
Eden Hill sits next to How to Cook a Wolf and is another restaurant we'd define as 'delicately-plated.' The space of this restaurant is small, with just 24 seats. As you can imagine, on weekends reservations are highly suggested. We took a look at their reservations and found the first non-5 PM dining spot was three weekends away.
Most of the plates are smaller and frankly, look beautiful. You'll find a mix of seasonal vegetables in nearly everything ordered. The roasted beets come with satsumas and cashew puree, coho salmon with pickled fennel, or the cod in carrot curry. The freshness of seasonal ingredients is what Eden Hill does best.
Eden Hill works best as a romantic getaway and should be on your list if celebrating a special occasion like an anniversary. As one final note, they're famous for their foie gras cake batter. If that sounds like something up your alley, you may want to save room for dessert.
3. Grappa
Let's get this out of the way first: Grappa is busy. Pull up Yelp reviews on it, and you're likely going to read about how extremely crowded it can get. That's a departure from Eden Hill, which is more of a romantic setting.
Grappa is a Mediterranean restaurant that features fairly large entrees and sides. The plates here won't be 'delicate' like the two selections above, but they are quite tasty.
Appetizer: If you're in a group and want a little spectacle, ask for the Saganaki. It's sheep cheese that's lit on fire in a skillet at the table. Just be prepared for everyone to be watching your group as the fire burns!
Entree: If you're really hungry, go for the rack of lamb which is very high quality. If you're not in the mood for 16-plus ounces of meat, we'd recommend the gnocchi which features a house-made ragu and crumbled goat cheese. The seafood entrees are also particularly well done, with a risotto and paella option.
Dessert: None of the desserts are true standouts, but if you're a fan of bread pudding it's worth saving room for.
4. Melena's Taco Shop
Let's get this out of the way, Melena's could not be any different from the three entries above. It doesn't have a website, the menu is handwritten, and there's not a single item that will run you more than $16.
It's simply Mexican food that is largely ordered to go. So, you might be wondering why it made this list?
For starters, we want to highlight a variety of food across the Queen Anne neighborhood. If you live here, you probably appreciate a bite you can quickly grab on your way home from work occasionally. Second, Melena's is off the beaten path. It's located on West McGraw and 7th Street, which is far enough away from the main collection of Queen Anne restaurants that even long-time residents might miss this unassuming eatery.
So, what's good at Melena's? Simply put, they have extremely flavorful meats. Whether you're trying carne asada tacos or shredded beef, you should get a good sample of what Melena's offers. Keep in mind, these are authentic meals, so the name of the game is a filling lunch or dinner at an affordable price. If you're looking to explore Queen Anne beyond its main strip, give Melena's a try.
5. 5 Spot
After college, I lived in the Queen Anne neighborhood. Even (gulp) 15 years ago, one of the biggest dining "institutions" in the area was 5 Spot. Specifically, the meal to be had was a Saturday breakfast at 5 Spot.
Sadly, 5 Spot closed for nearly two years during Covid. It looked like this beloved landmark was on its way out. However, in August 2022, new owners purchased 5 Spot and reopened the doors of this cherished cafe.
Today, 5 Spot is back in business with hours stretching from 7 AM to 9 PM. Our recommendation if you're dining there is to stop by for a casual breakfast. Meals are fairly standard, with options stretching from classic egg and meat dishes, to heuvos rancheros, to scrambles. The menu isn't quite as eclectic as it was under its past owners, but the "upscale diner" vibe remains the same.
If you happen to be visiting Seattle with kids and want to start a weekend day off, grab a taxi up to 5 Spot, enjoy breakfast, and then stroll down to Kerry Park where you can take in a beautiful panorama of downtown Seattle.
6. Via Tribunali
If you're up on Queen Anne and decide you're in the mood for some pizza, you have a few options. There's Olympia Pizza & Spaghetti House, northwest Chain Zeeks Pizza, Domani Pizzeria, and Via Tribunali.
Our vote if you're stopping by one of these restaurants is Via Tribunali. This pizza shop serves Naples-style pies and has a standout interior finished with dark wood, cast iron, and marble. It definitely feels authentically Italian.
The pizza selection is fairly expansive for a Neopolitan shop. There's everything from Margherita, to Italian meats, to pizzas with goat cheese and artichokes. Overall, the size of the pizzas is larger than you might be used to at other Neopolitan pizza shops. Beyond pizza, there are other menu items such as pasta, calzones, and appetizers – but make no mistake, the pizza is the start of the show.