If you're looking for deals on new clothing, shoes, outdoor gear, or more, venture out to some of the best outlets near Seattle. There's plenty of great shopping in the city (particularly at awesome Seattle thrift shops). But you can snag great deals on name-brand favorites if you know where to look.
The options are plentiful! I'll let you in on 9 of the best outlets near Seattle. Many of them aren't far away, and all of them can be reached in under 2 hours. Get ready to save some cash and get shopping. These are the outlet stores worth traveling to.
9 Best Outlets Near Seattle
Outdoor Research Outlet – Des Moines, WA
Distance from Seattle: 20 minutes
Like hitting up the mountains for hiking and getting out on the water as soon as the days warm up? The Outdoor Research Outlet in Des Moines is a must-visit.
Outdoor Research is a Seattle-based brand. It makes high-quality outdoor clothing for everything from skiing to trail running. You can find jackets, gloves, base layers, duffles, and other accessories like dry bags and gaiters for steep discounts of up to 70% off.
If you're already a dedicated Outdoor Research fan, come here to stock up on the goods! And even if you're not the biggest outdoor enthusiast, this is a good place to upgrade that handy rain jacket that gets so much use throughout the year.
Alderwood Mall – Lynnwood, WA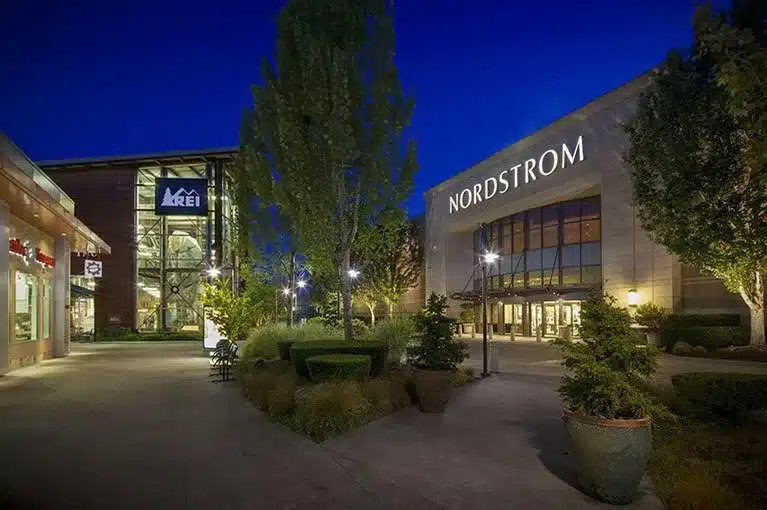 Distance from Seattle: 25 minutes
Alderwood Mall in Lynnwood isn't filled with outlet stores like some of the spots on this list, but there are a few here well worth checking out. 
Get great bargains at the Sketchers Warehouse Outlet. The well-organized store has tons of shoe options for women, men, and children and friendly staff to assist customers. On top of the discounted prices, you can typically buy one pair and get a second pair at 50% off.
Check out Macy's Backstage for deals on a lot of different items ranging from clothing to homewares and luggage. Similarly to other discount stores like Marshalls or Ross, you may have to do a bit of digging to find exactly what you're looking for. But if you go in ready to hunt, you can get good deals on great items.
Finally, just outside of the Alderwood Mall, you'll find the Best Buy Outlet. The deals you'll find here are primarily on appliances, rather than electronics. Those looking for home upgrades on a budget may want to check it out.
North Bend Premium Outlets – North Bend, WA
Distance from Seattle: 30 minutes
North Bend Premium Outlets is one of the best outlets near Seattle because it's close to the city, and has a good variety of stores in one spot. After a day of hiking in the mountains, come down to the outlets for some shopping deals.
Shops include outdoor brands like Columbia as well as sports-focused ones like Nike and Under Armour. Popular retailers and designer brands like Gap, Banana Republic, and Coach are also at North Bend Premium Outlets. Discounts vary based on the stores, but you can find bargains at any.
Eddie Bauer Outlet – Woodinville, WA
Distance from Seattle: 30 minutes
If you love Eddie Bauer products, you'll want to visit this outlet. The store is large and full of discounted items for men, women, and kids. Find flannels, blankets, backpacks, fleece jackets, water bottles, and other quality products. The Eddie Bauer Outlet is located in Woodinville's Town Center near other shopping and dining options. That means there are plenty of other things to do nearby once you leave the outlet.
Brooks Outlet – Bothell, WA
Distance from Seattle: 30 minutes
Runners will adore the Brooks Outlet in Bothell. The store is only 30 minutes outside of Seattle and it's a great place for quality running gear. Running shoes make up the majority of the selection. They also stock running-related apparel like shorts, shirts, socks, and sports bras. The store is big and well-organized, and the staff is knowledgeable and welcoming. It's worth a visit if you're heading to Bothell!
Almond Roca Outlet – Fife, WA
Distance from Seattle: 35 minutes
Fife's Almond Roca Outlet is a sweet standout among the car dealerships and warehouses in the area. Visit if you're looking to grab some gifts for chocolate-loving friends (or, of course, yourself!).
The chocolates are discounted because of cosmetic imperfections, but retain the same great taste as the full-priced treats. In addition to Almond Roca goodies, the store has other items like jam, syrup, and wine to round out your gifting needs.
The Outlet Collection Seattle – Auburn, WA
Distance from Seattle: 35 minutes
The selection at the Outlet Collection in Auburn is vast. Popular brands with outlet and factory stores include designer labels like Guess and Michael Kors. Find classic retailers like American Eagle and Vans. If you're looking for jewelry, the Kay Outlet has some excellent bargains.
This enclosed mall is great to visit on rainy days, and there is plenty of parking available even on busy weekends. As a bonus, families with young kids can let them burn off some energy running around in the children's play area. Bring older kids to the arcade at Dave & Busters.
Seattle Premium Outlets – Tulalip, WA
Distance from Seattle: 40 minutes
Nothing tops Seattle Premium Outlets if you're searching for the largest selection of outlets near Seattle. This popular destination is the place to go for deals on name brands.
Go to North Face, J.Crew, and Brooks Brothers for clothes bargains. Jimmy Choo, Vince, and Armani are just a few of the higher-end brands with outlets here. There are stores for those looking for jewelry, fragrance, shoes, and luggage. Visit the Le Cruset Outlet if you want to give your kitchen a facelift.
This may be one of the furthest outlets from Seattle, but it's by far the best. There's a food court, restrooms, and plenty of parking at Seattle Premium Outlets, which makes it easy to spend a long, leisurely day here. 
Centralia Outlets – Centralia, WA
Distance from Seattle: 1.5 hours
Centralia is a fun place to visit with a decent amount of shopping options for a town its size. Centralia Outlets has a slightly smaller collection of outlet stores than some of the other malls on this list, but what it has is great.
Polo Ralph Lauren, Famous Footwear, and Bath & Bodyworks are some of the popular outlets with great selections and helpful staff. Nearby you'll find ample food options to refuel after hitting the shops. You can head to Centralia's cute downtown area for even more spots to shop and dine.
–
You'll love the 9 best outlet stores near Seattle if you're a frugal shopper. Whether you're looking for clothing, shoes, jewelry, or even candy, these outlet stores provide plenty of options at the best prices.