Muckleshoot Casino is located about 30 miles south of Seattle in the City of Auburn, Washington. The casino is owned and operated by the Muckleshoot Indian Tribe and officially opened its doors back in April 1995. Muckleshoot has eight different dining and quick bite spots that are perfect if you happen to be in the area. I'll take you through each eatery with my recommendations and need-to-know items.
Before we get started, I need to let you know that the buffet at Muckleshoot Casino was a casualty of the Covid-19 pandemic. It has since been replaced by a new sit-down restaurant that we'll review below. Let's dive into the best restaurants in Muckleshoot Casino with a review of each
8 Restaurant
8 is perfect for those looking to satisfy their craving for Asian cuisine. 8 has a wide variety of various Asian foods from Vietnam, Japan, Thailand, China, and Korea on the menu. They also source their lobster fresh throughout the week from Maine and you can hand-select the one you want! The Peking Duck is marinated for several days and is prepared crispy and moist upon order. Although you can order takeout, I highly recommend dining in if you can.
Recommendations: Garlic Chicken Wings | Steamed Pork/Shrimp Shu Mai | Sashimi Poke | Fried Oysters | Steamed Shrimp Dumplings | Seaweed Salad | Wonton Noodle Soup | Seafood Fried Rice | Lobster (prepared with ginger scallion option) | Peking Duck | Singapore Noodles | Beef Pad Thai
Muckleshoot Restaurant
Muckleshoot Restaurant now sits where the buffet used to be. They serve breakfast, lunch, and dinner at this restaurant and it reminds me more of a casual cafe/diner, which I love. You'll find a variety of eggs, breakfast meats, and items off the griddle for breakfast. For lunch, there are plenty of soups, salads, sandwiches, and burgers to choose from. The dinner menu adds more entree options to the lunch menu such as steaks, pasta, and other seafood dishes. If you're there on a weekend and love salmon, you have to try Muckleshoot's pit-smoked salmon dinner. They use alder wood and slow-cook fresh locally sourced salmon over low heat and smoke.
Recommendations: Breakfast Sampler | Fantastic Four Breakfast (premium corned beef hash option) | Muckleshoot Skillet | Big Country Breakfast | Huevos Rancheros | Blueberry Pancakes | Muckleshoot Waffle (add fresh berries and whipped cream) | Traditional Fry Bread | Crispy Fried Prawns | Seafood Louie Salad | Salmon Spinach Salad | Wagyu Burger | Blackstone Rueben | Turkey Club | Split Pea and Kielbasa Soup | Creole Shrimp and Grits | Ribeye Steak | Prime Rib (king cut) | Lobster Tail | Snow or Dungeness Crab | Bread Pudding with Creme Anglaise | Austrian Apple Strudel Traditional Pit-Smoked Salmon Dinner
Caesars Sportsbook At Muckleshoot
If you're looking to catch a game on a giant screen, put down some sports bets, and grab some food and drink, head over to the Caesars Sportsbook at Muckleshoot. They have low and high-top tables with TVs galore. It's typical bar food but much higher in quality. Choose from flatbreads, sandwiches, burgers, wings, and salad too for those looking for a healthier option.
Recommendations: Shareable Towering Nachos | Muckleshoot Oysters Casino | Jumbo Wings | Chopped Salad | Islander Flatbread | Triple Threat Pepperoni Flatbread | Homerun Sliders | Club Sandwich | BBQ Bacon Cheeseburger | Jalapeno Cheddar Burger | Cake Donuts
Pizza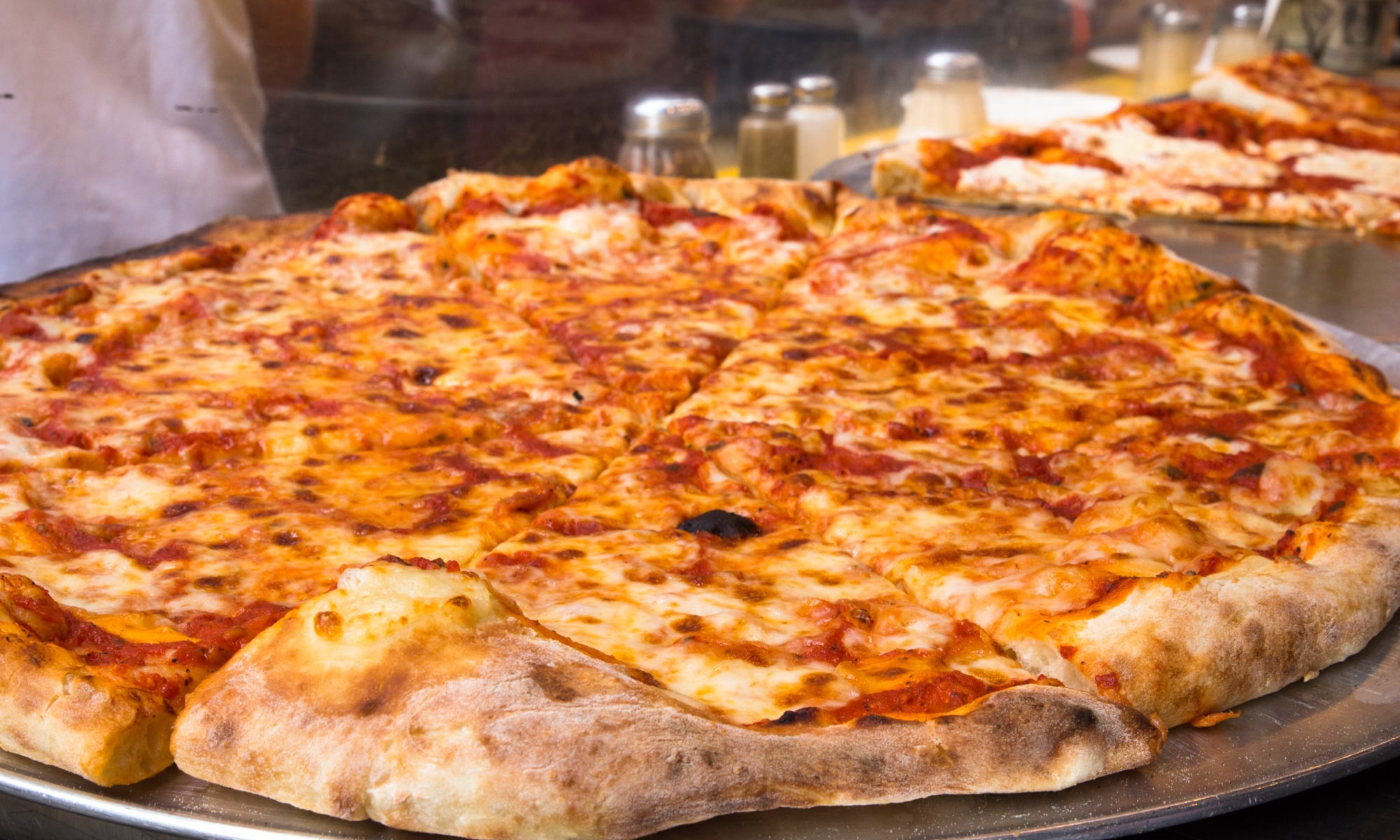 Nope, I didn't make a mistake. The place is called Pizza and surprise surprise… They serve pizza! This is a small little spot right on the gaming floor that has pizza by the slice and whole pizza as well. It's all New York-style pizza and they have your classics, as well as some creative contemporary concoctions. There are also subs, salads, and other various sides if you want a little extra with your pizza.
Recommendations: Caesar Salad | Spinach Salad | Caprese Salad Cup | Big Balla Specialty Pizza | BBQ Pulled Pork Specialty Pizza | Chicken Bacon Ranch Speciality Pizza | Pissaladiere Specialty Pizza | Italian Muffuletta Sub | Meatball Sub | Garlic Bread Sticks | Jumbo Chicken Wings (naked)
The Deli
Every casino needs an eatery that's open 24/7 and The Deli is the spot at Muckleshoot Casino. It's just past the Caesars Sportsbook in Muckleshoot's food court. There's plenty of seating and it's a good place to get away from the gaming floor for a bit and reset. The Deli serves breakfast all day and has a solid selection of burgers, sandwiches, hot dogs, and other appetizers available from 11:00 AM – 11:00 PM daily. They also have milkshakes if you're in the mood for one.
Recommendations: Biscuits and Gravy | Sausage, Bacon Biscuit Sandwich | Sourdough Breakfast Sandwich | Breakfast Burrito | The Islander Burger | Reuben Sandwich | Ribeye Cheddar Melt Wrap | BLT | Philly Cheesesteak | Po' Boy Sandwich | Chili Cheese Dog | Seattle Dog | Kraut Dog | Popcorn Shrimp | Fisherman's Basket | Fried Chicken | Garlic Parmesan Wings | Jo Jos | Huckleberry Milkshake
Baja Fresh Express
Baja Fresh Express is a part of Muckleshoot's food court. There's a good selection of various proteins, veggies, beans, and sauces/sides you can choose from if you're going with a build-your-own option. There's also an a la carte menu of tacos, quesadillas, and other Mexican sides as well.
Recommendations: BYO Bowl (choose your favorite items) | Pork Carnitas Tacos | Steak Quesadillas | Pronto Guacamole & Chips | Queso | Churro
Manchu WOK
Another restaurant that is located in Muckleshoot's food court, Manchu WOK, brings guests an express option for those wanting Asian food. The food is pre-made and on display so you can choose what looks best. You can pick the WOK express option where you can get 1-3 items, as well as rice or noodles all at varying prices. Or go for their signature honey garlic chicken dish. They also have various WOK boxes if you want to take something to eat on the go.
Recommendations: Beef WOK Box | Pork WOK Box | Egg Roll | Honey Garlic Chicken Signature Dish | Pick Any Three Items and Add Rice or Noodles
Sweet Shoppe
I'm not sure if you count this as a restaurant, but there are plenty of sweet treats to get here if you're looking for dessert or a handmade specialty drink. Sweet Shoppe has over 15 different rotating ice cream flavors that they will hand scoop into a cone or bowl for you. If you're looking for a specialty hot coffee drink to keep the dice rolling all night, Sweet Shoppe is your spot. If you'd rather have that coffee drink on ice, let them know. For those looking for a healthier option, there are fruit smoothies on the menu. Sweet Shoppe is also the perfect place if you're looking for a sweet treat gift as they have a variety of pre-packaged candies throughout the store.
Recommendations: Double Scoop (your choice of flavor ice cream) Waffle Cone | Affogato (a scoop of ice cream topped with a shot of hot espresso) | Caramel Macchiato | Matcha Latte | Vietnamese Coffee | Italian Cream Soda | Mocha Frappe | Mango Smoothie