I don't know about you, but going to the beach is one of my all-time favorite activities. Fortunately, I live in Washington, and its coast has some of the most beautiful beaches in the country. From dunes to rocky cliffs, there's something for everyone.
All the beaches offer something fun to do, from kite flying, kayaking, and tide pooling, to sun-tanning and relaxing on the beach.
With over 157 miles of shoreline, Washington has plenty of beaches. But to help you narrow down some options, here are seven breathtaking Washington coast beaches that you should check out when you get the chance:
7 Best Washington Coast Beaches to Visit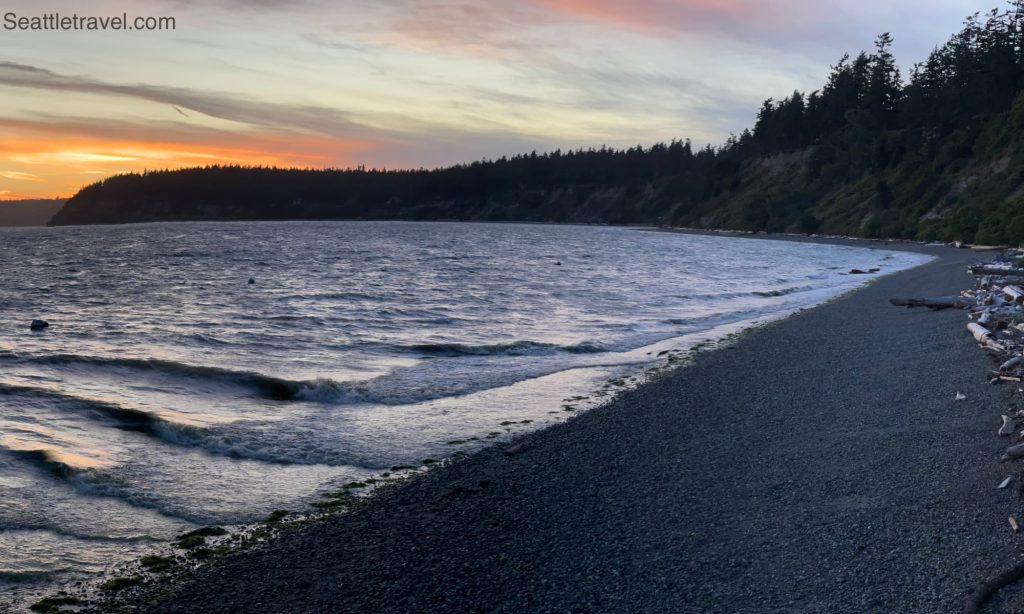 Alki Beach
Ruby Beach
Rialto Beach
Cama Beach
La Push Beach
Long Beach
Owen Beach
1. Alki Beach
My favorite beach is Alki beach because of its magnificent sunset and the vast, clean shoreline where I often come to swim. If you have yet to try swimming here, it's spectacular. The water is somewhat cold, but it is refreshing. Aside from swimming here, I love taking short strolls along the beachside path while watching the ferries cross by. You can also see the Olympic mountains from here, making this one of the ideal places for scenery.
While here, the Alki Lighthouse is a great spot to visit and learn about the area's history. Check out the guided tours of the lighthouse for additional insights about the area.
And the beachside restaurants, bars, and shops offer tourists various dining options and souvenirs. Overall, Alki beach provides a unique and beautiful experience, making it my favorite beach.
2. Ruby Beach
One of the best beaches in Olympic National Park is Ruby Beach. This rocky beach offers a stunning view of the Pacific Ocean and a chance to spot sea stacks and tide pools. Ruby Beach is the place to visit if you are looking for the perfect beach photo.
When I went to Ruby beach, I saw all sorts of wildlife, like starfish, anemones, and crabs. There are also nearby trails that you can hike. Most of these hikes are relatively easy to do. 
The beach is a popular spot and can get crowded during the summer, but it's worth a visit. Be sure to pack a pair of slippers or shoes because the beach is rock, and walking barefoot will be painful and not recommended.
3. Rialto Beach
Rialto beach is known for its rugged landscape, featuring a rocky shoreline and sea stacks that allow for great photos. The beach is filled with drift logs and smaller wooden sticks that you can collect if you'd like. This beach is one of the most relaxing beaches on this list.
Rialto Beach offers excellent views of the Pacific sea stacks and is a great spot to watch the sunset. You can also explore the tide pools when it's at low tide.
You might also notice abundant wildlife, including eagles, weasels, otters, and seals.
Additionally, this beach is a great place to spend time with your significant other, in my experience. It's near the beautiful coastal rainforest, providing the perfect atmosphere for a romantic beach stroll.
As a side note, this beach wasn't too sunny when I came here. There was a fair bit of mist in the air, so if you're looking for a sun-tanning beach, this isn't for you.
4. Cama Beach
This historical beach is in Cama Beach State Park on Camano Island. Going here will feel like the 1930s because of the old cabin styles and general stores around this area.
Renting a cabin is easy, and I recommend staying here for a few days but book early since reservations are needed most of the time. The rentals are comfy and have everything you need in there. In addition, you'll have a private campfire site where you can gather around to roast some marshmallows for s'mores.
When you go to this beach, there are many fun activities, like swimming, boating, birdwatching, or relaxing. There are also activities for children, like beach bingo.
You can take beautiful Instagram photos here, showcasing the glamorous beach scenery and the old buildings. The sunset views are also gorgeous. You'll want to stick around for those.
I also enjoyed my time at the Center for Wooden Boats, which is free to enter and includes workshops. It was a lot of fun, and I learned a lot there.
5. La Push
La Push is another rocky beach with towering rocky cliffs. Although I don't surf, I did notice there were some surfers at this beach because it had strong waves.
There are also trails that are near La Push because it's in the Olympic National Park. The last time I went here, I had to do a short hike to get to this beach.
Ensure that you have some decent slippers or preferably a pair of shoes when going to this beach because you'll probably need to do some hiking to get here.
Nevertheless, this beach is one of the most scenic beaches I've been to. You can truly enjoy the natural beauty of Washington's coast at La Push.
6. Long Beach
Long Beach is the longest beach in Washington, spanning 28 miles. You're bound to find a quiet place to relax on this beach if you're willing to walk a little. Long Beach is a sandy beach that I enjoy sunbathing in.
If you have kids, they can do sandcastle building and kite flying. If you or your children are good at sandcastle building, check out the competition they hold every June, Sandsations.
There are also various nearby hiking trails you can embark on after relaxing on the beach.
7. Owen Beach
Last up on this list is Owen Beach. This beach is one of the most popular in the Seattle area, with around 3.1 million people visiting this beach every year.
From this beach, you can see a fantastic view of Mt. Rainier. And if you visit during the summer, you'll get the chance to rent a kayak, where you can get a great upper-body workout.
Conclusively, Washington offers some of the most scenic and relaxing beaches where you can do fun activities. From the rocky shoreline of Rialto Beach to the historical charm of Cama Beach, there's something for everyone. So, why are you waiting? Start packing your bags for an unforgettable experience.