There's a good chance you've seen Seattle's beautiful cherry blossom trees at peak bloom if you've visited in early to mid-spring.
Cherry blossom season is one of the best times to visit the city. They're well-loved by both locals and tourists. The blooming trees are often the first sign of longer, brighter, and dryer days after a cold, gray, and rainy winter.
Seattle acquired most of its cherry blossom trees in the 20th century. They were donated to Seattle as a sign of friendship between Japan and Washington state. Japan donated cherry trees to Seattle in 1912, and again in 1976 for America's bicentennial. Since then, cherry trees have flourished all over Seattle, enhancing the city's beauty.
It's a great idea to go cherry blossom viewing in spring! The cherry trees typically bloom from late March to mid-April. Time your visit right and you'll be surrounded by delicate pink flowers as you wander the city streets.
This guide will overview the best spots to see the cherry blossoms in Seattle. Some of these places are popular and get crowded quickly, but have a huge concentration of cherry trees. Other places are a bit more obscure and have fewer trees, but you'll practically have them to yourself.
Without further ado, here are the places to go when you want to see the cherry blossoms in Seattle!
Where to See Cherry Blossoms in Seattle
The Quad at The University of Washington
The number one spot to see the cherry blossoms in Seattle is the quad at the University of Washington. The wide open space boasts nearly 30 cherry blossom trees around its perimeter. When they bloom, the quad transforms into a dreamy and whimsical place. It's in direct contrast to the gothic architecture of the University's buildings.
The Quad at the University of Washington is the best spot to go to see the cherry blossoms. But this also means it's the most crowded. Students, locals, and tourists flock to the quad to see the pretty trees, take photos, and lounge in the green space if it happens to be sunny out.
The University District also has a cherry blossom festival during this time. After checking out the trees in the quad, wander down to the surrounding restaurants, cafes, and shops in the area. Many of them have "cherry blossom" specials to commemorate the occasion. Indulge in cherry blossom lattes, tarts, and croissants. Receive museum or art discounts and so much more during this exciting, neighborhood-wide festival.
Be sure to go to the University of Washington's quad to see the cherry blossoms at least once. But if you're crowd-shy, I suggest focusing your attention on one of the other spots on this list.
Washington Park Arboretum
The Washington Park Arboretum is another popular spot to see the cherry blossoms in Seattle. This beautiful botanical garden is gorgeous year-round, and spring is no exception. The Arboretum is one of the most romantic places to see the cherry blossoms since it's so well-manicured and has many walking trails.
Once you arrive, grab a map and head to the arboretum's "Azalea Way" trail. This is where you'll find the majority of the blooming trees. After you get your fill of the cherry blossoms, wander through the rest of the garden to see some of the other plants blooming in early spring.
The Arboretum is not as crowded as the Quad, but it's another spot that's known for having a good collection of cherry blossoms. You can expect to see lots of people here on any warm or sunny spring day.
Seward Park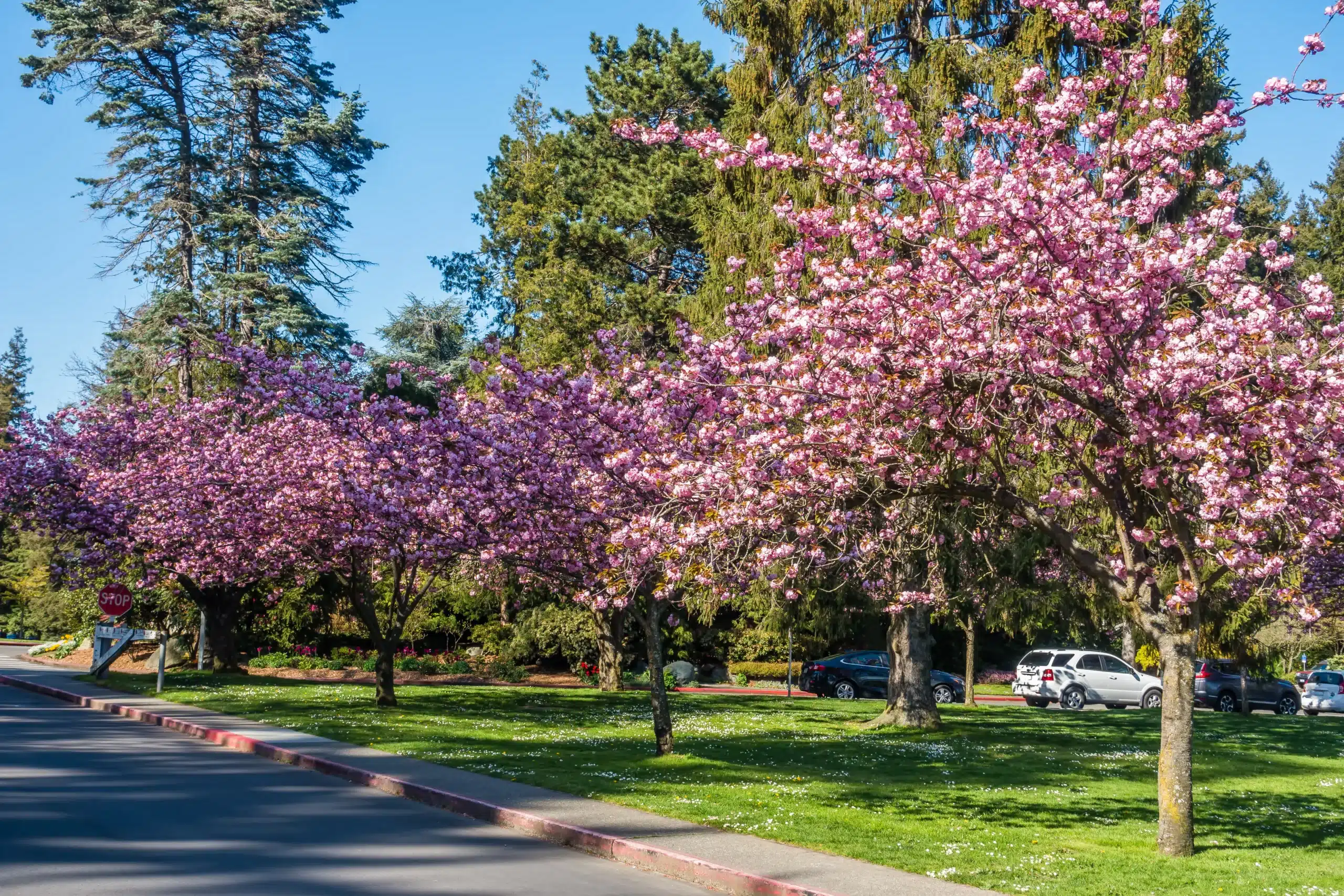 Seward Park is one of Seattle's prettiest parks. It's got many great trails for walking or jogging and is popular with cyclists. It's by no means the top destination to see Seattle's cherry blossoms, but you can find quite a few throughout the park. The majority of these are along the path by Lake Washington.
Since Seward Park isn't the number one place to see cherry blossoms, it's also not nearly as busy as some of the other spots on this list. Come to Seward Park during cherry blossom season if you want a quiet place to read a book beneath a cherry tree or a relaxing spot to sip your morning coffee.
Jefferson Park
Jefferson Park is another park that probably doesn't immediately come to mind when it comes to the best spots to see cherry blossoms in Seattle. But there are quite a few cherry blossom trees in this park. Trees were donated and planted in the park in both 1912 and 100 years later in 2012. That said, you can count on this park being an uncrowded place to admire the pretty trees. 
This neighborhood park in Seattle's Beacon Hill neighborhood is a decent size with a walking trail loop. It's along this walking path that you'll find the blooming trees, spaced around the park. Hungry after your visit? Walk a few blocks down to the commercial strip of the neighborhood to grab a bite to eat at one of the neighborhood's great restaurants.
West Seattle Chinese Garden
The West Seattle Chinese Garden is a hidden gem spot to see the cherry blossoms in Seattle. This tiny garden is tucked away in West Seattle, right next to Southwest Community College. It's completely free to enter the gardens and wander around. 
While there isn't a dedicated area with cherry blossoms, you'll find several trees around the garden. Admire the cherry blossoms in the courtyard, by the gazebo, and along the path leading to the garden's entrance.
Residential Streets
This option is best for explorers! You don't have to go to a park or garden to admire the cherry blossoms. There are cherry blossom trees planted all over the different Seattle neighborhoods. You can find them just by walking around. 
They're in just about every Seattle neighborhood. But a few good ones to start with are Magnolia (along Dravus Street), Ravenna, and West Seattle's North Admiral area.
–
Now you know the best spots to see cherry blossoms in Seattle. The pretty blooms are only around for a short time. So if you're in Seattle when they're blooming, don't hesitate to go find them!