Spokane, Washington, is a vibrant Eastern Washington city with plenty of fun activities to keep you busy.
From skiing in the winter months to visiting art galleries and theaters, there's something for everyone in Spokane. The city is also home to some of the best outdoor activities, with its expansive riverside parks and nearby mountains.
Whether you're looking for a weekend getaway or you're from Spokane, Spokane has plenty to offer. Here are 12 fun things you can do in the city.
1. Go Skiing At Mt. Spokane Ski Resort
The Mt. Spokane ski resort is one of the best locations in Washington for skiing. With over 52 runs, 7 lifts, and 50+ terrain park features, it's the perfect place for a winter getaway.
The resort also offers a variety of packages and deals, so you can save money when planning your ski trip. You'll get $5 off when booking your tickets online and discounts if you go on certain days.
I personally like the Half Hitch Terrain Park the most because it has challenging jumps, rails, hits, and more. Although, if you're just starting out, then Progression Park should be your go-to.
2. Enjoy Live Opera, Ballet, and Orchestra At Fox Theater
The Fox Theater is one of Spokane's most beloved locations for live entertainment. From the opera and ballet to symphonic orchestras, this theater offers some of the best live performances.
At this theater, you can experience everything from classic plays to modern musicals and beautiful dance performances. Plus, there's a variety of special events throughout the year that are sure to make any visit unique and memorable!
3. Pick Fruit With Family And Friends At Green Bluff
Located just North of Spokane, Green Bluff is a beautiful agricultural area that offers fun activities like picking fruit and picking Christmas trees.
There's something to do every month at Green Bluff. These activities can range from dining and drinking to picking apples and berries. If you'd like to pick fruit, I recommend coming here anytime from June to October.
Green Bluff is completely free to enter and check around. You'll just need to pay for gas and any purchases you make there. Overall, this is one of the best family-friendly activities that you can do while enjoying nature in Spokane.
4. Bike Through Historical Sites & Nature At Centennial Trail
The Centennial trail is a 30.5-mile long rail trail that passes through Riverside State Park and is along the Spokane River. It's the perfect place to bike, hike or even go horseback riding.
While exploring this trail, you can really take in all of the beauty that Eastern Washington has to offer. Plus, there are plenty of stops along the way to explore some of Spokane's historical sites. There are also restrooms, picnic tables, benches, and shelters available here.
You'll need a discovery pass to hike at any of the trailheads within Riverside State Park.
5. Explore Artworks At A Museum At Northwest Museum of Arts and Culture
As one of the largest art museums in Spokane, the Northwest Museum of Arts and Culture offers a variety of exhibits to explore. The museum boasts an impressive collection of Native American artifacts and hundreds of other historical artifacts.
The museum hosts a variety of special events throughout the year, such as lectures and workshops. Whether you're looking to learn more about art or simply admire some beautiful pieces, this museum is sure to delight you!
6. Enjoy A Botanical Garden At Manito Park
Manito Park is a beautiful city park located in the heart of Spokane. Here, you'll find stunning gardens filled with vibrant flowers and plants, along with a variety of walking trails and playgrounds.
This park has 78 acres of cultivated landscape and 20 acres of beautiful botanical gardens where you can take Instagram-worthy pictures. There are five different garden areas, each with a different and unique experience you'll be sure to enjoy. There are plenty of exotic flowers you probably haven't seen before here.
There's also a cafe here where you can grab a quick snack or coffee. Overall, this is one of my favorite places to relax and enjoy a beautiful site.
7. Hike Through Nature At Rocks of Sharon
The Rocks of Sharon is a popular hiking spot located just outside of Spokane. Here, you can explore the area's natural beauty and take in breathtaking views of the city and surrounding area, or just relax with a picnic.
This hiking area also boasts several trails that range from easy 1-mile strolls to difficult 6.6-mile climbs, so you can choose the perfect one for your skill level. Whether you're an experienced hiker or just looking for a relaxing walk in nature, this is the place to go.
8. Watch A Baseball Game At Avista Stadium
Avista Stadium is the home of Spokane's minor league baseball team, the Indians. Catch a game here while enjoying a drink and snack.
You can even bring your pets here to a pets-only section. There's also a kid's club here, where your kids can play fun games and visit the bounce house. The parking here is free and easily accessible, but if you want guaranteed parking in Mtthe main parking lot, you can pay $6 for a day.
9. Explore The Majestic Spokane Falls
Spokane Falls is a breathtaking waterfall located in the central business district of Spokane. It's the largest urban fall in Washington State, and it features three cascading waterfalls that create a beautiful backdrop for photos.
There are many viewpoints available, but you can get a beautiful panoramic view of the falls on the Numerica SkyRide. You can also get a great view of the waterfall at Huntington Park and the Place of Truths Plaza. The largest falls come during Spring when the snow starts melting.
10. Enjoy a Drink At Barrister Winery
Barrister Winery is one of the best places to get a drink in Spokane. It's popular with both locals and tourists, offering an array of wines for tasting, plus art galleries and live music nights.
Established in 2000, this winery has won awards for its red wines. At the winery's atmospheric tasting room, you can sample their exquisite wines and learn about how they are produced using local grapes.
Apart from trying out some of its delicious drinks, you can also take in the ambiance of a hundred-year-old warehouse while admiring artworks or listening to live music performances. Plus the location is tucked away by some of the best restaurants downtown, so start a wine tasting before enjoying a great dinner.
11. Stroll Around Riverfront Park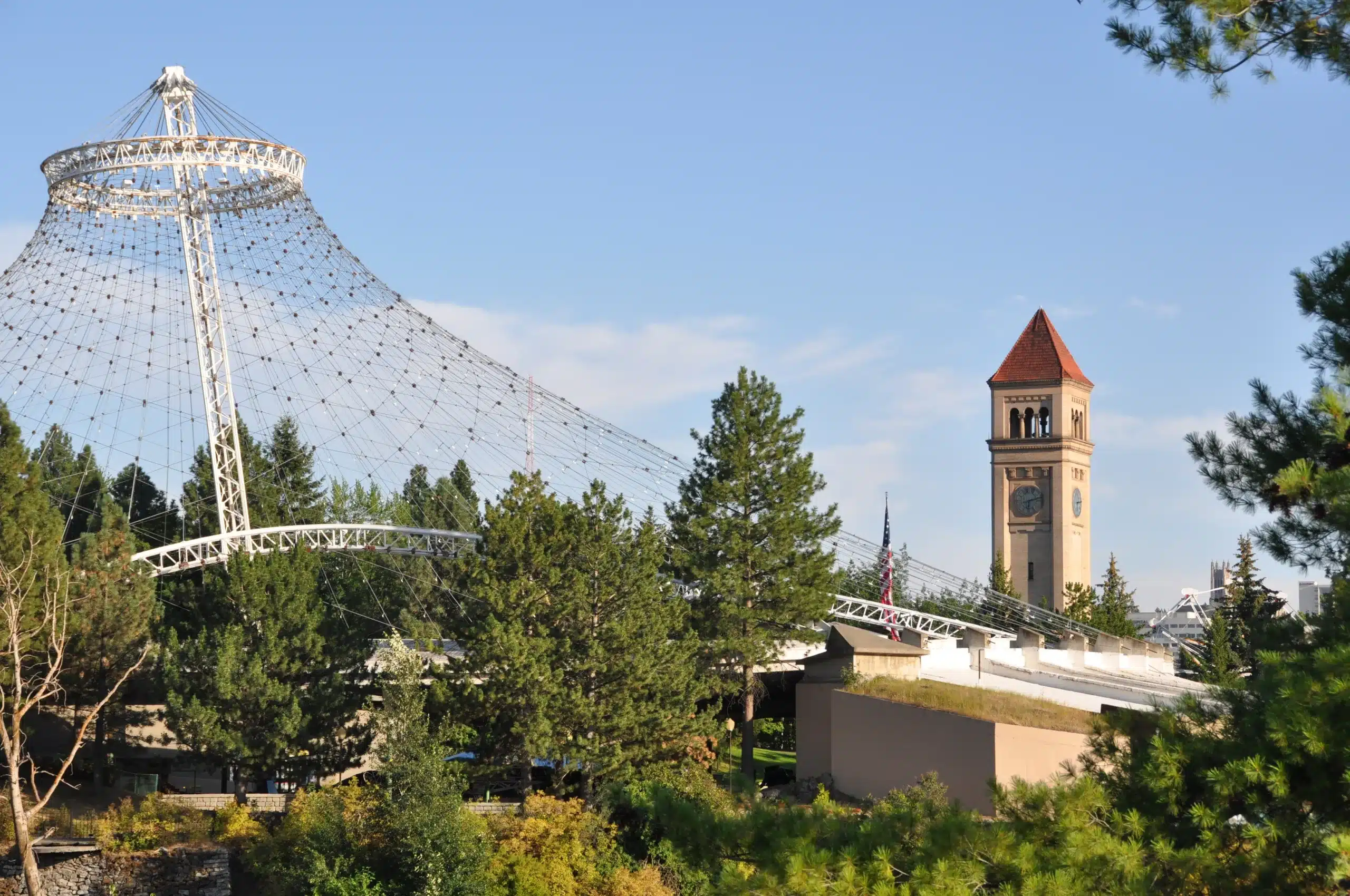 Spokane's Riverfront Park is an iconic downtown experience. Stretching for about 100 acres along the Spokane River, this park has something for everyone: from walking trails and bike paths to playgrounds, gardens, and of course, the famous United States Pavilion.
The park also features the Spokane Falls, which was covered above. This is definitely one activity worth checking out when in town!
12. Have Fun White Water Rafting At ROW Adventure Center
Last up on our list is ROW Adventure Center, which is the perfect place for families looking to explore and have fun in Spokane.
It offers family packages designed specifically with kids in mind, introducing them to white water rafting on the scenic Spokane River.
In addition to rafting, the ROW Adventure Center also offers a variety of activities, such as fly fishing, biking, and kayaking. So whether you're looking for an adrenaline-filled day or just want to relax on the river with your family – this is definitely worth checking out!