Seattle is truly a city that can satisfy a sweet tooth. The city that brought the world Starbucks and helped usher in the American coffee revolution has coffee shops with delicious baked goods on just about every block. However, if you're looking for something really special… the best the city has to offer, we have you covered!
You can find amazing bakeries all over the city but allow us to help narrow down your choices during your visit. Presenting Seattle Travel's guide to the best bakeries in Seattle, and a few just outside of the city as well.
1. Temple Pastries
Reason to Go Here: Epic Croissants
Neighborhood: Central District
Temple Pastries has so much going for it. Tall windows give a light and airy feel to this space that includes both first floor and second floor loft seating. With delicious coffee and fun seasonal drinks like the fall 'flapjack' or 'sweater weather' lattes, the coffee shop portion alone is worth a visit. All the same, the star of the show and not to be missed are the pastries. They have a fantastic variety of filled croissants all sharing the same flaky, buttery perfection. Unique offerings include their rye and buckwheat croissants, gourmet soft pretzels, and unexpected flavor pairings like their chocolate tahini tart.
2. Deep Sea Sugar and Salt
Reason to Go Here: Amazing Cakes
Neighborhood: Georgetown
This Georgetown cake shop began in 2016 as an airstream trailer-based weekend pop-up shop.  Word soon spread of their unique and delicious creations and pre-order cakes now book out a month in advance!  Not to worry, though.  There is a limited selection of whole cakes available daily for walk-ups (arrive early) and there is always a rotating selection of flavors available as slices daily.  The London Fog, an earl grey cake with honey and earl grey syrup, bergamot mascarpone cream and cream cheese frosting is their signature flavor.  It's only one of ten flavors available each month, including great seasonal offerings.
3. Byen Bakeri
Reason to Go Here: Best Scandanavian
Neighborhood: North Queen Anne
When looking for anything Scandinavian, most people head directly to Ballard. Nonetheless, North Queen Anne is home to the best Scandinavian bakery in the city. Its bright yellow entryway and cartoonesque decorated wall welcome you inside. You'll find many familiar favorites like cookies and cinnamon rolls among some pastries you might not be as familiar with such as kringles, lefse, and semla. Along with pastries, Byen Bakeri offers breads, cakes, sandwiches, and coffee. Seating is limited.
4. Lady Yum
Reason to Go Here: Best Macarons
Neighborhood: Downtown, Pioneer Square, Kirkland, Bellevue Square, Seatac Airport
Local macaron hot spot Lady Yum does one thing and one thing only, but boy do they do it well! Their macarons are so beloved around the Seattle area that they have expanded to five locations. You'll find a selection of always-available popular flavors including salted caramel, raspberry chardonnay, and unicorn (cotton candy), as well as rotating seasonal and monthly surprises. Most locations have seating and serve wine and champagne as well. With their tagline 'macarons and mischief' it's not surprising that the stores have a wonderfully whimsical feel inside. They also make a great gift with beautiful packaging and nationwide shipping available.
5. Bakery Nouveau
Reason to Go Here: Classic Favorites
Neighborhood: Capitol Hill, West Seattle, Burien
Three words: twice baked croissants. A perennial favorite at Capitol Hill's Bakery Nouveau and for good reason! In addition to these incredibly rich and delicious pastries, you'll find a variety of other pastries, sandwiches, breads, cakes, and pies. All with the feel of the quintessential Hallmark Christmas Movie bakery.
There is no seating at the bakery, it's to-go only, yet there is a small park across the street. Bakery Nouveau also has locations in West Seattle and Burien.
6. Rosellini's
Reason to Go Here: Fantastic Desserts
Neighborhood: Ballard
Neighborhood gem, Rosellini's, is well known in Ballard and beyond. Its simple, unassuming exterior has not slowed the crowds from realizing there are some seriously good eats to be found inside. Rosellini's has a wonderful selection of mousses and tarts, the lemon meringue tart being a particular favorite, all available in a small single-serving size or a larger size for sharing. They also have a nice selection of bread on a rotating schedule. They are made in small batches and sell out fast so arrive early! You'll also find a variety of traditional pastries, as well, the kouign-amann is quite popular. If you are visiting during the summer months, Rosellini's has a lovely outdoor garden seating area.
7. Petit Pierre Bakery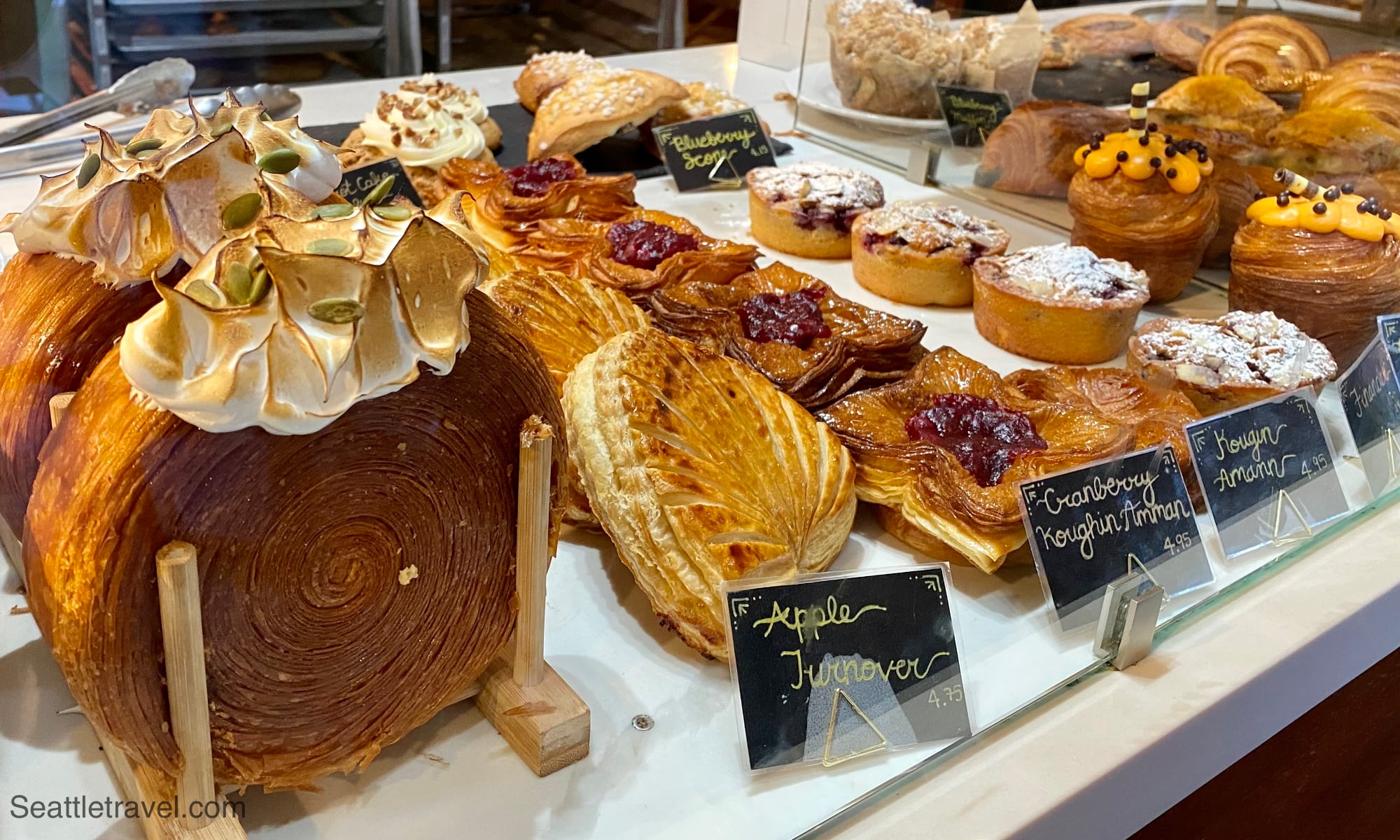 Reason to Go Here: Gorgeous Pastries
Neighborhood: Magnolia and Phinney Ridge
When looking through the bakery case at Petit Pierre Bakery, I first noticed how pretty their pastries are. Not just delicious-looking and golden but also with unique shapes and interesting embellishments. If you are wanting to create a picture-perfect brunch table, this is your spot! Most importantly, they taste as good as they look. During my visit, I saw things such as a gorgeous wheel-shaped pumpkin pie croissant topped with toasted meringue and pepitas. They had a lovely classic kouign-amann, but also a gorgeous floral-shaped cranberry version. The colors in their cassis pistachio torte were so rich and beautiful! Petit Pierre has two locations; Magnolia and Phinney Ridge.
8. Dahlia Bakery
Reason to Go Here: Famous Pies
Neighborhood: Downtown
Seattle's well-known restaurant, the Dahlia Lounge, may not have survived the pandemic, but thankfully the bakery by the same name continues on! Owned by Seattle's best-known restaurateur, Tom Douglas, it's no surprise that you'll find some delicious offerings here. The Dahlia Bakery is best known for their triple coconut cream pie. Its been beloved for more than 30 years! You'll also find cafe offerings here such as sandwiches and salads, baked goods like cookies and croissants, and delicious focaccia breads.
9. Farine Bakery & Cafe
Reason to Go Here: An Eastside Favorite
Neighborhood: Downtown Redmond
With their Belgian-inspired fare, Farine Bakery & Cafe has quickly become an Eastside mainstay. Two locations in Bellevue and Redmond satisfy customers' cravings for pastries, breads and belgian waffles. Farine serves delicious tartines, sandwiches and several breakfast dishes, making it a great brunch spot. Give their salted caramel or Belgian triple chocolate eclair a try, they are favorites!
10. Fresh Flours
Reason to Go Here: Unique Flavors
Neighborhood: Beacon Hill, West Seattle, Phinney Ridge, South Lake Union
West Seattle-based Fresh Flours bakes their pastries fresh daily in their main location, but they also have three other locations they deliver to daily in Phinney Ridge, Beacon Hill, and South Lake Union. They have some unique flavors you won't see elsewhere on this list such as their popular green tea and azuki red bean muffin, their green tea or black sesame tea cookies, and their sausage pithivier. There's also a full range of more traditional sweets including croissants, danishes, and galettes. Their coffee and other drinks, such as their London fog latte are also great!
11. Sea Wolf Bakers
Reason to Go Here: Amazing Breads and Croissants
Neighborhood: Fremont
Fremont family bakers, Sea Wolf, have a dedication to quality you can see in any item on their menu. Their croissants are deliciously flakey and they use their croissant dough to make an amazing cinnamon roll that's a shop favorite. Another fun offering is their buttery croissant brittle, yum! They also have a good selection of breads and rolls, their baguettes sell out fast! Something you won't find at other bakeries is bread baking classes; you can learn the secret to a few of their best recipes!
12. Cafe Besalu
\
Reason to Go Here: Nice Variety
Neighborhood: Ballard
The variety at Ballard's Cafe Besalu will make sure there's something everyone will love. From their quiches to their danishes, all are well received. They have fun twists on favorites like their pistachio lemon croissant and the individual-sized chocolate pistachio babka. Try their onion and gruyere croissant, yum!
13. Le Panier
Reason to Go Here: Pike Place Convenience
Neighborhood: Pike Place Market
If you're visiting Seattle, the most convenient bakery to visit will without a doubt be Le Panier. It's located conveniently inside the famous Pike Place Market. This is a classic French Bakery with baguettes, croissants, napoleons, macarons, and everything one would expect to find in a very cute shop. The croissants are a favorite here, almond and chocolate especially.
14. Fuji Bakery
Reason to Go Here: Best Japanese Bakery
Neighborhood: Interbay and International District
Fuji Bakery's bright pink exterior makes sure all who pass them on Elliott Avenue know they are there! With the attention to detail this Japanese bakery pays to its pastries, that's a good thing. Fuji cultivates additive-free yeast in-house and imports certain ingredients from France. Then they mix in Japanese ingredients making for some unique and delicious creations! The favorite item here is the selection of malasadas, especially the beautiful purple ube flavor. They're also available in matcha, azuki, lilikoi, crunchy cream and a savory curry beef. A variety of other pastries such as flavored croissants, tarts, and a Japanese souffle cheesecake round out a nice variety. A second location is in the International District.
Columbia City Bakery
Reason to Go Here: Best South Seattle
Neighborhood: Interbay and International District
If you find yourself in the South end of our city, you must make a stop at the delicious Columbia City Bakery. Owned by Evan Andres, a James Beard Award Semifinalist for Outstanding Baker, you'll find many treats worth a trip even if you're not already in the area. Some favorites include the everything croissants, pistachio snails, the selection of breads, and especially the focaccia.
15. Crumble & Flake Patisserie
Reason to Go Here: Weekend Treats
Neighborhood: Capitol Hill
Capitol Hill's Crumble & Flake Patisserie is a small bakery with a small menu that focuses on making "tiny batches with precision and love." A smaller offering but done really well is okay in my book! They specialize in croissants, kouign-amanns. and cream puffs made to order. You may want to save your trip for the weekend as they have three special items only available then: a twice-baked ham and smoked paprika croissant, a pistachio croissant, and a black sesame kouign-amann.
16. La Parisienne French Bakery
Reason to Go Here: Most Authentic French Bakery
Neighborhood: Capitol Hill
If you are looking for the real deal, authentic, quality French baked goods, this is the spot to go in Seattle. Croissant, mille feuille, éclaire, cannelle, paris brest, opéra cake, macaron, baguette… all available, all delicious! You can even order a gorgeous croquembouche available in five flavors for your next party. The shop is cute, offers seating, and you can also order cafe favorites like sandwiches, quiche, salads, and a french onion soup. Arrive early for the best selection of baked goods!
17. Sugar Bakery
Reason to Go Here: Great Cookies
Neighborhood: Lower Queen Anne and First Hill
Available in two locations, Sugar Bakery & Cafe on First Hill by Virginia Mason and Sugar Bakery & Coffeehouse in South Queen Anne, both serve the same delicious baked goods. They are particularly loved for their variety of cookies, slices of cake, salted caramel croissants, and their cardamom-flavored powder puff latte. Both locations have fun decor of rolling pins on the walls and a collection of plants to make a welcoming space.
18. Belle Pastry
Reason to Go Here: Eastside Staple
Neighborhood: Old Bellevue
If you're on the Eastside and looking for a classic French bakery, Belle Pastry is the place to go. You'll find it on Main St. in Old Bellevue, a cute street full of great food and shops worth wandering down if you haven't before. This bakery has a good amount of seating to enjoy your treats and a nice variety of classic favorites such as croissants, napoleons, tarts, and cakes.
19. Coyle's Bakeshop
Reason to Go Here: Delicious Scones
Neighborhood: Greenwood
Located in the Greenwood neighborhood, Coyle's Bakeshop is another shop that definitely has the cute classic bakery vibe going for it. They have classic chocolate and almond croissants, but other varieties as well like hazelnut and cherry almond. The scones are a highly recommended favorite here, as well as their cakes, particularly the grapefruit poppy seed bundt cake.
20. T55 Patisserie
Reason to Go Here: Best NEW Bakery
Neighborhood: Bothell
Brand new in Bothell and worth the trip, T55 is a small-volume bakery with some really interesting high-quality baked goods. Do come early. Do expect to wait in line. It will be worth it. The items available change weekly and you will find some classics such as croissants and pain au chocolat. Others will be classics with a twist. For example a choux pastry, but it will be pecan green apple, black forest, or banoffee flavored. Financiers in cardamom prune, chocolate cherry, or pear blue cheese. I can't wait to see what they think up next!