I might be a bit biased here, but nothing comes close to the vibrant and delicious flavors and offerings than Korean cuisine. From sweet and spicy marinated meats grilled right in front of you to your exact preference or traditional staples like jjigae, banchan, and bibimbap there's something amazing for all palettes to enjoy. In this guide, I'll take you through all the main K-Town neighborhoods in the Greater Seattle area with my top picks!
The 20 Best Korean BBQ and Restaurants in the Seattle Area
Meet Korean BBQ
Baegopa
Son Of A Butcher
WeRo
Paju
Joule
Cho Dang Tofu
Exit 5 Korean BBQ
Stone Korean Restaurant
The Box & Burger Eatery
Bapmukja
Ka Won Korean BBQ Restaurant
So Moon Nam Jib
Kum Kang San Buffet
Hae Song Prime Korean BBQ
Daebak Wang Mandoo Korean Dumplings
Chung Ki Wa
Nak Won Bunsik – Korean Cuisine
House of Mandoo
Ho Soon Yi
Meet Korean BBQ
Address: 500 E Pike St, Seattle, WA 98122
Head on over to the vibrant and trendy Capitol Hill neighborhood of Seattle and among many of the fantastic restaurants, you'll find the most upscale Korean BBQ restaurant on our list. The main focus here is on the quality, preparation, and service of food to their patrons. Meet uses only the highest quality cuts when it comes to protein options. I would highly recommend the A5 Japanese Wagyu, Gochujang Marinated Berkshire Pork Shoulder, and the USDA Prime 40 Days Dry Aged Bone In Ribeye. Your server will ensure the grilling is done to absolute perfection so you can just sit back, relax, and enjoy the show and of course, the food! One of the unique aspects of Meet is that they use local and seasonally fresh produce to bring modern takes on their banchan. But don't worry, the traditional kimchi will always be made available at every meal.
Baegopa
Address: 509 7th Ave S, Seattle, WA 98104
Located in Seattle's historic Chinatown/International District, Baegopa brings one of the best all you can eat Korean BBQ options to our list. Although there's plenty of ala carte options to choose from, I've always gone with all you can eat. Know that if you're dining with friends at Baegopa, if one person chooses the all you can eat option everyone must. House rules. My favorites include the boneless short ribs, prime slice of marbled beef brisket, pork belly, LA galbi, and of course, soondubu jjigae. The meat comes out on a tiered serving tray so get out your phones for that all important Instagram story post! Like almost all the restaurants on our list, you'll get plenty of fresh banchan to accompany your meal. Oh, by the way… in case you were wondering. Baegopa translates to, I'm hungry.
Son Of A Butcher
Address: 2236 Eastlake Ave E, Seattle, WA 98102
Head on over to Seattle's Eastlake neighborhood and you'll find Son of a Butcher Korean Restaurant. That's right, you read that correctly. It's a Korean BBQ and Restaurant. Both SungJun Park and Eun Song are highly experienced in food culture and in particular Korean cuisine. The former grew up in his parents' Korean BBQ Restaurant, Sottukkeong. This second generation duo brings traditional Korean flavors with a more modern approach and ambiance. If you can't choose between the beef or pork options, check out their combo section on the menu. You can get a little of everything to satisfy your cravings. There's jjigae and tang options as well if you're in the mood for a nourishing Korean soup. Feeling adventurous? The tapas and shared section of the menu definitely brings out the modern twist on Korean flavors. My favorites include the yukhwe (Korean beef tartare), baby back ribs (of course, marinated in Korean flavors), and corn cheese steamed egg.
WeRo
Address: 5210 Ballard Ave NW, Seattle, WA 98107
Ballard is well established as one of Seattle's most popular neighborhoods. There's tons of restaurants and bars all around the Market Street area and WeRo Korean Restaurant is one that thrives among them. If you've read some of my other Korean restaurant guide articles, you know that I appreciate a small and focused menu. WeRo combines traditional Korean flavors with creative yet subtle modern twists that really make each dish unique and makes you want more. The rice cake and sausage skewer is the perfect appetizer combining the traditional and popular Korean rice cake with perfectly marinated sausage. Fried chicken wing lovers will love the Korean style house sauce and for those looking for something a bit more mild yet full of flavor, the japchae salad with short rib beef and eggs is a must. My all time favorites at WeRo are the galbijjim (melt in your mouth Korean style braised short ribs), duck bibimbap, black cod jorim, and the pork belly ssam (lettuce wrap) platter. You won't be sorry you visited WeRo.
Paju
Address: 11 Mercer Street, Seattle, WA 98109
Speaking of smaller menus, Paju is all about the traditional Korean small plate and drink combination. This is a homage to the small pop-up tent street shops all throughout Korea that were and are operated by hard working moms and pops. Paju is the perfect place if you're looking for some insanely delicious Korean small plates and drinks before getting your night started or perhaps before winding down the night. The bugak (oxtail), yellowtail, and octopus are great for those looking for quick and easy bites. The paju crispy pancakes are perfectly prepared and are loaded with seafood. For those looking for a little heat, try the tteok-bokki (spicy rice cakes). The highlights of the menu are clearly the paju fried rice, which comes with kimchi, bacon, squid ink, and a smoked quail egg and the truffle rib-eye steak bulgogi is out of this world good. Pair your small plates with a bottle (or two) of Makgeolli (Korean rice wine) for the complete experience.
Joule
Address: 3506 Stone Way N, Seattle, WA 98103
Joule makes our list as one of the few Korean-fusion restaurants. The ambiance and atmosphere is lively and modern. The space boasts an open kitchen concept, as well as high ceilings and lots of windows for natural light exposure. This restaurant is perfect for those looking for Korean and Pan-Asian flavors with some serious modern twists. The beef tartare and Chinese scallion pancake are perfect starters to get your meal started off right. Kimchi lovers beware. It can go either way as Joule offers the kimchi trio consisting of apple and escarole, napa, watermelon radish and yu choy. Traditionalists steer clear, but those looking to take a chance, it might be your new favorite banchan! The geoduck black rice is quite possibly one of the most innovative dishes I've tried in a while. "That" short rib steak is the best choice for those looking for the one most traditional and straightforward delicious Korean flavors. Burger lovers hands down need to try the kalbi burger with horseradish and giardiniera. The highlights of the menu? Definitely the kombu cured mackerel and scallop in black garlic butter.
Cho Dang Tofu
Address: 1645 140th Ave NE, Suite A1-A, Bellevue, WA 98005
Soondubu jjigae (tofu soup) is my number one favorite Korean dish. It's delicious, filling, and extremely satisfying. Cho Dang Tofu specializes in soondubu jjigae making Cho Dang, one of my favorite and most frequented Korean spots. Sure, they have plenty of other options on the menu like Korean style BBQ, haemul pajeon (green onion and seafood pancake), other styles of jjigae, and banchon. But when you go to Cho Dang, you get the soondubu. A couple of pro-tips. You get a personal serving of banchon and it's unlimited. Keep an eye out for the staff member pushing around the banchon trolley. When you order your soondubu jjigae, the server will ask you for your preferred spiciness level. For all you spicy food lovers out there, be sure to ask your server for the "off the menu" spicy option!
Exit 5 Korean BBQ
Address: 911 N 10th PL, Suite D, Renton, WA 98057 – The Landing
Exit 5 Korean BBQ is a newer Korean restaurant located at "The Landing" in Renton. They accommodate diners looking for both the tableside Korean BBQ grilling option and those looking to have more of a traditional Korean meal from the a la carte menu. The a la carte menu features all your traditional (and some modern) Korean cuisine options like tteokbokki, japchae, jjigae, tang, and Korean style marinated and prepared proteins. If you're opting for KBBQ grilled tableside, the marinated combo or seafood medley option is the way to go.
Stone Korean Restaurant
Address: 16857 Redmond Way, Redmond, WA 98052
Stone Korean Restaurant in Redmond has been a mainstay in the area since 2011. Owners Diana and Kang Choi bring authentic and traditional Korean flavors to this thriving suburb. It's no surprise that their hard work and dedication to their food and customers resulted in two new locations in Bothell and South Lake Union (Seattle) opening in 2022. The menu boasts a huge selection of jjigae, tang, bibimbap, and naeng-myun. Of course, Korean style marinated meats are on the menu, as are seafood options like succulent grilled flounder.
The Box & Burgers Eatery
Address: 12305 120th Ave NE, Suite C, Kirkland, WA 98034
The Box is a bit of a stretch when adding it to a best Korean restaurants list. It's definitely more of a Pan-Asian fusion restaurant however, I added it because the flavors are out of this world and insanely good! Of course, there's plenty of Korean influence on the menu as well. Another restaurant with a small and focused menu, everything they do is done very well. I highly recommend the chicken kraage plate, kalbi yakinuku plate, kimchi fried rice, and the bibimbap burger.
Bapmukja
Address: 18623 Hwy 99, Suite 110, Lynnwood, WA 98037
Bapmukja is Korean for, let's eat and this restaurant is all about bunsik (Korean street food). They have all your favorite traditional Korean street and comfort foods, as well as a few modern twists on the menu. My personal favorites include kimbap (banchon and rice rolled in nori), tteokbokki, and Milkis. This spot is really about quick eats and grab and go style food.
Ka Won Korean BBQ Restaurant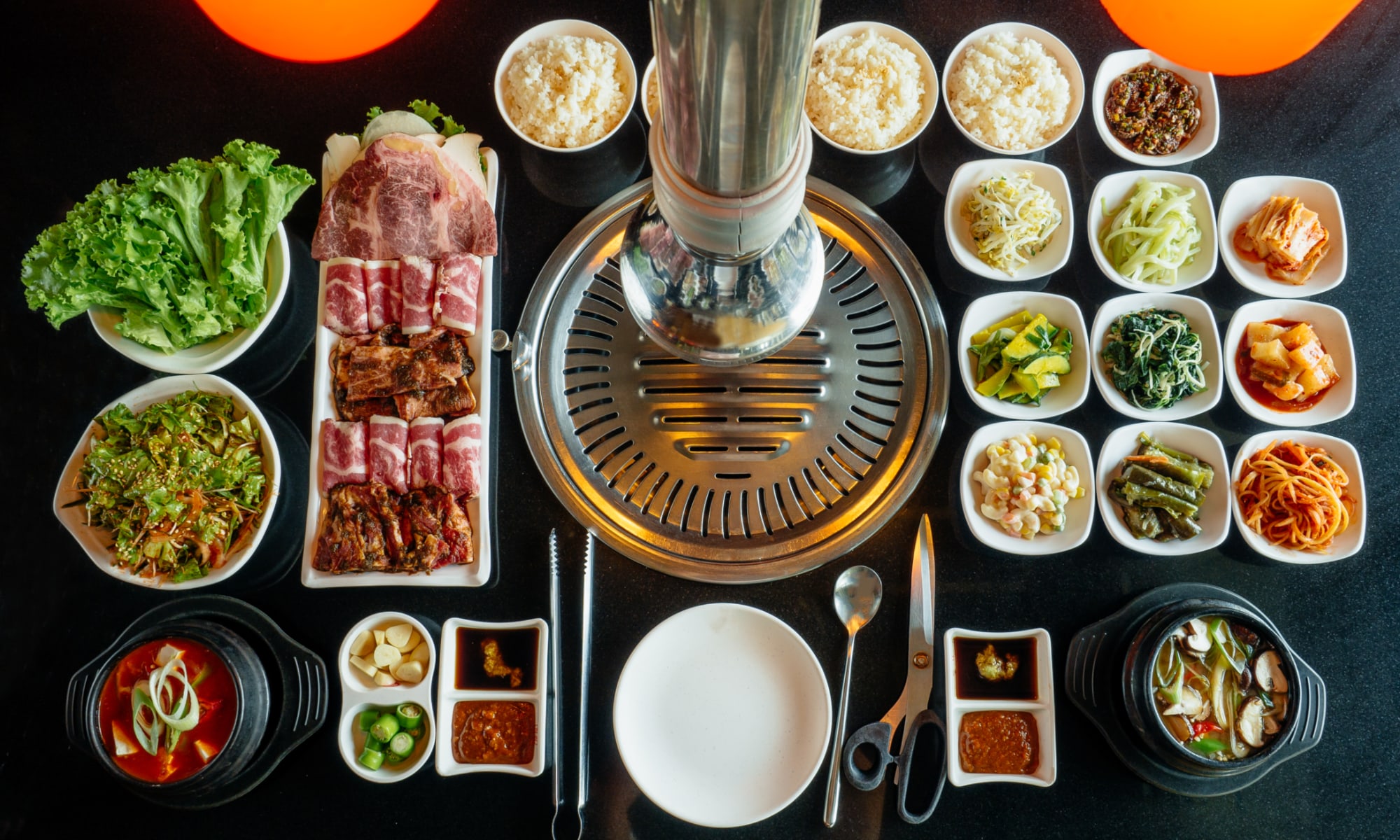 Address: 15004 Highway 99, Suite A, Lynnwood, WA 98087
Ka Won is another great spot if you're looking for the full Korean BBQ experience. Get ready to do some work for your food as you'll be doing the grilling. Select from a wide variety of various proteins and veggies on the menu including some of my personal favorites like Ka Won deungshim, saeng kalbi, and yangnyeom kalibi. If you're not in the mood for Korean BBQ, the eundaegu jorim (black cod cooked in a spicy sweet garlic soy reduction) is a favorite among guests that frequent Ka Won and they've been known to run out. Kimchi jjigae is another favorite but it's not for everyone so order with caution.
So Moon Nam Jib
Address: 33324 Pacific Hwy S, Suite 203, Federal Way, WA 98003
So Moon Nam Jib loosely translated means, our place is so great it's talked about. Another traditional Korean restaurant that focuses on classic Korean dishes. There's plenty of choice on the menu including mandu, jjigae, jeon gol, naeng myeon, bibimbap, and of course, Korean BBQ grilled tableside. You can't go wrong with spicy marinated sliced pork or the marinated beef short rib LA. Not in the mood for Korean BBQ? The son jin mandu is super flavorful and you can't go wrong with dwen jang jjigae (soybean paste soup).
Kum Kang San Buffet
Address: 31656 Pacific Hwy S, Federal Way, WA 98003
This all you can eat Korean BBQ and buffet is insanely popular with the local Korean community. It's one of the only Korean buffets where you can grab unlimited Korean marinated meats, and also all you can eat banchon. Classic favorites such as japchae, mandu, and bo guhm bap (fried rice) are all available. But make sure you don't fill up too much on those delicious appetizers. Save room for the main course. Korean BBQ!
Hae Song Prime Korean BBQ
Address: 32703 Pacific Hwy S, Federal Way, WA 98003
Hae Song only uses certified USDA Prime beef that's grilled tableside for the authentic Korean BBQ experience. A steady flow of banchon accompanies your meal like all good Korean restaurants do. Beyond KBBQ, the menu features all your traditional appetizers, soups, and entrees like hot stone bibimbap, pork back-bone stew, green onion seafood pancakes, and spicy rice cakes.
Daebak Wang Mandoo Korean Dumplings
Address: 33100 Pacific Hwy S, Suite 5, Federal Way, WA 98003
One of the best spots to grab authentic Korean style dumplings is Daebak Wang Mandoo. There's nothing fusion or modern about this place. It's all about the classics and the flavors are amazing. Don't expect to see KBBQ on this menu. It's all about the mandoo here. The kimchi pork mandoo is a must. If kimchi isn't your thing, definitely go with the pork mandoo. Although there's seating at this restaurant, it's more of a grab and go place unless you opt for a dumpling soup.
Chung Ki Wa
Address: 8601 S Tacoma Way, Lakewood, WA 98499
Chung Ki Wa is my favorite Korean restaurant down in the Tacoma area. They serve authentic and traditional Korean dishes that have a homemade quality. The place is always packed with local Korean community members, which makes sense because the food is awesome. Tableside grill KBBQ is available but I would say it's not really the star of the show at Chung Ki Wa. You'll want to take a look at their other choices (something I don't say too often). I highly recommend the bossam (pork belly and kimchi), seafood dolsot bibimbap, kimchi fried rice, pork neck bone and potato stew, or the beef short ribs.
Nak Won Bunsik – Korean Cuisine
Address: 9701 S Tacoma Way, Lakewood, WA 98499
Located inside Paldo Market (Korean/Asian grocery store), it's one of a few restaurants in the food court section. Bunsik means Korean street/comfort/inexpensive food and that's exactly what you'll find at Nak Won. You'll stand in line (because there always is one) and make sure to use that time to look at the huge menu up and in front of you. You'll want to know what you want as soon as you get upfront because no one has the time to wait on you. BBQ short ribs, spicy pork bulgogi, spicy pork bone stew with potato, and fried mandu are great choices if you need a little help. Order, pay, take your plastic number card, find a table and seat, and someone will bring you the food to enjoy.
House of Mandoo
Address: 9701 S Tacoma Way, Lakewood, WA 98499
Too intimidated to stand in line at Nak Won Bunsik? No problem. Walk a few steps further to the end of the restaurant row in the food court at Paldo Market and you'll find House of Mandoo. Does House of Mandoo only serve mandoo? Nope! They also have Korean style steamed buns. You'll want to get to House of Mandoo as early as possible. This place is hugely popular with the locals and they typically run out of supply by early afternoon. They serve pork mandoo, kimchi mandoo, red bean jjinppang (steamed bun), and pork/kimchi porkies (mini mandoo).
Ho Soon Yi
Address: 8501 S Tacoma Way, Lakewood, WA 98499
My family has been going to Ho Soon Yi for as long as I can remember. From the outside there's nothing really that special about it. In fact, you might wonder if you even want to go in. The faded yellow building with the blue roofing looks quite unappealing. If you can get past that and think of the delicious Korean food that's inside, you'll be in for a treat. Ho Soon Yi offers traditional Korean cuisine so if you're looking for food infused with cheese, this is not your place. The spicy pork bulgogi, eundaegu jorim, and pan-fried flounder are my go to items each time I visit. No joke, I get the same things EVERY time!