Forks, Washington is known primarily for two things. First, it's the rainiest place in the contiguous United States. Second, it was the setting for the Twilight series, the bestselling paranormal romance books by Stephanie Meyer. But there's more to Forks than rain and teen romance. In fact, there are a lot of things to do in and around Forks, WA.
Forks has around 3,000 permanent residents and is close to many of the best attractions of the beautiful Olympic National Park. If you love small towns and having outdoor adventures, come to Forks, Washington!
Prepare for an entertaining visit that you'll remember for a long time. Here are 17 things to do in Forks, from beautiful beaches to camping.
16 Things to Do in Forks, WA
Hoh Rainforest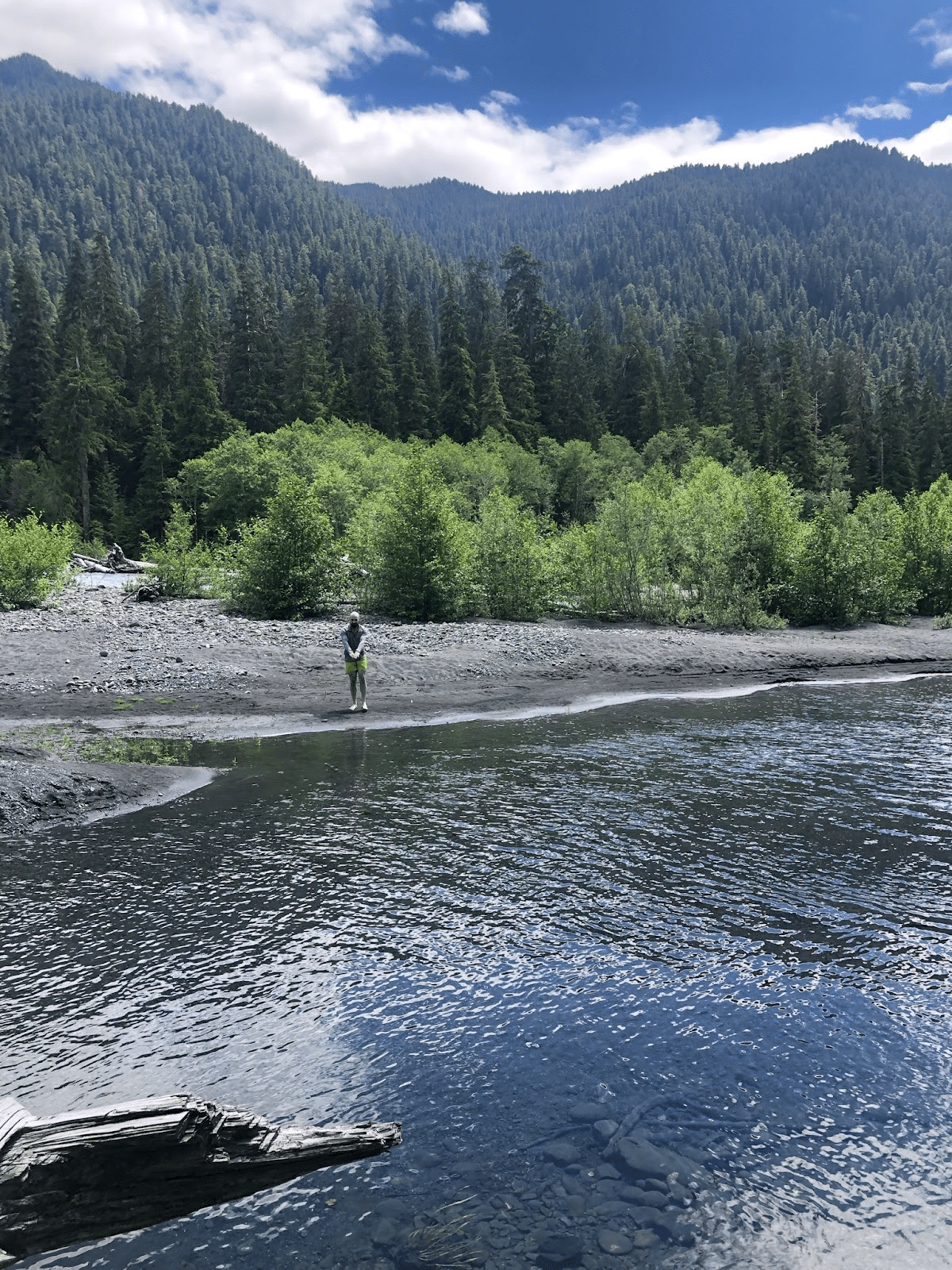 Visiting the Hoh Rainforest is one of the top things to do in Forks, WA. It's one of the Olympic National Park's best features and it's only 30 miles from Forks.
This temperate rainforest is full of hiking trails and campgrounds. Some of the best trails are flat, and the paths are well-maintained. I recommend hiking the pleasant and scenic Hoh River Trail to the 5-mile Island Campground. Whether you choose to camp or just enjoy a day hike, make sure you take a dip in the river to cool off on a hot day!
Expect the Hoh Rainforest to be quite rainy for most of the year, but don't fret if you get caught in a downpour. This rain ensures you'll be surrounded by the gorgeous greenery, stunning ferns, and vibrant moss that this rainforest is so well-known for.
Ruby Beach
Ruby Beach is another part of the Olympic National Park and it's a must-visit when you're in Forks. This Washington beach is one of the best in the state.
To get down to the water you'll need to do some climbing over driftwood, so make sure you bring the right shoes. Don't let the little trek discourage you, though. It's worth it since Ruby Beach is as gem-like as its name implies.
Have a picnic and admire the sea stacks jutting out from the water. Play in the cool waves, search tide pools, and watch the sunset with a loved one.
Rialto Beach
While Ruby Beach is one of the most beautiful beaches on the Washington coast, Rialto Beach is rustic and wild. Come here to take in the majestic Pacific Ocean. Summertime visits are ideal, but even in the winter, this black sand beach is a breathtaking thing to behold.
Rialto Beach is great for searching tide pools, and, because it tends to be windy, it's also a great place to fly a kite.
If you're in the mood for hiking, journey down the beach to Hole-In-The-Wall, a cool natural wonder where the waves carved a hole in the rock wall. You can hike through it at low tide, just be sure to bring a tide chart and time your hike correctly so you don't get stuck on the other side!
Hall of Mosses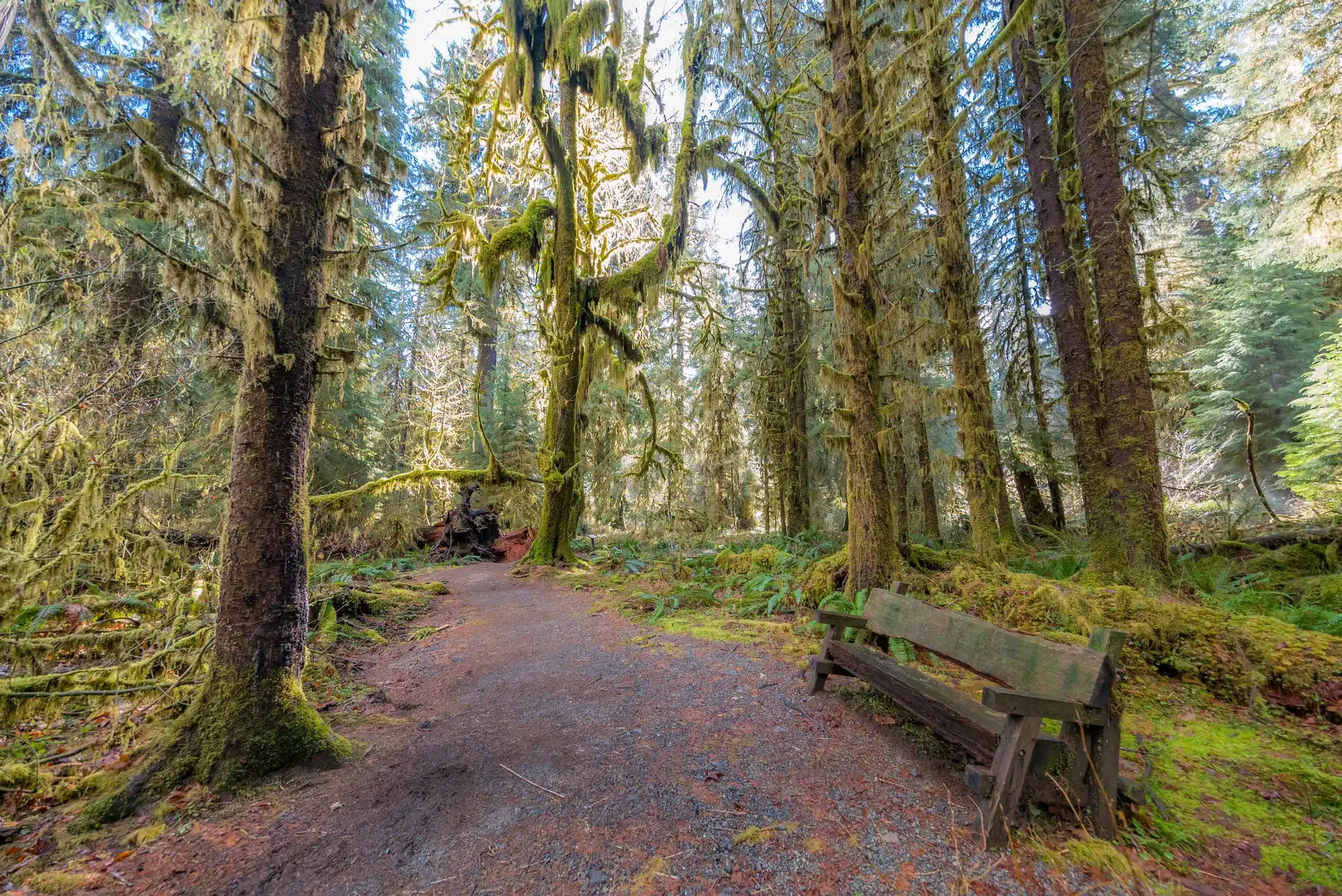 An excursion to the Hoh Rainforest isn't complete without a hike through the Hall of Mosses. This short loop trail winds through an otherworldly-looking forest covered in bright green moss.
The trail is under a mile long, and easy for kids and inexperienced hikers. If you're looking for a scenic place to visit near Forks, this is it. This is a year-round hike, but make sure if you're visiting during the rainy season that you're prepared for mud!
John's Beachcombing Museum
John's Beachcombing Museum in Forks, Washington is a small museum with a cool concept. The museum proprietor, John, walks visitors through all the different things he's found on beaches and collected for over 40 years. It's an eye-opening display that'll encourage visitors to consider where their trash is ending up. It's also interesting because every item has a story that John is happy to dive into with visitors. 
So what sort of "exhibits" should you expect to see at the museum? A mountain of buoys out front makes for an eye-catching sculpture. There are also whale bones, bottles, sea glass, rainboots, shoes, license plates, sand dollars, boats, and so much more.
The museum does occasionally close, so just be sure to call ahead to confirm if it's open before you go. It's a fun and creative display and a unique one-of-a-kind museum.
Forks Timber Museum
Forks, WA has been a logging town since its early days, and even proclaimed itself "The Logging Capital of the World" in 1970. If you're curious about the town's logging history or want to learn more about the industry today, go to the Forks Timber Museum.
The museum is open daily and only costs $3 for adults and is free for kids under 12. Inside, you'll find informative and educational exhibits on the history of homesteading and logging in the area.
You can check out a replica fire tower, and see Native American artifacts, and other artifacts from the late 1800s when Forks was getting its start. There are friendly docents available to answer any questions. And right outside the museum is an "Easter Egg" for Twilight fans – Bella's red truck.
Tree of Life
The Tree of Life is a natural wonder located on Kalaloch Beach just 40 minutes from Forks. It's called the Tree of Life because it's managed to survive for years in way less than ideal conditions. The tree is suspended between two cliffs with its roots hanging down into a "cave" where the soil has been washed away. It looks like it should have collapsed and died years ago…and yet it hasn't!
You can go and ponder this strange Sitka Spruce yourself. Take a look at it, snap some photos, and contemplate how it has survived, and even thrived, for so long despite these conditions.
Day Trip to Port Angeles
Port Angeles is the largest city on the Olympic Peninsula, and it's only about an hour from Forks. If you're craving some good seafood and beer or want to do some shopping, head on over the the "big city." Port Angeles is a great day trip from Forks, Washington. 
The downtown strip has local businesses, bars, cafes, and restaurants that are worth checking out. Grab great pub grub from Nextdoor Gastropub, or go to Bella Italia if you're on a mission to live out the dinner scene that takes place here in Twilight.
Make sure to take a stroll along the waterfront as well. Go to the city pier and walk to the top of Port Angeles Tower where you'll have excellent views of the surrounding water, mountains, and the city.
Lake Crescent
Lake Crescent is a beautiful natural area on the Olympic Peninsula. It's not far from Forks and there are plenty of recreational activities to do at this popular lake. Book a stay at the campgrounds or in Lake Crescent Lodge. Bring a kayak or paddleboat to get on the water or just sunbathe and picnic.
The Lake and the surrounding area are very pretty, and there are hikes you can take around the lake to explore further. I recommend hiking along the Devil's Punchbowl Trail to admire the crystal blue water. You can also hike to the popular Marymere Falls.
Cape Flattery
Want to visit the Northwestern-most part of the contiguous United States? Go to Cape Flattery!  Cape Flattery is on the Makah Reservation, an hour north of Forks. It's well worth the drive. Before you head to the trails, buy a parking pass from the Makah Mart in Neah Bay.
The hiking trails are relatively easy. You'll walk down to the bluffs where you'll have views of the turquoise-blue expanse of the Pacific Ocean and the horizon beyond. Listen to birds, watch for seals, and admire water-carved ocean caves. This place is an absolute gem for nature lovers.
Neah Bay
If you're going to Cape Flattery, you'll need to stop in Neah Bay to get a pass. But you'll be rewarded if you stay a little longer in this quaint little town on the Makah Reservation. It may be small, but there are several sights to see and places to go.
Check out the Makah Cultural Museum to see hundreds of artifacts and learn about the Indigenous inhabitants of the land. Grab a bite to eat at Calvins Crab House or Linda's Woodfired Kitchen. The scenic Hobuck Beach is also worth a visit.
La Push
Twilight fans will be familiar with La Push, the place where the book's resident werewolves reside. Twilight and werewolves aside, La Push is a small community on the Quileute Reservation. It's got camping opportunities, resort options, and several incredible beaches.
First Beach is the easiest to reach and it's piled with driftwood, interesting tide pools, and coveted ocean vistas. Second Beach and Third Beach take a little effort to get to since you need to hike to both. However, this means there's a bit more solitude at each. Whichever beach you choose, you can count on seeing incredible sunsets.
Forever Twilight in Forks Collection & Forks Twilight Festival
You'll want to go to the Forever Twilight in Forks Collection if you love the Twilight series. It's the number one Twilight spot in Forks, WA.
The Forever Twilight in Forks Collection has costumes and props from the Twilight movies. It also has art and items made by fans of the series, and Forks-centric items as well. Diehard fans will have plenty to look at and love all the photo ops. Best of all, admission to the museum is completely free!
If you're in Forks in September, you can also attend the annual Forks Twilight Festival. During the festival, fans gather and check out different locations in the book and meet some of the actors from the movie. You can also attend special events, get Twilight-centric gear, and more.
Sasquatch the Legend Store
Vampires and werewolves aren't the only creatures thought to roam Washington. Sasquatch is the Pacific Northwest's original mythical creature. If you're a Sasquatch believer, fan, or searcher, stop at the Sasquatch the Legend store in Forks.
This gift shop has all the Bigfoot and Sasquatch gear you could hope for. There are books and clothing, postcards, camping and hiking gear, things to help with research and much more. Whether you're a believer hoping for a sighting, or you simply want something to bring back from a fun Forks visit, this is a great gift shop to stop at.
Bogachiel State Park
If you want a place to camp that isn't too far outside of town, go to Bogachiel State Park. This state park is good for picnics, birdwatching, and easy overnights. The state park is right on the Bogachiel River, and the campgrounds are clean and private. That said, since the campsite is near the highway, it can get a little loud at times pretty loud. Still, this is a great choice if you're looking for something close to town or kid and beginner friendly.
Westend Taproom Tip & Sip
Need a place to grab a drink after hiking or a day trip out of town? Westend Taproom Tip & Sip is the place to go in Forks. Find local and national beers and ciders on tap along with excellent pretzels and sandwiches at this beer hall.
The owners are friendly and the food and drinks are reasonably priced. There is also plenty of space inside and on the patio for playing games and hanging out whether it's a rainy day or not. Like most places in Forks, this cozy, casual joint is perfect for laid-back gatherings. Keep in mind this it's only for people 21 and up.