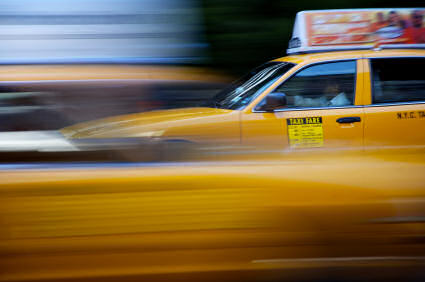 Seattle taxis on the move.
For as large as Seattle may be, the truth is that many struggle with transportation options while visiting the city. Taxi service can be hard to find, and ,in addition, is costly. The rapid expansion of smartphone based transportation via Uber and Lyft is often the best choice for quality and price. The cost of UberX and Lyft is comparable or less than most taxis, with much nicer quality / cleaner vehicles. Water ferries and public buses are also available for a much lower cost, but rarely do tourists want to have to carry their luggage onto these public options. Taxi is most convenient, but limousine and hired car service are often overlooked.
Taxi Service
Taxi service in Seattle is varied. It isn't an inexpensive option, however, so many people prefer to avoid trying to get a taxi. Many travelers find that it pays off to call ahead when you need taxi service because they can be hard to find out on the street. Instant smartphone apps from Uber and Lyft are an excellent alternative.
Rates are set by King County, so no matter what taxi company you select, the rates are the same.
$2.60 flat rate for picking you up.
$2.50 per mile plus an additional gas surcharge that varies.
50 cents for every minute the taxi driver must wait.
50 cents for each passenger over two. Children under 12 are excluded from this rule.
$40 flat rate for passengers going to SeaTac Airport from the central downtown hotel district. SeaTac Airport to any destination is a metered rate (no flat rate for "from" the airport to your destination).
There is a $1 tax for taxis departing SeaTac Airport.
A convenient tool to estimate your taxi fare is TaxiFareFinder — by entering your starting point and destination — the tool estimates your total cost for a taxicab.
Typical Taxi Fares from SeaTac Airport:
Downtown Seattle / Hotels – $40
Downtown Bellevue / Hotels – $47
Burien – $16
Microsoft Campus (Redmond) – $55
Tacoma – $55
University of Washington – $50
West Seattle – $35
Seattle has hundreds of taxis in King County, SeaTac Airport and the Seattle area. When you think about the number of residents and tourists seeking rides after dinner or drinks, it isn't hard to understand why taxis can be hard to find. Uber and Lyft's on-demand tracking, reasonable fares, and clean vehicles continue to be a popular choice via smartphones. Uber and Lyft both offer hundreds of vehicles in downtown Seattle and the Eastside (Redmond / Bellevue / Kirkland). The biggest taxi-cab companies around Seattle are listed below.
Almost all taxis (including Yellow Cab and STITA) accept major credit cards and travelers checks including Visa, American Express, and MasterCard. However, personal checks are never accepted. Taxis may often push you to pay in cash based on our real life experiences, so that they can avoid credit card fees and/or tracking.
Yellow Cab (Puget Sound Dispatch) is the largest cab company and you can reach them at 206-622-6500
Yellow Cab is the only company authorized to pick up at SeaTac Airport without a reservation at the taxi stands. Many other high-quality taxicab companies can come via dispatch (see list below), however Yellow Cab owns the exclusive contract for pickup "wait" service at SeaTac Airport.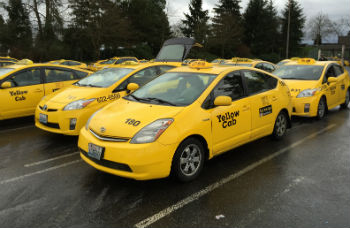 Farwest Taxi offers service, but many travelers have found that the wait times for the taxis to arrive can be longer than one would expect. Taxi rates within King County (Seattle metro area) are standard for all taxi companies (see detailed rates above). Call (206) 622-1717 to arrange for a pick up in Seattle. Those from South County should call (253) 852-2500 or (425) 454-5055 from Eastside.
Northend Taxi runs a small fleet of taxis to King County's northern area and southern Snohomish County. This includes the popular and less well served Green Lake, Wallingford, Phinney Ridge, and Ballard areas. You can call (206) 363-3333 for pick-ups. We had excellent service on a pick-up right at Green Lake Park.
Many feel that Orange Cab isn't always the best choice because they book up quickly and drivers are not overly friendly, but they do accept money orders. This makes it easier for a traveler who is traveling without a credit card. You can reach their computer dispatcher by calling (206) 522-8800 (Seattle), (425) 453-0919 (Eastside), or (253) 852-1607 (South County.)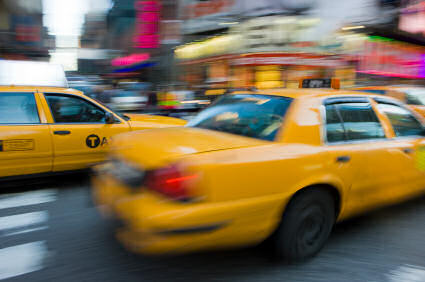 Sea-Tac International Taxi Association (STITA) offers over 130 Toyota Hybrid Prius and Compressed Natural Gas taxis for one of the most environmentally friendly ways to get around Seattle and transfer from the airport. You can reach Sea-Tac International Taxi Association at calling (206) 246-9999 including airport pickup on the 3rd level (must call first).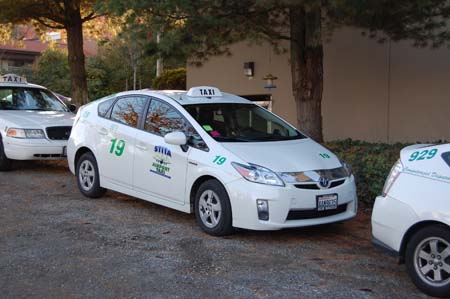 Hired Cars and Limousines:
Seattle Sedan Limo (1-866-307-0827) is another option. First, limousine travel is extremely comfortable and allows you plenty of room to stretch out. Rarely are their baggage limitations. Prices are more expensive at first glance, but you do not pay by the mile, you pay per hour. This can save a bundle of money if you want to drive around and view the city for a while.
Luxury Sedans – $60 per hour.
SUVs – $85 per hour.
Six Passenger Stretch Limos – $75 per hour. Minimums may apply.
Eight to Ten Passenger Stretch Limo – $85 per hour. Minimums may apply.
Ten to Twelve Passenger Stretch Limo – $95 per hour. Minimums may apply.
Fourteen Passenger Stretch Navigator – $150 per hour. Minimums may apply.
Twenty-two Passenger Stretch Excursion – $175 per hour. Minimums may apply.
Twenty Passenger Stretch Hummer – $200 per hour. Minimums may apply.
Twenty Passenger Limo Bus – $225 per hour. Minimums may apply.
Ten to Fifteen Hour Passenger Van – $85 per hour.
Corporate Bus – $110 per hour.
Classic Town Car offers flat rate trips from the SeaTac Airport to areas in and around Seattle. They do require a $5 surcharge for late night pick-ups between midnight and 4:30 a.m. If you need a child seat, there is also a $5 surcharge. Rates do vary, but on average, a trip from the airport to Downtown Seattle will cost $40.
One of the most elegant means of travel is by hiring British Motor Coach. Classic Bentleys and other British vehicles can be hired for two or more hours per day. Rates vary depending on the day of the week and size of the vehicle. Corporate travelers receive discounts.
Water Taxis
Two companies offer water taxi service from one end of Seattle to another. This is always a fun way to travel. Because Seattle is divided by water, passengers can travel from one side of the city to the other by crossing the water. Children will love being out on the open water.
Elliot Bay Water Taxi, operated by King County Metro, costs $3 per adult and $3 for children ages 6 to 17 years. Bicycles are allowed on the water taxi at no additional charge, as long as there is space onboard. The taxis makes regular trips every twenty minutes from Seacrest Park to Pier 55 or vice versa.
Washington State Ferries make numerous trips throughout Seattle. Fares will vary depending on your starting and stopping point. Walk-on fares range from $3.95 to $6.70 per adult, $3.20 to $5.40 per child, and $1.95 to $2.15 per senior citizen.
Traveling outside Seattle? Our new National Limousine Guide gives you info for EVERY city including San Francisco Limousines.