Seattle Limousines – Guide to renting a stylish limo either from the airport or around the city for around $75 per hour. With Seattle traffic – a limousine can give you security and peace of mind for your SeaTac airport to hotel transfer. Limousines are also great for city tours, wine country tours, proms, and weddings. Our consumer guide to Seattle Limousines boils down the major Seattle limousine services so you are fully informed.
Save some money on shorter trips – Seattle taxis are ready for you. Our detailed consumer guide lists every major cab company; prices; taxes; and things to watch for.
Seattle Rental Cars – Our guide to great deals and downtown locations for all the major rental agencies — with estimated pricing.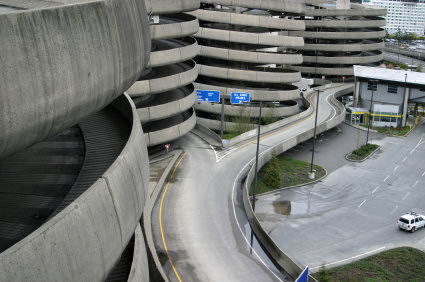 Don't pay a fortune to park at SeaTac. Off-airport lots are close, convenient, and cheap with excellent security. We've been flying weekly for years and share our knowledge on how to keep your care safe– and your flight on-time.
Buses
Seattle's Metro bus system provides efficient connections throughout the Puget Sound area. Metro buses run 6 a.m.-1 a.m. every day, about every 30 minutes on the city routes. Customer service offices are at 821 2nd Ave. and in the Westlake Station. Fares cost $1.25 off-peak, $1.50 peak within the city; or $1.25 off-peak and $2 peak if you ride through two zones (beyond Seattle city limits). For $2.50 on weekends, you can purchase a pass that gives you unlimited rides on Metro buses and the streetcars; get them from the bus driver when you board. Call 206-553-3000 or 800-542-7876 for route information and other details. All Metro buses carry bikes at no extra charge, but bikes are not carried within the Ride Free area of downtown.