Karaoke originated in Japan in the early 1970s and has been livening up bars worldwide ever since. The word Karaoke translates to 'empty orchestra' in Japanese, initially seeming a little sad and lonely. Until you realize that the orchestra is being replaced by YOU, and who needs 'em? Folks gravitate to Karaoke for all kinds of reasons. Some participate to exhibit their exceptional singing abilities, while others seek the adrenaline rush associated with it. As for myself, I revel in the humbling nature of the karaoke experience.
In the U.S., the most popular karaoke songs choices include "Sweet Caroline" by Neil Diamond, "Don't Stop Believin'" by Journey, "Livin' on a Prayer" by Bon Jovi, "I Will Always Love You" by Whitney Houston, and "Bohemian Rhapsody" by Queen, all of which are well-loved crowd-pleasers despite their ubiquity. All in all, Seattle's karaoke scene is a diverse one, catering to many different audiences and levels of enthusiasm, so there is something for everyone, from the timid to the rockstar.
Here's a listing of the best karaoke bars in Seattle with a selection from the Eastside rounding out the list.
The Best Karaoke Bars in Seattle
Hula Hula
Rock Box
Ozzie's
The Waterwheel Lounge
Little Red Hen
Crescent Lounge
Enkore (Bellevue)
1. Hula Hula
Hula Hula is a tiki-themed bar located in the heart of Capitol Hill, Seattle's renowned nightlife district. The establishment hosts frequent karaoke nights throughout the week and boasts a decor that exudes a robust Polynesian influence, with bamboo walls, tiki statues, and palm trees adorning the space. It's a favorite among locals and tourists alike, who come to enjoy the lively atmosphere and retro vibe while sipping on tropical cocktails. Hula Hula is an ideal spot for bar hopping due to its central location. Their signature Mai Tai, Blue Hawaii, and Zombie cocktails are among the most popular drinks on the menu. Guests can also choose from a variety of beers, wines, and spirits. The bartenders are known for their friendly and attentive service, ensuring patrons have a spirited and enjoyable evening.
2. Rock Box
Rock Box, also located in Capitol Hill, Seattle, is a favored karaoke bar that stands out from the rest. It uniquely delivers private rooms that come equipped with high-quality sound systems, which make it an ideal venue for hosting group events and parties. The rooms are adorned with vibrant murals and neon lights, which lend to a fun and energetic ambiance. As far as song selection goes, Rock Box probably has the most comprehensive collection of songs in Seattle, featuring popular hits from various genres, as well as some lesser-known tracks. The songbook is consistently updated with new music to ensure that customers always have plenty of options. In addition to Karaoke, Rock Box also serves a range of Japanese-inspired snacks, such as sushi rolls and bento boxes, as well as various drinks. The staff is attentive and friendly, always ready to help customers with song selections or their food and drink orders.
3. Ozzie's
Ozzie's, located in Seattle's Queen Anne neighborhood, is a popular bar and restaurant that caters to a diverse clientele of both young and old patrons who enjoy Karaoke. What sets Ozzie's apart is its unique two-level setup, each equipped with its own karaoke system, as well as a spacious back area with a dance floor that is perfect for hosting a DJ. This allows for a wide range of entertainment options, ensuring that everyone can find something they enjoy. In addition to its entertainment offerings, Ozzie's Place is known for its classic American diner cuisine, which includes burgers, sandwiches, milkshakes, and breakfast items. The restaurant's retro decor, complete with vintage accents, gambling games, and a jukebox, adds to its charming ambiance. Having been a local favorite since its inception in 1986, Ozzie's is known for its quick service and affordable drink prices.
4. The Waterwheel Lounge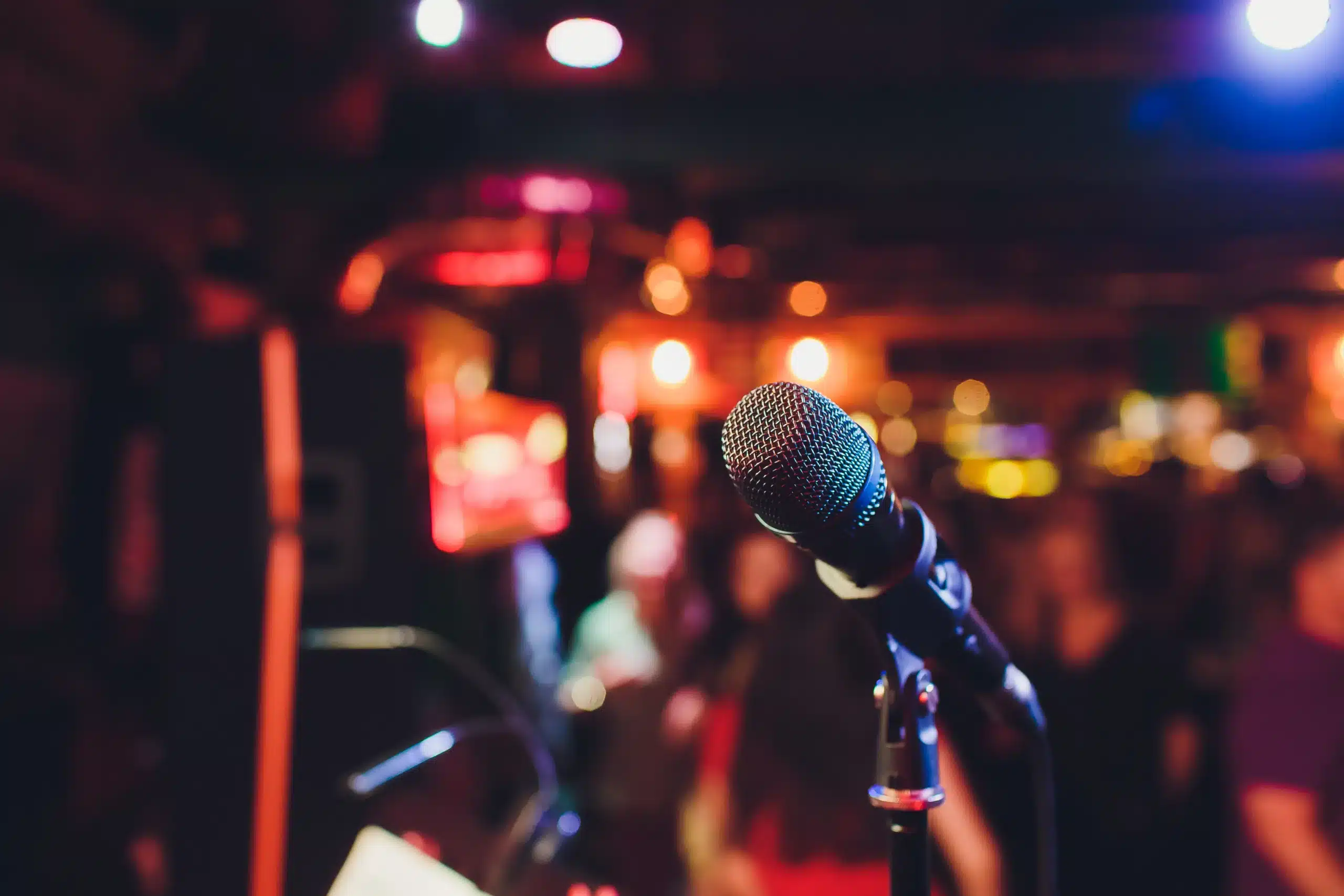 The Waterwheel Lounge is situated in the charming Ballard neighborhood of Seattle and is a well-liked destination for those seeking a casual and relaxed atmosphere to enjoy drinks and Karaoke. The venue's nautical-themed decor creates a cozy ambiance, although due to its small size, it can become crowded quickly, particularly on weekends. The bar offers an assortment of beers, cocktails, and pub-style eats, including jello shots that are a popular choice among patrons. The karaoke scene at the Water Wheel is particularly noteworthy for drawing in a large and enthusiastic crowd. The friendly and supportive atmosphere makes it an excellent choice for those who may feel apprehensive about taking the stage. However, due to the venue's popularity, those wishing to sing are advised to sign up quickly to avoid missing out.
5. Little Red Hen
The Red Hen is undoubtedly the divey-est venue on this list, but it holds a special place in my heart. Adorned with western decor, this cozy locale supplies a charmingly small dance floor. On weekends, it's a popular spot for swing dancers drawn in by the live country music and free lessons. But my favorite time to go is Wednesday nights from 9 pm to 1 am when a friendly crowd of locals from the northern Seattle neighborhoods gather for a low-key evening out and some low-stakes karaoke performances.
Karaoke is the main draw on Wednesdays, with a selection of songs available and a host or DJ managing the queue of singers. The atmosphere is relaxed and friendly, making it a great place to unwind and have a good time. Additionally, if folks get hungry, there's a small menu of pub-style food to choose from, as well as a range of drinks, including beer, wine, and cocktails. Overall, the Red Hen's karaoke nights are a fun and casual option for those looking to sing their hearts out mid-week and enjoy some quality time with friends.
6. Crescent Lounge
The Crescent Lounge, also situated in Seattle's Capitol Hill neighborhood, is a highly rated bar for its genuine and inviting ambiance and its inexpensive classic cocktails, attracting patrons from across the city. Karaoke nights, held every Sunday and Wednesday, are a weekly highlight, with an extensive selection of songs available for guests to choose from. In addition to Karaoke, the Crescent Lounge hosts a variety of events such as trivia, sports night, and live music on various other nights of the week. It's a sought-after destination for locals and tourists seeking a relaxed and informal bar experience. This unassuming venue is another ideal destination for the newbie since the audience here is a vibrant and welcoming crowd that will cheer you on regardless of your vocal capabilities.
Enkore
Enkore is our first entry on the list outside the city of Seattle. The Karaoke bar is located in the Overlake area of Bellevue.
Whereas options like Ozzie's or Little Red Hen can get very lively, Enkore is composed of private rooms where groups can sing Karaoke together. For that reason, it's really a venue you'll want to enjoy if you're going with a group. There are food and drink options, and the venue has a wide selection of karaoke options in languages beyond English like Korean and Japanese. A group from Seattle Travel recently visited for an outing and had a blast!