Vintage Park Hotel
Classic Seattle Style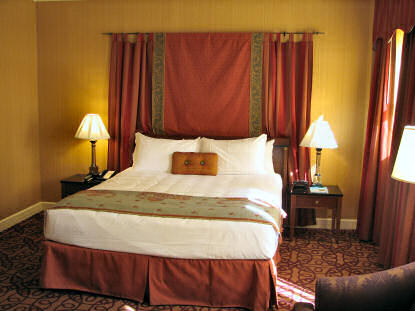 The Vintage Park luxury boutique hotel feels like a stay in classic Europe– a quaint boutique hotel that appeals to all of your senses, and especially to the wine afficianado. The Hotel Vintage Park is one of three stories properties in downtown Seattle. With 125 guest rooms including suites, this hotel provides true luxury in a boutique hotel setting. The hotel is also one of very few that allow and welcome pets of all shapes and sizes (dogs, cats, and more).
The Vintage Park boasts elegance in the heart of Seattle's business district. The lobby invites you in to an elegantly appointed room where you can mingle by the fireplace. Guests may enjoy a glass of complimentary wine during the hotel's nightly wine hour or prior to a meal at the classy Italian restaurant adjacent to the Vinatage Park, Tulio's. If your choice while staying at the Vintae Park is to seek refuge in your comfortable accomadations– twenty-four hour room service is available.
The Vintage Park is a classic 1920's hotel convenient to shopping, Pike's Place Market and many other attractions. If wine is a passion of your's this is definitely a place to stay. Not only is there a complimentary wine reception at the Vintage Park, but be present at the right time and you will be fortunate enough to have a Northwest winemaker pour your wine and share their knowledge of their favorite winery. This is one of many special perks you will find at the Vintage Park. Setting up local winery tours in the neighboring town of Woodinville, or coordinating siteseeing will seem effortless with the services of the Vintage Park's knowledgable concierge staff.
The guest rooms in the Vintage Park follow a personalized theme. Each guest room at the Vintage Park is given a different winery name from around the region. Inside the carefully thought out room you will find a spacious setting with superior comfort and a lavish feel. Sitting in your guest room you have the feeling of warmth and class. This is definitely a place to relax in a calm and content mood. The entire property is a smoke free hotel so keep in mind if you are a smoker, that outside smoking is only permitted.
For the earth concious traveler the Hotel Vintage Park recyles trash as well as offers free parking to all hybrid drivers. For the business traveler this is a hotel that can allow a place to feel comfort and unique elegance while being in easy walking distance to most downtown Seattle businesses and restaurants. For the leisure traveler, the Vintage Park is a perfect place and unique getaway for the romantic feel of the wine country or a small European neighborhood in Europe — right in downtown Seattle.
This hotel's charming, European style rooms are a Seattle favorite for both tourists and business travelers. For those of us who love to bring our beloved pets along on travel, the Hotel Vintage Park is pet friendly and each pet is welcome to the hotel and given a comfortable bed to sleep on and special treats.
The hotel is a smaller scale boutique hotel, but their are still a wide variety of amenities offered. There is a complimentary fitness center on site, in room spa services, and each guest room is stocked with Aveda skin care products. The hotel's motto is, " You forgot it, we got it." This alone can put your mind at ease while being away from home.
Staying at the Vintage Park is definitely the place to stay if luxury, thought, and intimacy is what you are looking for in a guest room. So what sets the Vintage Park apart from all of the other hotels in Seattle? Pure intimacy and elegance. This is a hotel that will bring old world charm with new world trend. So whether your pleasures include a private yoga class in your guest room with all the yoga equipment supplied, or a wine experience with a notable wine maker, or a quiet evening with a book next to the fireplace in the quaint lobby, The Hotel Vintage Park is awaiting your stay. Typical prices are around $275 per night, plus tax.
1100 Fifth Avenue, Seattle
Want to try out other stories hotels in Seattle? Check out our photo review of Hotel Alexis Seattle or Hotel Monaco Seattle.
By: Nicole Logan, Copyright SFTravel LLC