Renaissance Hotel Seattle
What a beautiful hotel, with friendly service and a beautiful lobby. The rooms are comfortable… but the location is can be noisy as it is very close to the main I-5 highway. There can be beautiful views from the higher rooms and the modern, renovated rooms are comfortable. People like the central location in downtown Seattle.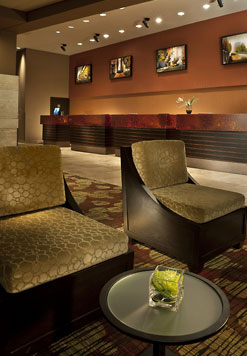 Renaissance Room View
The Renaissance's "edge of" downtown, top of hill skyscraper location is convenient and the hotel has wonderful restaurants and comfort. Guests love the hot breakfasts and friendly service in the hotel's restaurants. There are additional fee's for parking (over $40) and internet (over $10) which can add up quickly.
There is a nice gym with new, modern equipment and views of the city. Prices for this hotel hover in the $300+ range.