Best Ways to Spend a Rainy Day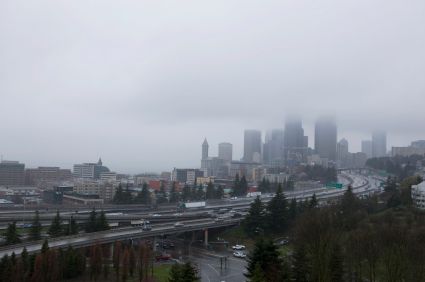 It is no secret that your Seattle vacation might involve rain. Most visitors anticipate this, bring a great umbrella with them and go on about their itinerary. However, you may find that you want to change your plans to get yourself out of the rainy day weather. Since it's such a common problem, there are tons of different rainy day Seattle activities for you to choose from. If you know what type of traveler you are then you can choose the best rainy day activities for your trip.
This article offers you information on the top activities for different types of travelers who are trying to get out of the rain. Of course, eclectic travelers may pick and choose activities from a number of different categories for their itinerary.
The Traveling Family: Seattle visitors who need to keep the kids entertained (without the parents being bored to death) will find that the top choices for a rainy day include a variety of amazing Seattle museums including:
Seattle Aquarium

. This major Seattle attraction offers several hours of enjoyment for the whole family.

Pacific Science Center

. With a planetarium, laser light shows, IMAX movies and changing exhibits, this science center provides entertainment for all ages.
Rainy Day Tour at Seattle Zoo. The Seattle Zoo has many different indoor exhibits where you can see animals without getting wet on a rainy day. They even offer a Rainy Day Tour map to make it easy for you.
The Romantic Couple: Are you planning a romantic getaway to Seattle? When you're not busy cuddling in your hotel room, you can escape the rain by doing the following:
Space Needle

. This is probably the most romantic of the city's major tourist attractions. It's got an amazing view plus an indulgent rotating restaurant at the top. The restaurant isn't Seattle's best, but you're there for the views — not 5 star food.
Seattle Repertory Theatre. Take in some local live theatre together. Before the show you can take a romantic stroll around the gardens on the theatre grounds.
Olympic Rain Forest Scenic Drive. If it's only a bit drizzly out then you can steam up the windows together on a nice long scenic drive through this beautiful region.
The Artist/ Musician: Are you looking to find the artsy, creative things to do in Seattle? Are you visiting the city because of how well it's known for its music scene? Top choices are:
Experience Museum Project. This amazing tourist attraction is a must-see for all music fans. The exhibits capture the essence of so many different types of music in an interactive, entertaining and educational way. Enjoy late nights, free days and special events here.
Frye Art Museum. Visitors who are interested in seeing classic artwork will enjoy the European painting collection at the Frye Art Museum.
Center on Contemporary Art. Artists who are more intrigued by cutting-edge contemporary art will find that a trip to CoCA makes for a great way to spend a rainy day.
Easy Street Records and Café. This coffee shop, diner and record store is a wonderful place for the music fan to spend hours browsing and relaxing.
The Intellectual: Seattle is a smart city filled with book-readers and tech lovers. Smart folks might want to spend a rainy day:
Elliott Bay Book Company. True book lovers adore wonderful independent bookstores and this one is a must-see place.
Seattle Public Library. The main library of Seattle is a wonderful place that not only has books for you to enjoy but also hosts many fun special events that provide a neat treat for the out-of-town visitor.

Duwamish Longhouse Museum

. If you want to go to a really smart museum then you'll find that the culturally significant Duwamish Longhouse is a top educational choice.
The Business Traveler: The business traveler may only have a few hours in the evening or a single weekend day to enjoy the city. If it's rainy on that day, make sure not to miss:
Pike Place Market. This is one of the leading Seattle attractions on any day and there's a lot going on indoors to keep you entertained for a few hours.
See a Mariners game. They have a retractable roof to keep things nice when it's rainy out.
The Single Gal: You are traveling solo to Seattle and want to see the sights while enjoying some eye candy. Top choices for your rainy day are:
Hot House Spa. This ladies-only spa offers a great way to relax on your own during you vacation
Westlake Center or Pacific Place shopping centers. Not only can you enjoy several hours of indoor shopping here but you can also stay out of the rain by taking a monorail ride from here to major attractions like the Space Needle.
Museum of Doll Art. If you were the type of little girl who always loved dolls then you'll find this museum to be a dream-come-true escape on a rainy Seattle day.
Admiral Movie Theatre. Seattle has wonderful historic movie theaters and this one is a great one for taking in a solo movie on a rainy day.
The Single Guy: The single guy who wants to flirt but doesn't mind spending time alone will find that Seattle on a rainy day could include:
Museum of Flight

. Indulge your childhood desire to be a fighter pilot by exploring the world of aviation.
Redhook Ale Brewery. This is one of the best breweries in Seattle and also a terrifically fun place to spend an evening.

Reptile Man

. Check out the snakes at this serpentarium, but keep in mind this is about an hour's drive out of Seattle to the more rural area of Monroe. It's something unusual today on your Seattle trip.
A Group of Friends. Whether it's a gaggle of girlfriends or a group of boys or a co-ed friends group, a rainy day in Seattle could be well-spent:
Hydroplane and Raceboat Museum. Pretend you're out on the water while still staying dry indoors by checking out this unique Seattle museum.
Comedy Underground. A comedy club is a great way to spend a Seattle evening and this one is the best.
Jillian's Billiard Club. Hang out, play some pool and enjoy mingling with Seattle locals.
The Outdoor Enthusiast: You came to Seattle planning to hike, bicycle and enjoy the outdoors. What are the best options for the active traveler on a rainy day?
Volunteer Park Conservatory. Enjoy exploring this beautiful greenhouse that gives you the feeling that you're outdoors even though you're staying out of the rain.
Vertical World Indoor Rock Climbing. Take your adventurous spirit indoors for a day of rock climbing. Bring a partner or find one when you get there.
The Returning Traveler: You know Seattle. You've seen the major attractions. What else is there to do on a rainy day?
Seattle Museum of the Mysteries. If you've already seen the most famous museums in Seattle then spend a rainy day at this paranormal science museum.
Teatro Zinzanni. This stunning dinner-and-a-show is a great treat for people who have been to Seattle once before and want to see something different this time.
Indoor Wine Samplings at Wineries. Skip the traditional vineyard tours when it's rainy out but go to some of the bigger wineries and enjoy indoor wine tastings instead.

The Tasting Room Seattle

is a good place to start.