As you probably already know, Olympia is the capital of Washington State. It is also the largest state in Thurston County, but still not as large as Seattle. Olympia sits at the southern end of Puget Sound on Budd Inlet near where the Deschutes River enters the Sound.
The area has a Mediterranean climate. It never gets unbearably hot or teeth-chattering cold in Olympia. The average hot weather in August gets to about 77 degrees and cools down to a chilly 32 degrees in January and December.
Being the capital city, there is a lot of history here which is perfect for history buffs or those who can appreciate old-styled architecture. But there is a lot more to the city. Olympia is home to beautiful (and large) forest land, one of the best children's museums around, and quirky specialties in tea, chocolate, coffee, and beer. What's not to like?
The Old Capitol Building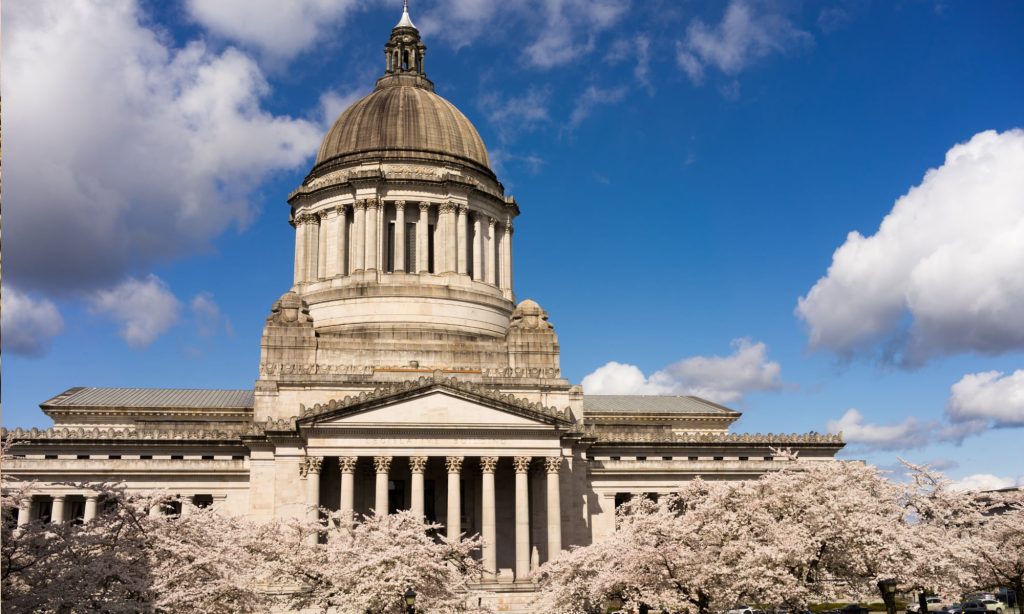 Address: 600 Block Washington St., Olympia, WA 98504
While it may not be an actual castle, you'll feel like royalty as you explore the Old Capitol Building which sits on Sylvester Park. Built in 1892, the old Capitol building was originally built as the Thurston County Courthouse.
In 1901 the building was purchased by the state and was turned in the Capitol Building. But even that didn't last. The Washington State Legislature moved to its current home in 1928. The structure has outlived a great fire and earthquake.
Today it serves as the Office for Superintendent of Public Instruction. Just walking around the building is pretty awe-inspiring, but you can arrange for a tour as well by calling 360-902-8880.
Washington State Capitol Campus
Address: 416 Sid Snyder Ave., SW, Olympia, WA 98504
The Washington State Capitol Campus is home to many buildings, memorials and artwork and is open every day of the year except Thanksgiving, the day after Thanksgiving, Christmas and New Year's Day, but you wouldn't be visiting then anyway, would you?
Of course the highlight here is the Legislative Building. You can take a tour on go on your own self tour with a downloaded map.
Also on the grounds in the Governor's Mansion (public tours are available here too), (the oldest building on the campus), the Temple of Justice, 19 different memorials and artwork and more.
Heritage Park
Address: 701 Water St. SW, Olympia, WA 98501
While visiting the capitol, you might want to consider visiting Heritage Park. The 24-acre park features paths that go around the entire park and Capitol Lake. The half-mile Heritage Park Trail is a switchback trail that begins at the south end of the park and travels up to the West Capitol Campus on a bluff. Once you're there, take in the view of Puget Sound and the Olympic Mountains.
Among the things to see at the park include the Arc of Statewood, a 2,500-foot pathway along the shore of Capitol Lake which honors the state's 39 counties as bronze markers on sandstone blocks.
Billy Frank Jr. Nisqually National Wildlife Refuge
Address: 100 Brown Farm Rd. NE, Olympia, WA 98516
Established in 1974, the Billy Frank Jr. Nisqually National Wildlife Refuge protects the Nisqually River Delta from development allowing fish, wildlife and plants to prosper. Today, it is home to at least 250 species of birds and wildlife.
The refuge is open year round offering four miles of trails to explore a variety of habitats, a mile-long Estuary Boardwalk and a visitor center with an outdoor viewing platform which looks over the wetland.
Tolmie State Park 
Address: 7730 61st Ave NE, Olympia, WA 98506
The beautiful 154-acre Tolmie State Park features a cove with 1,800 feet of sandy beach and three miles of hiking in the woods. It's a great place to swim, fish or combing the beach. It's a haven for scuba divers (there's an underwater park!), and is a good place to spot wildlife within the saltwater marsh.
Mima Falls Loop Trail
Contained within 110,000 acres, don't expect to see all of the Capitol State Forest in one day. All kidding aside, according to AllTrails, the forest contains 37 different trails to choose from. One of the best is the Mima Falls Loop which is also considered by many to be a relatively moderate trail. The 6.6 mile-long trail takes just under three hours to complete.
The trail is excellent for birding and of course there is that waterfall. This is working forest, so chances are good that you'll be able to forestry practices up close and personal.
A Discovery Pass is required to enter the Capitol State Forest.
Yashiro Japanese Garden 
Address: 1010 Plum St., Olympia, WA 98501
The .74 acres which makes up the Yashiro Japanese Garden was designed by Bob Murase, an architect. It stands as a symbol of the ties between Olympia and Yashiro, Japan. In fact, many of the stone ornaments found here are from Yashiro.
Along the pathways among the beautiful plants and flowers, you'll find stone lanterns, a pagoda, a reflecting pool, a waterfall and bamboo plantings. It is a tranquil spot for a nice picnic or a place to relax and reset.
Percival Landing 
Address: 217 Thurston Ave. NE, OIympia, WA 98501
Percival Landing is a unique waterfront park found on the east side of Budd Bay and near the downtown area. It was named after an old commercial steamship wharf and still contains the original dock built in 1860!
The landing features a very walkable .9-mile boardwalk that extends along the eastern shoreline of West Bay. The park also has a yearly Percival Plinth Project where various sculptures are put on display by local and regional artists and they switch out with new artwork every year.
You'll also find a playground and lots of places to picnic too.
Hands On Children's Museum 
Address: 414 Jefferson St. NE, Olympia, WA 98501
Sure, you probably have a children's museum near your home, but not like this one. The Hands On Children's Museum is a huge facility houses a whopping 150 exhibits, 10 galleries and a half-acre of outdoor play space. There is the Arts & Parts Studio, a Fabulous (indoor) Forest, Snug Harbor, a water tower, a lighthouse, a gravel dig, a whole medical center and a lot more. As if that wasn't enough, they have numerous events happening here every week. And everything is…hands on!
WET Science Center 
Address: 500 Adams St. NE, Olympia, WA 98501
For families, you can get a bigger bang for your buck at the WET Science Center – it's free! Like the Children's Museum, this one is pretty much hands on as well, but heads up, it is also pretty science-y too, but they do a pretty good job at making things fun.
You can operate a giant calculator to add up just how much water you use each day, explore a mini treatment plant, and build your own reclaimed water pipeline to move water (or in this case, ping pong balls) from one place to another.
Exhibits here are all related to water including water conservation, wastewater treatment, reclaimed water use, the careers of people who work with clean water and all about how people can continue to protect the Puget Sound.
Olympic Flight Museum
Address: 7637-A Old Highway 99 SE, Olympia, WA 98501
Created in 1998, the Olympic Flight Museum is dedicated to preserving and occasionally still flying vintage aircrafts. Located at the Olympia Regional Airport, the flight museum is said to encompass the sights, sounds, smells and excitement of flight.
The rotating display includes a restored FG-1D Corsair and P-51 Mustang fighter planes, UH-1 Huey and H-43 Huskie helicopters, and many others. You'll also find engine displays, hands-on exhibits, aviation artifacts and hundreds of scale models.
The flight museum is open every Saturday and Sunday throughout the year.
Bigelow House Museum 
Address: 918 Glass Ave. NE, Olympia, WA 98506
Daniel Bigelow and his wife built their home in the 1850's. Today, the Bigelow House Museum has the distinction of being the oldest residence in Olympia and one of the earliest still standing in the PNW. The Carpenter Gothic styled house is filled with tons of documents and artifacts from 150 years of the Bigelow family.
Every room in the house is almost entirely furnished with items from the Bigelow family and represents a different period of time of the three-generation occupancy of the house. Guided tours take about 30-40 minutes and are offered the first and second Sunday of each month.
Exit Puzzles Escape Room 
Address: 109 5th Ave. SW, Olympia, WA 98501
Get lost in Olympia at Exit Puzzles Escape Room. Olympia's original escape room is currently offering two different adventures: "The Museum of Curiosity" and "The Landlord's Escape." The former deals with "Olympia's greatest tourist trap" which is threatened with closure unless you and your team can figure out the clues to save it.
The other storyline finds you in the office of Mr. Dominus who has disappeared leaving behind a mysterious locked chest, but while you try to get all of the clues to open it, you'll get threats from building's landlord.
For each adventure, you'll have about 70 minutes to escape and/or solve the mystery. Perfect for a day when the weather is not cooperating.
Olympia Farmers Market 
Address: 700 Capitol Way N., Olympia, WA 98501
The Olympia Farmers Market has been around since 1975. Since that time, it has grown seeing over 400,000 visitors each year and features over 100 vendors every week. Focusing on creating a truly local experience, vendors come from Thurston, Mason, Lewis and Grays Harbor Counties.
In addition to fresh fruit and veggies, you'll also find a nice selection of handmade crafts, artisanal foods, wine, restaurant offering, flowers and more.
This indoor market is open year-round, but the days that they are open vary throughout the year. However, regardless of the season, they are always in operation on Saturdays. From January-March, they are open every Saturday; from April to October, they are open Thursday-Sunday; and during the holiday season (November-December) they are open Saturday-Sunday.
Evergreen Valley Lavender Farm 
Address: 9733 Evergreen Valley Rd. SE, Olympia, WA 98513
Husband and wife team, Thane and Peggy Bryenton are the proud owners of the Evergreen Valley Lavender Farm. If you like the color purple – this is your place. It's boutique business which pretty much only sells products made from 13 different varieties of lavender including essential oils, hydrosols, bath and body products and even a few art gifts. It is also the place in town to fine fresh and dried lavender.
The lavender farm is only open seasonally, so you'll want to check their website before coming on over.
Burial Grounds Coffee Collective 
Address: 601 Capitol Way S., Olympia, WA 98501
Burial Grounds Coffee Collective is located in front of a local cemetery … just kidding! The only thing dead here are the coffee beans which are roasted on sight. 
This isn't a Starbucks knockoff. While you can order a regular latte or mocha, you'll want to try of the many different offerings like the Rigor Mortis (chocolate, caramel, peanut butter and marshmallow), Devil's Lullaby (peach, rose, cupcake and earl grey infusion) and the Dr. Jekyll (Rooibos, honey and vanilla).
Burial Grounds also offers a menu featuring vegan and vegetarian dishes and baked goods.
Anthony's Hearthfire Grill 
Address: 1675 Marine Dr. N.E., Olympia, WA 98501
This Anthony's restaurant is considered unique to the Olympia community by taking on the style and personality of the neighborhood. Unlike the traditional Anthony's restaurant which is mostly a seafood restaurant, Anthony's Hearthfire Grill serves up a balanced mix of beef and seafood entrees specializing in hearthfire cooking.
Start out with a bowl of Uncle Fred's Steak Chili or a Classic Caesar Salad then dive into a plate of Margarita Prawn Fettucine, St. Louis Style Ribs or the Double R Ranch Ribeye Steak.
Bud Bay Café 
Address: 525 Columbia St. NW, Olympia, WA 98501
Voted the best in the south sound for over 25 years, Bud Bay Café is located at Percival Landing. The restaurant offers outdoor dining on the water and features a menu that includes seafood, chicken, steaks and pasta.
Come early to enjoy a three-course "Sunset Dinner" which includes a choice of starter, a choice from 10 different entrees and dessert for just under 30 bucks.
Headless Mumby Brewing Company 
Address: 232 Division St. NW, Olympia, WA 98502
And the award for the most unique business name in Olympia goes to Headless Mumby Brewing Company. The story goes like this: co-owner Keith had his own brewery named "Headless" as a salute to the song "Roland the Headless Thompson Gunner" by Warren Zevon, an artist that he loves. Alex had his own brewery too called "Mumby", which is a reference to an old logging and shingle mill. Not that long ago, the two decided to combine their companies into one.
Headless Mumby's taproom is open every day except Monday from the late afternoon until the early evenings. They have at least nine different lager on tap any time of the year.
Encore Chocolates and Teas 
Address: 116 5th Ave. SE, Olympia, WA 98501
This could be the perfect place for couples as long as they are fans of tea and/or chocolate. Encore Chocolates and Teas boasts of specializing in over 200 teas imported from all over the world and over 350 unique artisan chocolates from companies as well as teaware and accessories. They even sell chocolate tea!
The shop resembles of library with chocolate bars and boxes of teas all lined up on shelves for easy selecting (but not choosing!) The prices here are pretty reasonable too from $1 on up.